A-Listers including Elle Macpherson are obsessed with this hybrid workout - so I gave it a go
Here's what I learned.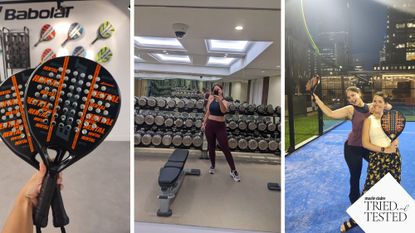 (Image credit: Amy Sedghi)
It's been dubbed the "cooler" sibling of tennis, boasts a list of celebrity fans and is soaring in popularity: it's time to say hello to Padel. But, what is Padel exactly?
Good question. While celebrities including Elle Macpherson, David Beckham and even, reportedly, the Princess of Wales are said to love the workout, it's fairly new on the fitness scene in terms of popularity. Two-time Wimbledon singles champion Andy Murray has even invested in a padel operator, Game4Padel.
Piqued your curiosity? In a nutshell, the racket sport resembles a tennis-squash hybrid and is said to be the fastest-growing sport in the world. It's more relaxed than tennis in that, while tennis outfits can be fun to indulge in, there's no dress code for the padel court. All you need to do is rock up in sports kit and trainers that you feel comfortable in and give it a go.
Things are hotting up on the padel court, and curious about the hype, I decided to try out it out for myself. Below, I share my experience with the buzzy new sport of choice, plus get an expert to share more about what exactly it is and how it can benefit your health. Keep scrolling.
What is Padel? Your guide
How does Padel work?
Combining elements of both squash and tennis and played in a fully enclosed court, padel is already hugely popular in South America and Spain, says Catherine Rose, a GB padel player and Vitamin Well ambassador.
The good news is that if you're already familiar with tennis, the scoring is exactly the same. It's a very sociable game as it's usually played in doubles, she explains, with proven health benefits of a social dose of physical activity. One 2013 study found that children and adolescents taking part in team sports noted improved health outcomes compared to individual activity because of their social nature.
"The popularity of padel in the UK has risen incredibly rapidly in the last year," says Rose, describing how demand for courts is increasing across the country. At the end of last year, there were 200 courts in the UK but an ever-growing number are popping up. In the professional sphere, Rose has also noticed a rise in popularity, especially over the last year and a half: "The amount of players entering tournaments, especially in the female category, has grown hugely."
What are the health benefits of Padel?
So, what about the health benefits? "Padel is an excellent workout," says Rose. "Time flies - before you know it, you'll have been running around for two hours."
Benefits of running span improved heart health, joint health, mental health and more - all of which are applicable to Padel, too. While the researchers stress that more research certainly needs to be done on the emerging sport, one study last year indicated that padel can boost brain health, particularly in female players, with an earlier 2021 study concluding Padel players had a healthy body composition and excelled in most fitness areas apart from jumping.
Padel also is a great workout for improving speed, agility and reaction explains Rose. "It is definitely a workout for your brain. It's almost like a faster game of chess," she describes.
I tried Padel - and was pleasantly surprised by how much I enjoyed
When a chance came up for me and a friend to try out Padel at the newly opened Padium courts in Canary Wharf, we excitedly signed ourselves up. For context: I'm a Health Writer, cyclist and cardio fan who's completed the London Marathon before, and we're both tennis fans and of varying skill levels, we've often got together for lighthearted (read: just trying to keep the ball in play) tennis games before.
We were keen to see how Padel would compare. Upon first impression, the vibe was distinctly less formal and more social than at a tennis court or club, with upbeat music playing as we entered and grabbed our hire rackets. There were many inside courts which exuded a gym or squash court vibe, but we tested out padel in an outdoor version along with a coach to give us a whistlestop introduction to the sport.
Obviously, any experience of tennis or similar will be an advantage when first starting out, explains Rose, who herself came from a tennis background before converting to Padel. There are key differences, such as the inclusion of reinforced glass or concrete walls, the racket and the size of the court - plus, shot strategies can go against the natural instincts if you're an experienced tennis player. "For a tennis player, the walls took the most getting used to," says Rose, "I have had to learn to love the walls, but it's extremely rewarding when you get it right."
In the hour-long session where Kate and I dabbled with hitting the wall to bounce a shot backwards to the opponent which I've only seen in squash, it was clear that using the walls would take a little getting used to. But as we ran around trying to hit the ball, we both easily worked up a sweat. Trying, failing (or succeeding) and trying again is highly addictive and we spent a lot of time laughing. As Rose points out, "if you're competitive, it definitely doesn't lack intensity."
As we hand back our rackets and head into the bar for a cold drink, we're already planning on coming back with our boyfriends for a social get-together. As Rose puts it: "It's hard not to catch the bug when you give it a go."
Need-to-knows about Padel kit
So, what do you need to play a game of Padel? The rights high impact sports bra and some reliable running trainers will do you well. There is, of course, Padel-specific kit and shoes out there, but for a beginner like myself, turning up in gym leggings, a sports vest and running trainers was fine.
The main cost will be for the court and racket hire, unless you have your own. While it's possible to practise with just one other player, if you want to play a match you'll need three pals so you can play doubles.
If you're struggling to find people to play with, there are a few fitness apps that you can use to meet people of similar standards or people also looking for others to play with. It's also worth checking out local clubs for social padel nights, advises Rose.
Shop our favourites below.
This Energy bra is a firm favourite in Health Editor Ally Head's workout wardrobe rotation. It's flattering yet functional, offering support for intense weights sessions and cardio alike.
Ideal for post-workout recovery, the Foodspring lemonade clear protein is Health Editor Ally Head's personal favourite. It's light, refreshing and seriously drinkable, packing a punch with 26g of protein per serving. It's a bestseller for a reason.
Celebrity news, beauty, fashion advice, and fascinating features, delivered straight to your inbox!
Amy Sedghi is a freelance journalist, specialising in health and fitness, travel, beauty, sustainability and cycling.
Having started her career in The Guardian newsroom working with an award-winning team, Amy's proud to have reported on a variety of topics, speaking to a range of voices and travelling far and wide to do so. From interviews on ski lifts to writing up breaking stories outside courtrooms, Amy is used to reporting from a range of locations (she's even been known to type up a story in a tent).
She also loves being active, spending time outdoors and travelling - with some of her favourite features she's worked on combining all three. Cycling and eating her way round the Isle of Man, learning to sail on the Côte d'Azur and traversing the Caminito del Rey path in Spain are just some of her highlights.
Covering a diverse range of subjects appeals to Amy. One minute she may be writing about her online styling session with Katie Holmes' stylist and the next she's transporting readers to the basketball courts of Haringey where she joined a group trying to lower knife crime in the capital.
While at university, Amy was awarded The Media Society bursary. Following her stint at the Guardian, Amy worked at Google and as well as writing for Marie Claire, she regularly contributes interviews, features and articles to National Geographic Traveller, The Guardian, The Independent, The Telegraph, Stylist, Refinery29, Glorious Sport, Cycling Weekly and Rouleur.
When she's not writing, Amy can be found trying to get through her towering stack of books-to-read, cycling down at Herne Hill Velodrome or looking for the next place to eat and drink with friends.