Here's everything you need to know about the SoulCycle boycott
Several celebs have already cancelled their memberships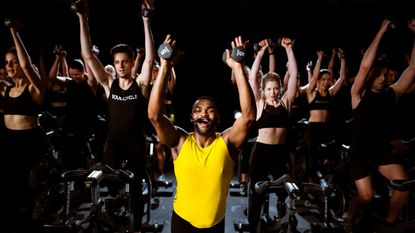 (Image credit: Maria Bentley)
Several celebs have already cancelled their memberships
Last night, Chrissy Teigen took to Instagram to announce that one of SoulCycle's biggest investors, Stephen Ross, is organising a fundraising event for Donald Trump in the Hamptons on Friday.
Stephen Ross, who is the chairman of Related, the company that owns Equinox Fitness – Equinox has a 97% stake in SoulCycle – is charging up to $250,000 for lunch, a photo and a private roundtable with the president, The Washington Post reports.
'A lot of my very cool, socially aware, progressive, awesome, amazing friends are members of Equinox or SoulCycle, and I just wanted to let you know that their owner is hosting a giant Trump fundraiser, so f*ck them,' Chrissy said on Insta Stories.
'Cancel your memberships today, you can come to my house and work out,' she continued. 'Just think about it, if you're fine with that, cool, go right ahead. But if you're not, and I know a lot of you are not fine with that, cancel.'
Celebs like Queer Eye's Bobby Berk, Billy Eichner, Mandy Moore and Sophia Bush were quick to join Chrissy in her boycott – with Bush skipping her SoulCycle class, and Eichner tweeting Equinox about the policy for cancelling memberships.
In light of the controversy, both fitness brands have come out with a statement, distancing themselves from Stephen Ross and calling him a 'passive investor'.
SoulCycle (they recently opened the first UK studio in London) shared a note written by CEO Melanie Whelon, reassuring their members that they 'believe in diversity, inclusion, and equality.'
'SoulCycle in no way endorses the political fundraising event being held later this week. SoulCycle has nothing to do with the event and does not support it,' Whelon stated. 'Consistent with out policies, no company profits are used to fund politicians.'
A similar statement released by Equinox reads: 'we wanted to let you know that Equinox and SoulCycle have nothing to do with the event and do not support it. As is consistent with our policies, no company profits are used to fund politicians.'
'We believe in tolerance equality, and will always stay true to those values. Mr. Ross is a passive investor and is not involved in the management of either business.'
Yikes!
Celebrity news, beauty, fashion advice, and fascinating features, delivered straight to your inbox!