SoulCycle CEO Melanie Whelan: "every set back can be overcome, you just have to change your lens on it"
SoulCycle is launching in London next month, so we headed to NYC to find out what all the hype is about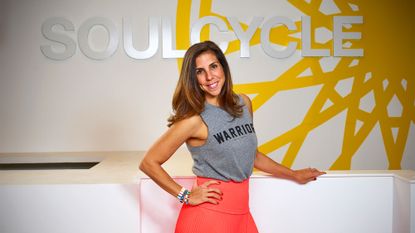 SoulCycle is launching in London next month, so we headed to NYC to find out what all the hype is about
Even if you haven't managed to take an indoor cycling class at SoulCycle stateside, chances are you've still heard about it. It's one of the most talked about brands in the fitness industry and for thirteen years it has been redefining health and happiness through unique mind-body-soul experiences. More than 20,000 people take classes every day and its VIP fans include Beyoncé and Jay-Z, Victoria and David Beckham, Lady Gaga, Michelle Obama and Madonna. It's a bit of a cult, but at the same time it's for everyone.
It's so much more than just an indoor cycling studio. The brand focuses on hospitality and community – you instantly feel part of the family the moment you walk through the door. It has an apparel arm; has collaborated with Nike, Lululemon and Le Labo; partnered with Apple Music and hosted live experiences with The Chainsmokers and Ciara. SoulCycle is a powerhouse that hasn't just thought about the what, they've thought about the why. Its success story is well deserved – I first took a class five years ago in LA and still remember the out-of-body feeling. I can't quite explain what prompted that moment, but I felt amazing – I didn't cry but some people do (there's actually a 'crying at SoulCycle' GIF on Instagram Stories). You'll have to try it out for yourself, and now you can. The wait is finally over for Londoners – SoulCycle is coming to Soho next month.
We headed to New York City to immerse ourselves in this unique experience. We met the riders and the team, including Chief Executive Officer Melanie Whelan. Melanie has been part of team SoulCycle for seven years and has spent four of those at the helm as CEO. Since her appointment, she has driven huge growth and the brand now has over 90 studios in 18 markets. Before joining the company, Melanie held leadership positions with Equinox, Virgin Management and Starwood Hotels & Resorts and she's been named one of Fortune's 40 Under 40. We chatted about success, failure and the importance of feedback…
Why is London your first studio location outside of the US and Canada? We're huge fans of London and it's a market we've had our eye on for a long time because we know we have a big ridership community there already. It's such a natural extension of what we do here in New York, so hopefully it will translate relatively straightforwardly with the cultural nuances on top. We're really excited.
It has been a labour of love for the past few years. We wanted to make sure we had the right strategy in place - we're moving a team over [to London]. This is a very community-focused brand and we've always wanted every SoulCycle studio to feel like the only SoulCycle studio. Everything takes longer than I would like it to, but I think it'll be worth the wait.
Why is SoulCycle so successful? It's the people, all of them. The riders, our instructors, our operators at the front desk. They're the ones that will say "Kim, I haven't seen you in a week, let me get you in for a class; how are your kids? What's happening in your life?" Those personal connections are a big part of our experience. We truly scout globally for the best instructor talent in the world and have a rigorous training programme, so that they know the fundamentals of what it is that we deliver in the room - physically, emotionally and musically. Then we have ongoing training and development, to ensure they are developing their craft and experiences as they go.
Our riders are the ones that make it all happen. They're the ones that come into the room and bring the energy, they're the ones that tell their friends and bring more people in. I get asked all the time, why didn't you launch here sooner? Why didn't you scale faster? And I always say, this is a curated human experience and and we're bringing people along the journey with us. We're not scaling hamburgers, t-shirts or salads. Right? We could just buy more lettuce and make more salads. To keep a brand really special you have to be careful about how you expand and make sure you do it right, not fast.
What is your perception of the London market and how do you think SoulCycle will fit in? First of all, we don't really view ourselves in the boutique fitness space, we believe that we are an experiential brand that is community based and hospitality driven. It's all about you and your experience. Our riders say they come to us at first for the workout, but they stay for these connections - friendships, community and everything that happens in the lobby. I don't think there's anything really like it in London and in many of the markets here in the US. There's no question that there are a lot of boutique fitness operators in this space, but what we do is differentiated and I think we will be a new experience for the [London] market.
Is there anything you're afraid about? I wouldn't say afraid. We are conscious that the market is different, especially from what we see in New York. Our riders in New York will come to the studio in the morning to workout and then they'll go home to shower before going to work. I think London seems like a more transient consumer - fitness is on their way to work, and so we're mindful to make sure that we have the right comfortable accommodation for people, as they move through their traffic and daily life.
In every one of the markets that we've opened in, we've taken a really thoughtful approach to making sure that the nuance of how we operate - from the music that we play to the schedule that we create - is really relevant for that local community and we've done the same thing with London. We've asked a lot of questions. What music do you guys like? What time of day do you like to workout? How late? And we listen not just before, but then once we open [we ask], is this working? Then we tweak as we go. We've been actively listening for a couple of years now and we really understand what the consumer wants. The consumer is changing every day and we will just continue that conversation when we open.
Why is constant feedback so important? I think it speaks to what we do. We are in the business of human potential, we want you to be the best version of your and we are going to coach you on that ride. We are all works in progress, Marvin (Marvin Foster Jr, head of talent) actually says this a lot – it's not about perfection, it's about progress. Is it another turn on the resistance knob, is it a heavier hand weight that you're picking up, are you running out of the saddle for the whole song? The little accomplishments are just progress up that ladder to who you are.
When I started with Soul we only had 1lb or 2lb weights in the room and most people were using 1lb weights. We now have 5lb, 8lb and 10lb weights, because the riders are stronger so they are looking for new challenges. We're always adapting and changing, because we believe in progress.
Have there been any failures and how have you learned from them? How long do we have? You learn as you go and you make mistakes. One of the things that comes to mind from the early days is when we built a new propriety booking system. All our reservations go live Monday at noon for the week. 25% of classes are gone in the first five minutes so this time is a big part of our experience and a couple of years ago we launched a new system but it didn't work.
We just weren't ready, we hadn't done enough testing on the back end. The amount of times I've thought, if I could just go back and un–press that button. But you just learn and now every update or change that we have makes us learn and it wasn't the end the world but it was a rough couple of days. We've got lots of stories like that.
What's your daily routine like? When do you ride? I travel a lot for work, so when I'm home I'll get up very early. I have a nine-year-old and a seven-year-old, so when I'm home I try to be in their traffic pattern in the morning. We do breakfast, I drop them for school and then I ride. I typically ride most mornings. I love, not just the class (obviously the class is an incredible experience), but just being in the studios and being able to talk to the teams and the riders, I just learn so much. We always say you learn more in 30 minutes at the front desk in one of the studios than you are going to sitting at your desk all day. Then my days are pretty much in my office and doing fun stuff. This is a great day. I get to talk about opening SoulCycle in London!
When I'm travelling, for the most part I'm in cities where we have SoulCycle now. That was the hardest part about growing the business was spending a lot of time travelling to new markets where there was no SoulCycle, so I didn't get to experience it as much. Now we're everywhere it's a lot easier, exercise is really important to me.
Do all your employees ride? We don't require people to ride but we very much encourage it as part of the employee experience. Coincidentally, right now I can see our finance director and he's got a bazillion numbers on his screen. Whatever he's doing is going to be much more contextualised if he's experienced it in the room. If we're looking at instructor performance, if he can actually be in the room and relate to Marvin and what he's doing, then he's going to think about his work differently. I get asked a lot, do you force people? Absolutely not, but it's such a benefit of working here, and because it's what we do, I always encourage people. If you're having a rough day, go take a class.
Why is the experience element so significant? This is a place where you come for a physical, mental and musical experience. We really believe that as human beings we are so over-stretched right now - anxiety is at an all-time high and you are on it 24 hours a day. If you're not reading an email then you're posting something on Instagram and we enable you to park that noise for 45 minutes, to go inside your head, listen to great music or push yourself physically.
Yes, our instructors coach you to turn up the resistance, but you are stronger than you think you are and that's actually not about the bike at all, that's about you and your life. That is what SoulCycle really means - it's not about cycling really at all, yes you do that here and really, it's a great workout, but what really keeps people connected to this is the sense of community, inspiration, personal development and self-accountability to be a better version [of yourself] tomorrow.
What's your superpower? Relentless positivity. I fundamentally believe that the glass is always half full and my personal mantra is 'we figure it out'. It's not about finding the direct yes, there are some things that can't be fixed but there is another solution that we can find, in a different way. Every set back can be overcome and you just have to change your lens on it. It's hard to do, but you can train your brain that way.
You've mentioned having a millennial mentor before, how does that work? I view it very much as a two-way street. I had a long conversation with my friend last night about her career and a decision she is trying to make. She thanked me for mentoring her and I found myself coaching her in the conversation, in a way that I was actually hearing in my own head for my own self. I think mentoring goes in all directions and is something I feel very passionate about, especially as a female leader. I think we need more strong female leaders in the world so bringing women up behind me is really important.
My millennial mentor is a young woman who is also my go-to for trend spotting, because I'm a mum of two kids who travels for work and works a lot, so I like to go out in the world to see what's cool, what's happening and what a different generation is spending time on. It's as much about career mentoring as it is about trend mentoring, cool hunting, understanding consumption patterns of a different generation, many of whom are our consumer, so that kind of activity is really important.
What would your advice to your younger self be? Don't take it all so seriously. I think we all think when we're young we need a plan, and we have to executive the plan by a certain point. The truth is that life is a jungle gym - it is not a ladder and you are going to go up to go sideways, to go back to go three steps further. Just relax, because the journey is a lot of fun if you let it be and often sometimes things are going to take care of themselves. Not every day is going to be great and that's okay too.
For more information visit soul-cycle.com/london.
SoulCycle's first London studio will open on 14 June at 3-4 Great Marlborough Street.
Celebrity news, beauty, fashion advice, and fascinating features, delivered straight to your inbox!