As the Women's World Cup kicks off: 10 moments that changed the face of women's football
From a 50-year ban to sold-out stadiums, writer Dionne Brighton looks back on the history-making moments of adversity in the women's game.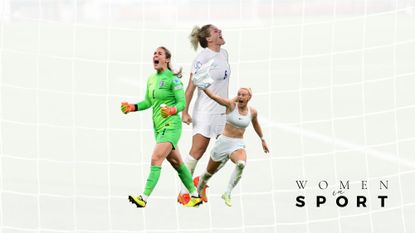 (Image credit: Future)
Fun fact for you: last year's Women's Euros final was watched by a record-breaking 50 million football fans globally, with a record number of over 365 million viewers tuning in to watch the tournament.
Since England's Euros win in 2022, there have been more positive stats, too: crowd attendance for women's games is on the up, as well as sporting opportunities for young girls in the UK (a successful petition by the Lionesses athletes saw the nationwide curriculum change to offer all genders equal sporting opportunities).
While these all mark significant steps forward, it's important to acknowledge that women's football is still fighting back from a long and troubling history of marginalisation and misogyny. Female footballers still don't receive similar salaries to their male counterparts, aren't offered similar opportunities or facilities, and certainly aren't taken as seriously. Just this week, they shared a statement reflecting their frustration that bonus talks haven't been resolved ahead of this month's Women's World Cup.
Yet with momentum building for the upcoming tournament - their first match is tomorrow against Haiti - and our special Women in Sport Guest Edit launching with England Captain Millie Bright and Vice-Captain Mary Earps, we're keen to change that. First stop? A quick look back on the history of the women's game.
From the iconic Lionesses' win finally bringing football home last year, to the Women's Football Association being formed in 1969, to the first female football game being played in 1895, keep scrolling for ten of the standout moments that shaped the sport as we know it.
10 of the biggest moments in women's football
A bit of background, first. While women's football was established at the same time as men's football, it wasn't until World War One that it really took off. People wanted to watch the sport and the men were away fighting, so while women were taking to factories, they were also taking to the pitches, reportedly bringing in crowds of up to 53,000 people.
Dick Kerr Ladies F.C., one of England's earliest women's association football teams, even surpassed the men's league records, with their 1920 Boxing Day match believed to have made the most money of any English football game since records began.
When the World War ended, however, football was once more deemed unsuitable for women, and while "health concerns" were cited as the reasons, it seems it was actually more to do with a successful women's league threatening the men's. Essentially, society wanted to put women "back in their place".
According to the BBC, Dr Mary Scharlieb of Harley Street described women's football as the "most unsuitable game" and "too much for a woman's physical frame". In December 1921, the Football Association backed the decision that the sport was unsuitable for women, instructing its clubs "to refuse the use of their grounds for such matches".
In short, women's football was banned. And while the restriction was lifted 50 years later in 1971, it had already set the game back and changed it forever.
Now, a further 50 or so years after the lifting of the ban, we're still far from being on equal footing. But with female teams gaining more traction and respect by the day, there is hope that we're certainly on our way.
"The women's game has grown," former England Captain Steph Houghton told me. "When I was playing at Arsenal, I don't think people realised how good we actually were. I think there's just a perception that we just play football but we're not very good, and it was a challenge for us to try and prove those types of people wrong."
"We've really proved how far the women's game has come," she continued. "Not just in terms of being on TV but in terms of actual technical ability, fitness levels and the fact that we give up a lot to be the athletes that we are."
"It is our duty to inspire young girls to play a sport," she concluded. "Whether it's just for enjoyment and keeping fit, or to actually go on and try and make a career out of it. Women should inspire."
Women's football isn't just about the game – it's about rejection, resilience and revival. It has taken a long history of struggle to get to where it is now. Keen to learn more? Keep scrolling.
1921: The FA banning women's football from official grounds
While, as above, there was quite an appetite for football among women pre the 1920s, The FA banned women from playing on official football grounds in 1921. This was because the game was deemed "quite unsuitable for females and ought not to be encouraged."
For context, this was only one year after 53,000 fans flocked to watch Dick Kerr's and St Helen's Ladies play at Goodison Park on boxing day, their biggest match to date. The ban could have changed the face of football forever, but the interest in women's football was already piqued and would only continue to flourish, despite it taking fifty years for the ban to be lifted in 1971.
1971: The ban is lifted and the Women's Football Association is formed
In 1969 - forty years after the ban was put in place - 44 representatives from different clubs came together to form the Women's Football Association. Just two years later, they'd successfully rallied for the ban on women's football to be lifted, meaning female footballers and clubs could use qualified referees and hire training pitches.
During their time, they saw the first-ever Women's FA Cup Final occur before their power was moved over to the FA in 1993.
1972: The England team win internationally for the first time
A year after the ban was lifted, the England team played their first-ever international game against Scotland. Spoiler alert: they won, cementing their status as ones to watch out for.
For context, this was 100 years after the men's first international match was played. Just imagine what women would've been able to achieve in the time they were banned from official pitches.
1999: The ladies begin to sell out stadiums
1999 saw the USA host the FIFA Women's World Cup, where over 90,000 fans watched the final and the United States crowned champions. In recent years, women's football in England has followed suit, with games being played at world-renowned stadiums such as Stamford Bridge and The Emirates to accommodate rising numbers of keen match-goers.
Chelsea Women's team sold out the season ticket allocation for their 2021/22 matches and have played at the historic Stamford Bridge on multiple occasions, most recently this season's Champions League quarter-finals against Lyon Feminin. The red side of London matched this outstanding accomplishment when Arsenal Womens sold out the 60,704-seat Emirates Stadium in their semi-final clash with Wolfsburg (Health Editor Ally Head was there).
With the current trajectory of Women's football, it will only be a matter of time before all Women's Super League teams are playing in and selling out larger stadiums.
2002: Football becomes the most participated sport for women and girls
Did you know? In 2002, the FA revealed that football had become the top participation sport for women and girls in England. This was three years before their target and we reckon may have had something to do with Bend It Like Beckham being released the same year. (A classic).
Football remains the most participated team sport for women to this day - that said, there's still a long way to go in making sure all women feel confident enough to give team sport a go. Case in point: one 2022 Women in Sport survey found that 43% of teenage girls in the UK who previously considered themselves "sporty" and participated in sports felt a disconnect after the age of 11. Over 60% of these girls worried about a lack of confidence or being judged.
2005: The UEFA Women's European Championship takes place in England
Fast forward three years and the opening match of the UEFA Women's European Championship saw an unprecedented number of fans and spectators.
A whopping 29,092 fans and spectators and 2.9 million viewers watched the opening game live on BBC and, although England didn't make it past the group stages, interest in the game continued to rise.
2010: The Women's Super League is formed
Come 2010, the Women's Super League was established.
Run by the Football Association, this replaced the FA Women's Premier League National Division and became the highest level of football for women, with twelve professional teams taking part.
Sky and BBC would take ten years to broadcast the Women's Super League on their channels. Despite this, the league's formation was a momentous occasion in women's football and was one of the only few professional leagues for women globally.
2012: Women's football takes the 2012 Olympics by storm
You'll likely all remember the 2012 Olympics - a landmark moment in the United Kingdom's history, but also a seriously memorable moment for women's football.
Why? Well, it was the first time a female football team represented Team GB. Of course, the crowd went wild, reshaping attitudes towards the women's game forever and giving the athletes the recognition they deserved. The world was watching, and 70,000 spectators filled Wembley Stadium as Team GB beat Brazil.
2021: A groundbreaking broadcast deal for Women's football is signed
Nearly ten years passed, and in 2021 both the BBC and Sky signed a three-year agreement to broadcast the Women's Super League to give more access to women's football.
This was the push that was needed for investment and interest in the sport. Multiple games were shown every weekend on TV. It was reported to be one of the biggest deals for any women's league to date.
2002: The Lionesses become the the first England team to win the Euros in 60 years
Last but by no means least, England's 2-1 win against Germany last year changed the face of the sport forever.
Arguably one of the most exciting moments in female football history (for us Brits, at least), it wasn't just about the win - rather, the fact 50 million people tuned in to watch (tournament organiser Uefa shared that was more than double the number who watched the previous Women's Euros in 2017).
It was also the first time women's football stopped the ten o'clock news.
These ten standout moments remind us that women can do anything they set their minds to, despite bans, support or ridicule.
In honour of our England football team, don't miss our exclusive interview with England Captain and Vice-Captain, Millie Bright and Mary Earps, while you're here.
Shop our favourite World Cup kit now:
Support your home side with the official Nike England shirt, a white and blue colourway designed to mirror the England '84 kit.
adidas Three Stripe Shorts
These comfortable yet stylish adidas football are made from soft fleece, perfect for holidays, lazy summer days at the park, or watching your favourite footballers in.
Celebrity news, beauty, fashion advice, and fascinating features, delivered straight to your inbox!
Dionne Brighton is a writer at Marie Claire UK, specialising in all things shopping, beauty and fashion. Born and raised in North London, she studied Literature at the University of East Anglia before taking the leap into journalism. These days, you can find her testing out the latest TikTok beauty trends or finding out what the next full Moon means.