The Lionesses have paused their bonus discussions ahead of the Women's World Cup - here's why
The squad have shared their disappointment over the lack of agreement.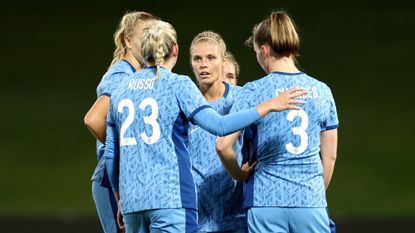 (Image credit: Getty Images)
With the Women's World Cup just a mere two days away, the England Women's team has announced they have decided to pause conversations with the FA over performance-related bonuses.
They've been at the centre of a bonus row for months now and, in a statement shared by the Lionesses' current Captain, Millie Bright, on social media, have now expressed their "disappointment" that no resolution had been achieved pre the tournament.
In the statement signed by each of the 25 England players currently in Brisbane, they wrote: "Last year, we presented the FA with concerns relating to our bonus and commercial structures. The hope was that discussions would lead to a solution before the commencement of the World Cup."
"We view the successful conclusion of these discussions, through player input and a transparent long-term plan, as key for the growth of women's football in England."
Continuing to reflect how no such conclusion has yet been met, they shared they would be pausing negotiations until after the World Cup - "with full intentions of revisiting them following the tournament."
Why England players have paused bonus discussions ahead of the World Cup
The team have been joined by Canada and Nigeria, who are holding similar discussions with their own national associations.
So far, the FA have failed to agree on a clear bonus structure ahead of the tournament - something the Lionesses have petitioned hard for.
This year, the Women's World Cup will offer athletes from every competing nation bonuses for their performance. This marks a world first from organisers Fifa and will see athletes paid anything from £23,0000 to £206,000, depending on how far they get.
While this is a big increase from previous years - the total amount totals £84 million compared to £23 million for the 2019 World Cup - it's still a far cry from what the men get paid (their total prize pot was £337.55 million for last year's iteration of the tournament).
Speaking exclusively to Marie Claire UK for our Women in Sport special earlier this month, both Mille and Mary - the Captain and Vice-Captain - were keen to point out that the men's and women's games are totally different sports. They're not demanding equal pay to men - rather, they "just want to be compensated fairly," shares Earps.
Bright maintained that while there are good wages out there for female footballers, it's about making sure every female footballer is offered that. "It's making sure that the lower clubs are able to financially provide for their players and offer adequate facilities," she asserts. "It's more than just money. The whole system needs to be at the same rate - the bottom of the league needs to operate in the same way as the top of the league."
With some players also missing out on bonuses and having restrictions on which personal sponsorships they're allowed to accept, the overall prize earnings have also been criticised.
Following the Lionesses' statement, the Professional Footballers' Association (PFA) has responded in support of the athletes.
"Although the issues the Lionesses have highlighted are specific to the negotiations with the FA, they join players from a number of countries at the World Cup who are prepared to make a stand when they don't think they are being listened to," said the PFA's CEO Maheta Molango.
"It's a massive mistake to underestimate the genuine strength of player feeling on these issues. It's no coincidence that this is a particular issue for nations where there is no proper collective bargaining agreement in place between players and governing bodies."
"These longer-term agreements require negotiation and will nearly always involve difficult conversations. But when they are completed, they ensure a far higher degree of stability and security. They mean that everyone knows where they stand, and that's obviously a massive advantage going into major tournaments when players just want to be focused on the football."
"There will always be consequences when players feel they are having to come back issue by issue to push for parity and progress. It doesn't need to be like this."
Here's hoping that the FA resolves the discussion straight after the World Cup has finished.
Celebrity news, beauty, fashion advice, and fascinating features, delivered straight to your inbox!
Sofia Piza is the Producer and Writer at Marie Claire UK.
After living in five countries, Sofia finally decided to settle down in London- just a mere 5,000 miles away from her native Mexico.
These days, you can find Sofia helping in all things production and scavenging the internet for the latest TikTok trends. Sofia got her start in the fashion industry working in retail and PR before taking the leap into journalism and production- living her happiest and most authentic life.