A new report has found women are more disenfranchised from the car-buying process than at any point in the last 100 years - but why?
Automotive expert Erin Baker explores the reason why female drivers are being left behind.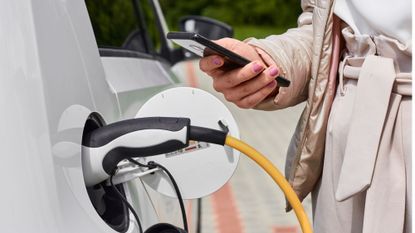 (Image credit: Getty Images)
Imagine if everyone with brown hair in the UK was worried about buying an electric vehicle because they hadn't seen any advice articles, didn't know that after 2030 there are no more new petrol or diesel cars on sale, and were generally lacking in confidence about going electric because they didn't feel informed enough. Wouldn't that be mad?
Yet, the majority of the 19 million female drivers in the UK feel that way about making the switch, because so little information has reached them, according to a new report, "No Driver Left Behind: Women and the Journey to Electric", launched by Auto Trader with Hive by British Gas, last week.
The report surveyed 4,000 women and focus groups, and the results found that women are more disenfranchised from the car-buying process than at any point in the last 100 years, at just the time when you'd naturally assume the gender gap among consumers was closing.
Electric cars are a lifestyle choice. Choosing to buy one means choosing to invest in sustainable materials, futuristic technology, cleaner living and lowering your carbon footprint, not to mention deciding that the extra cost is worth it and that you have the sort of lifestyle that will suit it.
These are all consumer choices where women traditionally take the lead, yet when it comes to cars, that behaviour is reversed, with 62 per cent of women saying they don't know enough about electric cars to feel confident about buying one, compared with 47 per cent of men. Women are three times more likely than men to say they haven't heard of the 2030 cut-off date for the sale of cars with an engine. There are far fewer female electric-car drivers than male. Only 28 per cent of women aged 55 or over would think about an electric car for their next purchase, as Marie Claire UK wrote about here.
So, why are women being left out of the car buying process?
None of this makes sense. We know women are pre-disposed towards sustainable products, and we know electric cars are particularly great for older women who are more likely to live in houses with off-street parking for charging, more likely to have the money to spend on one, and less likely to be doing long motorway commutes every day so not so affected by range anxiety. And yet the data shows the reverse of all this is happening. Why?
Primarily, because car brands don't employ enough women to understand what female consumers want - from how and where they want to be targeted with ads, to what language they empathise with, to what features in a a car matter to them, to who they want to see representing them in the car-buying journey.
Only 20 per cent of the automotive workforce is female, a figure that drops to 10 per cent at executive level. Car brands struggle to decide what is patronising and what is practical when it comes to the design and features of a car, and those decisions can only be made by consulting women - all the data in the world won't give you empathy with your consumers.
Secondly, women are distanced from electric cars because very few women's magazines (shout out to Marie Claire UK), TV, radio programmes or social media channels think women care about cars or want to read, see or listen to stories about them. This is a stance I would strongly disagree with, seeing as 47 per cent of driving licences and 41 per cent of cars in the UK are owned by women. It's like saying women aren't interested in finance content, despite the fact we all have bank accounts and a mixture of savings and debt.
We may not want to read car reviews, watch petrolheads throwing a car around a track on YouTube, or bore ourselves watching three middle-aged men present Top Gear and talk about horsepower, but it doesn't mean we don't want to engage with the topic: we just want content that's relevant to us, created by women.
We want car brands to recognise the fact that the majority of caring in this country, whether it's for children, partners or relatives, is carried out by women, and therefore we are hugely concerned about charging times, how and where to charge, how far we can travel on one charge and what happens if we run out.
We want car brands to recognise that, according to Cenex, the majority of tenants in social housing are women, and that we are therefore more disadvantaged when it comes to EVs than men, because social housing doesn't install charging points. How will car brands tackle that? Do they know or care?
The upside in all this, is that the women who have been brave and bought an electric car, love their electric car. An overwhelming 80 per cent of them say they'd choose electric for their next car and even more would recommend going electric to friends and family. I reckon that's because their fears don't materialise - very few female EV owners have ever experienced charging issues, battery issues, or have ever run out of charge (the percentages are all under 20 per cent).
There's a lot of myth-busting to do and consumer confidence to instil, but it starts with empowering women through knowledge. And it starts now.
Will you consider investing in an electric vehicle, or at least reading up on the pros and cons of doing so? Our guides to the best electric cars, best new cars for parents, and the best family SUV's might help.
Celebrity news, beauty, fashion advice, and fascinating features, delivered straight to your inbox!
Erin Baker is the editorial director at AutoTrader and content marketing consultant for Goodwood.
After graduating from the University of Cambridge, Erin pursued journalism and, in 2009, became the youngest (and only) female motoring editor on Fleet Street, heading up the Motoring desk at The Daily Telegraph and Sunday Telegraph.
She has won several awards for her work, including Automotive Editor of the Year and Campaigning Journalist of the Year.
She sits on the Female Advisory Board for Lamborghini and, alongside Marie Claire, has written for the likes of Vanity Fair and Vogue.