If Freida Pinto's life were a rom-com, she'd be the beautiful but relatable heroine relaxing into her happily ever after. But she's just getting to the fun part, finds Emily Cronin…
"It's been a bit of a joyride," Freida Pinto says, a smile in her voice. Any other actress might attach the metaphor to a risky film role or stunt work, but Pinto? She's talking about love. Marriage. And a baby. 
Because when it comes to pandemic life changes, Pinto's made a few. In late 2019, the 37-year-old actress and producer shared news of her engagement to adventure photographer Cory Tran; less than two years later, the two are married and parents to their eight-month-old son, Rumi-Ray.
First, the wedding: due to Covid-19-related restrictions, it was less Bollywood, more Bennifer-in-Vegas. "We're not wedding people," she says, which made it easy to scale plans for a big, international bash down to a two-witness elopement at the Honda Center, a sports arena in Anaheim, California. On the morning of the ceremony, Pinto woke up, pulled a long-sleeved, white embellished Needle & Thread dress out of her wardrobe and went to get hitched at Honda. "And then we went home and had a nap," she says. "For our brains and our souls and our bodies, it was just perfect. The focus was on building a life together, not just planning a wedding."
Pinto met Tran (rugged, adoring, really very handsome) in 2017, when she was filming a TV show in New York. "We have so much in common," she says, adding that she's drawn to his drive, his connection to nature, and his ability to shrug off and move past slights. While they were still dating, he took her to Austin, Texas, the city where he spent most of his twenties. The first time she visited, "I felt so at peace and free." She and Tran now split their time between homes in Austin and LA.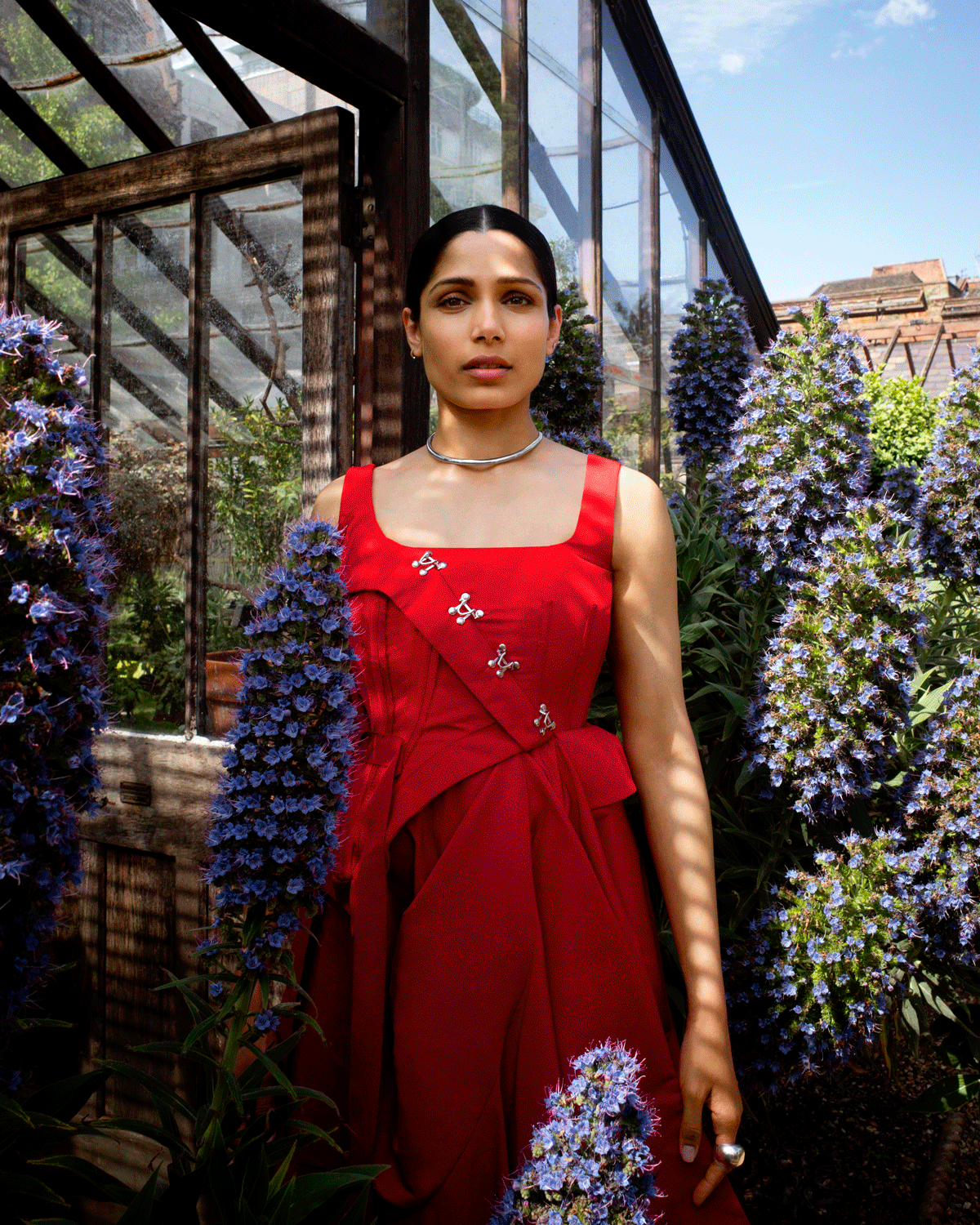 Fashion: dress, Alexander McQueen; choker, Ariana Boussard-Reifel; ring, Alighieri; earrings, Maria Tash. Beauty: Orchidée Impériale The Cream and Abeille Royale Skin Defense, Guerlain

Rumi-Ray arrived in November 2021. At eight months old, he's saying, "Dada" more than "Mama" and can't clock enough hours in the paddling pool. The infant stage has been "ever-changing," Pinto says, again with the voice-smile over the phone from LA. "Nothing is constant and it's just absolutely joy-giving and exhilarating and exhausting, all at the same time."
If Pinto's life sounds a lot like a rom-com right now – the part where the beautiful but still somehow relatable heroine gets her happy-ever-after, sending the audience into the post-cinema sunlight with a smile – then so does her work. Pinto's latest project is Mr. Malcolm's List, a Regency-era romance. She plays Selina Dalton, a woman who sets out to seduce, then reject, an eligible suitor (played by Sope Dirisu) as part of a revenge plot on behalf of a spurned friend. Naturally her plan goes awry.
"Nothing is constant [with parenting] – it's just absolutely joy-giving and exhilarating and exhausting, all at the same time"
The film's diverse cast and entertaining marriage plot are sure to please Bridgerton fans. But Pinto's involvement with Mr. Malcolm's List predated the Netflix hit – in fact, she saw an early script about four years ago. "I thought, 'You don't see brown people falling in love in period movies – what's the catch?'" The more deeply she discussed the project with first-time director Emma Holly Jones, the more excited Pinto felt about bringing it to life. "I've always dreamed of being a part of a project like this, but I never thought it was actually going to be possible in my lifetime, or even next…. [but then] Bridgerton came along and immediately gave people almost permission to broaden their minds."
The look and feel of the film was influenced not by any other period dramas, but by something more modern. "It was all of the '90s rom-coms: Bridget Jones's Diary, Four Weddings and a Funeral, Notting Hill." The latter is Pinto's personal favourite and most-rewatched film. "Everything about it is just perfect, in my opinion." Indeed, "so powerful" was the film's effect on Pinto that when she moved to London, she didn't have to think twice about where to live. "I willed and wished for it so hard that I ended up finding my place."
Pinto grew up far from Notting Hill, in Mumbai. Writing plays with school friends and coaching the children's choir at church were the main pursuits in a "very active, extracurricular-focussed" childhood. Pinto makes her parents (mum: a headteacher; dad: a bank manager) sound bemused yet encouraging of their daughter's not-so-academic ambitions. "They would have been very shocked if I'd woken up one day and said, 'Hey, I think I'm going to be a doctor.' What I've chosen for my career just feels like an extension of who I always was, and what I was always destined to do."
"I thought, 'You don't see brown people falling in love in period movies – what's the catch?'"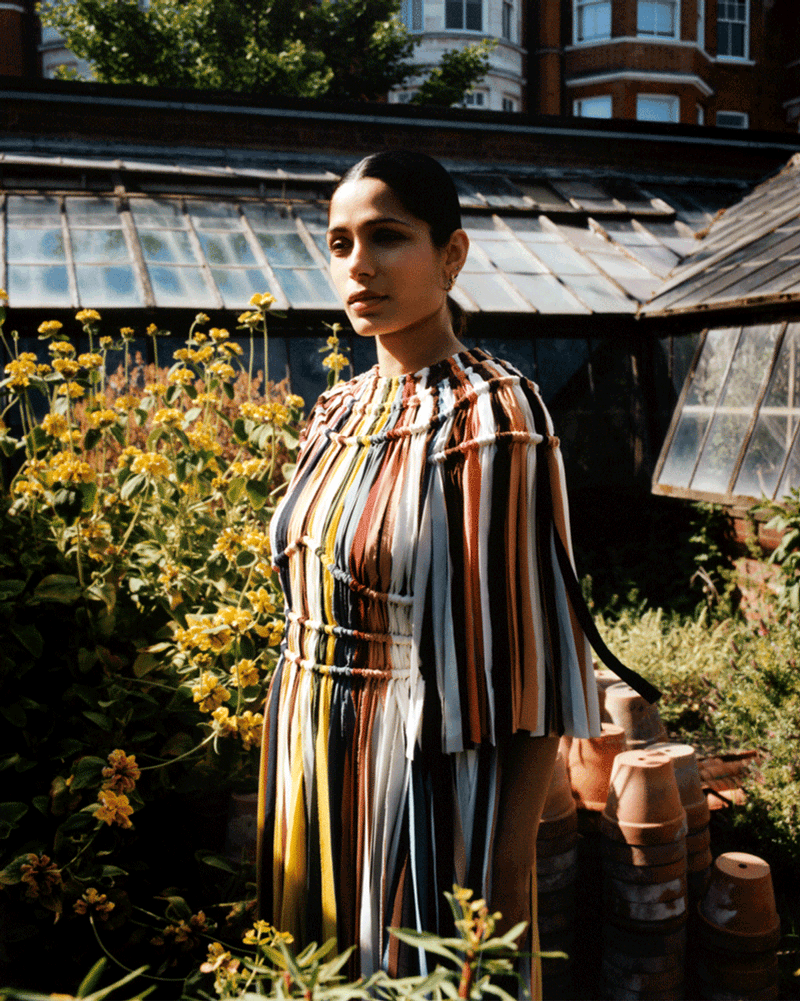 Fashion: dress, Chloé; earrings, Angharad Studio; cuff, Ariana Boussard-Reifel. Beauty: KissKiss Bee Glow lip balm and Le Stylo Lèvres lip liner, Guerlain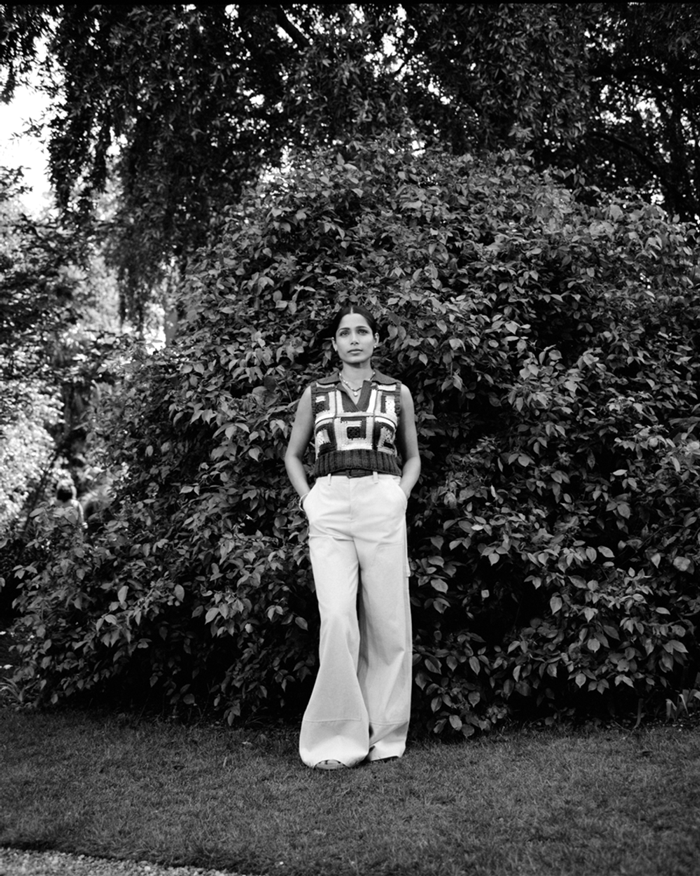 Fashion: top and trousers, Sea; shoes, Chloé; belt, Rellik; earrings, Completedworks; necklace, Joanna Laura Constantine; bracelet, Alighieri. Beauty: Abeille Royale Scalp & Hair Youth-Oil-In Serum and Aqua Allegoria Nerolia Vetiver, Guerlain

She began modelling during university before hosting an Indian travel show and auditioning for supporting roles. Nothing took – until Slumdog Millionaire. Director Danny Boyle put Pinto through six months of auditions before telling her she would play Latika, the heroine and "most beautiful woman in the world". To say Slumdog gave Pinto a singular launch risks understatement. The film, released in 2008, won eight Academy Awards, including those for best picture and best director. "It felt special because it was special," she says.
The afterglow of the film's success shone most strongly on Pinto, rocketing her from an unknown quantity to Hollywood's brightest rising star. She sat front row at fashion shows for Burberry, Chanel and Dolce & Gabbana; flew first class to red-carpet events and enjoyed a steady stream of high-fashion gifts. And yet: "The aftermath was not very pleasant," she says. "It was such a frenzy – it was almost overwhelming, and hard to distinguish between what was real and what wasn't."
Pinto thought the high would last forever. "My expectation was that every film I did after should do as well as Slumdog Millionaire. But it was unique." While her post-Slumdog projects included some well-received indie roles – as the titular characters in Miral, directed by artist Julian Schnabel, and 2011's Trishna, a retelling of Tess of the d'Urbervilles transposed to modern India – others were… less so. Directors seemed too preoccupied by her appearance to give her characters dimension.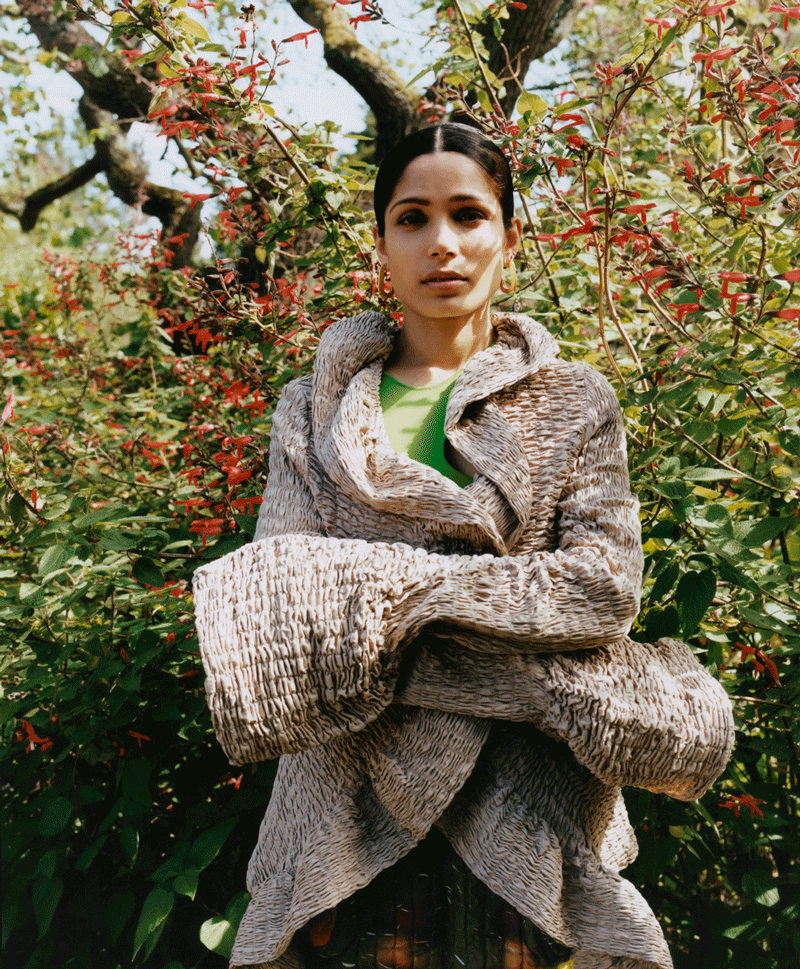 fashion: jacket and trousers, Dries Van Noten; bodysuit, Stella McCartney; earrings; Jenny Bird. Beauty: Mad Eyes Contrast Shadow Duo and The Intense Colour Eye Pencil, Guerlain
Obviously Pinto noticed. Even when she accepted roles she had reservations about, she hoped she'd be able to develop the character. She's been candid, even scathing, about her disappointments, saying in an interview of one role, "I can't even remember the story, that's how bad it is."
She laughs now, reflecting on that period. "I mean, I hope I don't offend people, but that's my true feeling." She made each and every one of those films for a reason: because she believed in the director's vision; because she thought it would attract the right kind of exposure; because the money was important. "But my characters in those films always felt like cardboard cutouts. Now I'll only do a project if I believe in it so strongly that I don't look back and go, 'Ugh, I can't believe I did that.'"
Part of the problem was that she didn't see any South Asian role models in Hollywood whose careers she wanted to emulate. "I had to be ever so grateful that I was even cast in those movies, because where were the South Asian brown girls getting lead roles in commercial hits back in the day? It was a very lonely time."
"My characters in those films always felt like cardboard cutouts. Now, I'll only do a project if I believe in it so strongly that I don't look back and go, 'Ugh, I can't believe I did that'"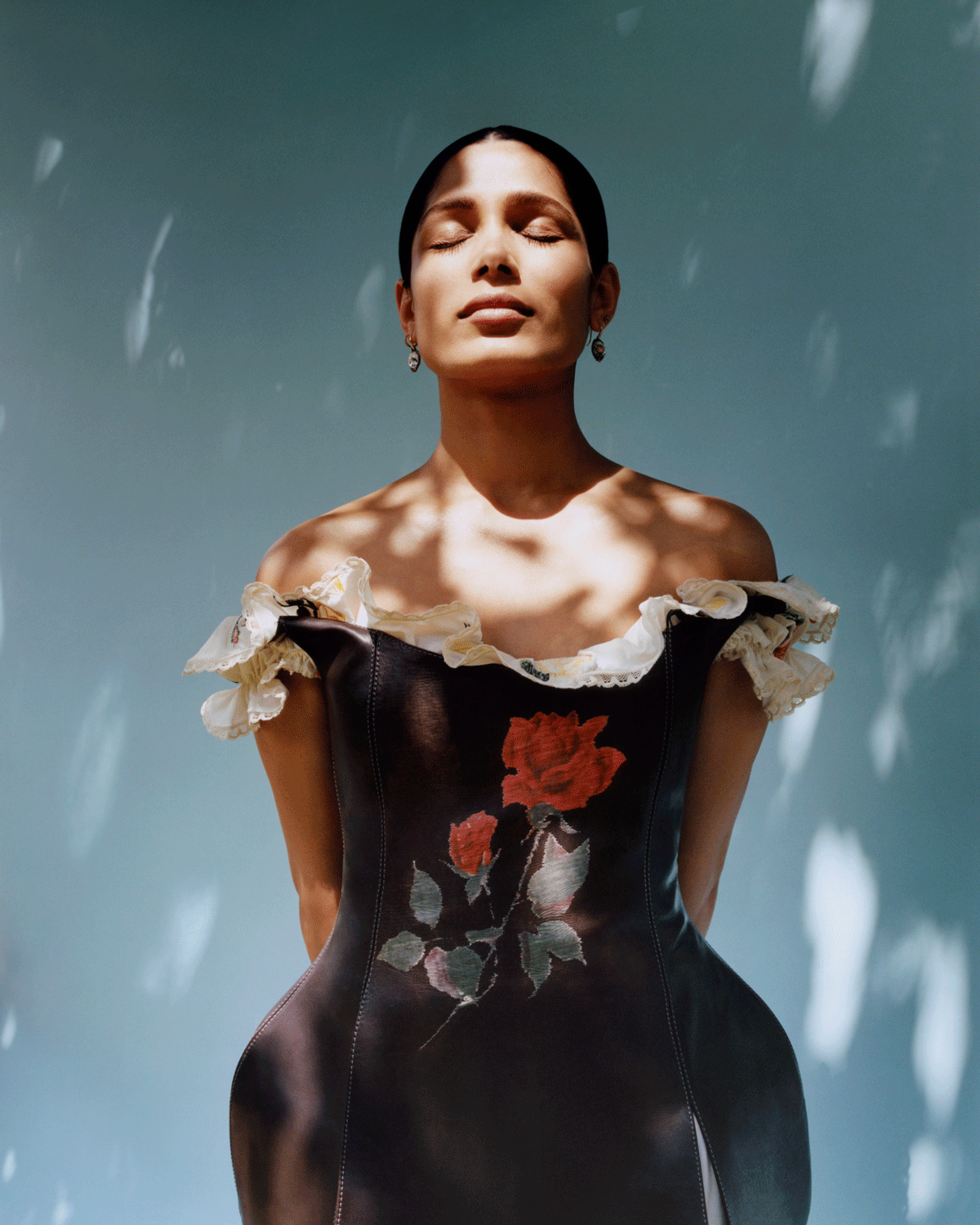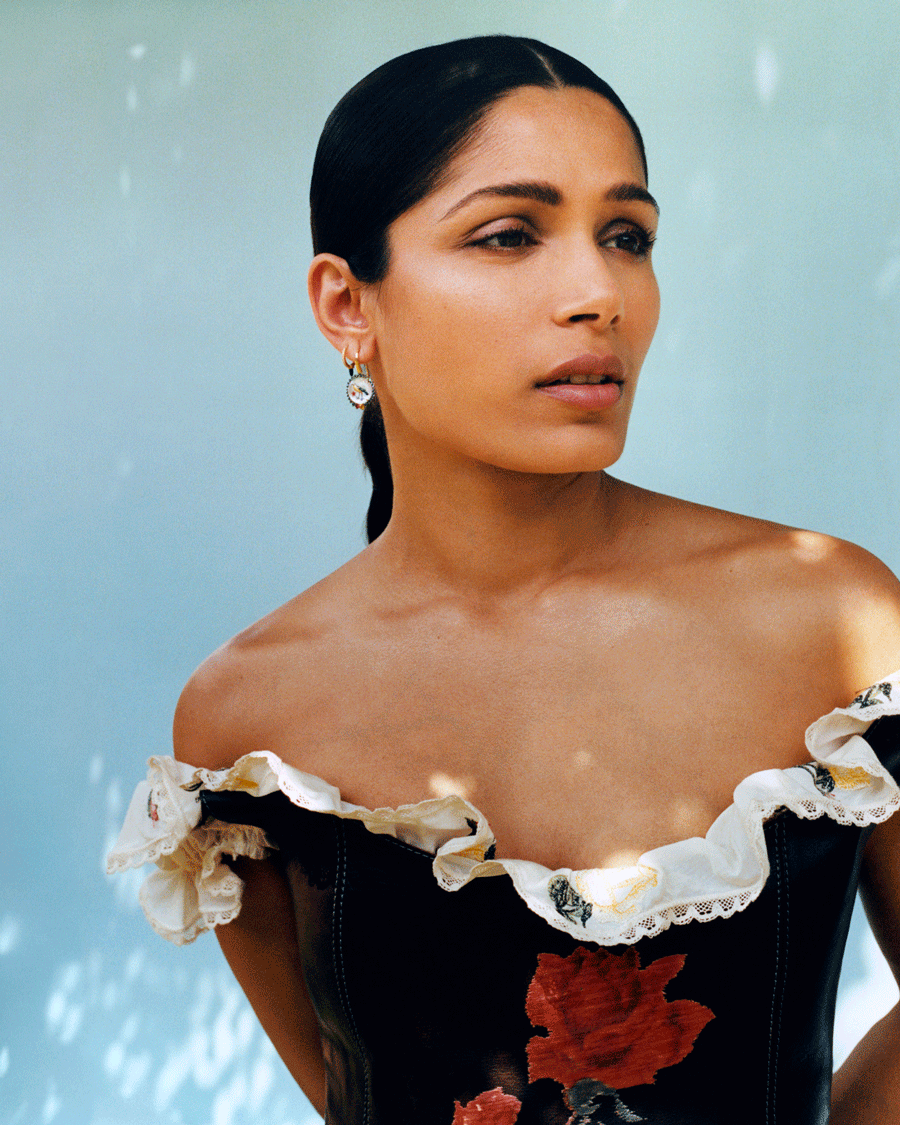 Fashion: dress and corset, Yuhan Wang; jewellery, Francesca Villa. Beauty: Abeille Royale Double R Advanced Serum Age-Defying Programme, Abeille Royale Mattifying Day Cream, L'Essentiel Pore Minimizer Shine-Control Primer, Orchidée Impériale The Foundation Concentrate, Precious Light Rejuvenating Effect Illuminator, Terracotta Blooming Bee Powder, and Météorites Light Revealing Pearls of Powder, Guerlain

While there were actresses of Indian descent working in Hollywood and internationally, Pinto says they were all operating from a scarcity mindset. She identified with the sense of competition Gabrielle Union described in her Essence Black Women in Hollywood award speech in 2013 (an excerpt: "I used to shrink in the presence of other dope, beautiful women. I used to revel in gossip and rumours, and I lived for the negativity inflicted upon my sister actresses or anyone who I felt whose shine diminished my own."). 
"There were so few parts for us that we were made to feel we were competing with each other. Or we just thought that there was only this much for all of us to have," Pinto adds.
Thankfully, things have changed, with a personal perspective shift chiming with trends toward a more representative entertainment industry. "Now it doesn't feel so lonely," she says. "I'm so happy that the generation of actresses of colour coming up today are not feeling that much anymore."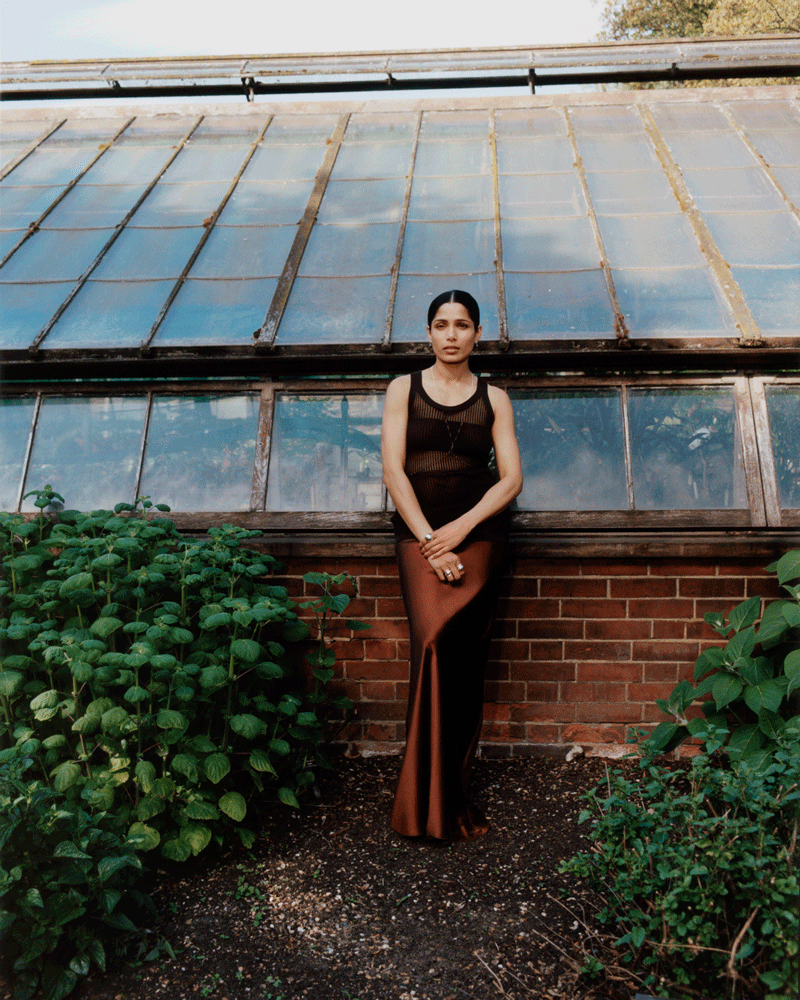 Fashion: top and skirt, Victoria Beckham; earrings, Noor Fares; rings and chain, Alighieri. Beauty: Mad Eyes Brow Framer Natural Volume Gel and Maxi Lash So Volume Intense Volume Deep Black Mascara, Guerlain

Now, she hopes that Mr. Malcolm's List will add to the momentum behind fully diverse projects – "not just Regency movies, but love stories, action movies, various genres, all getting the diversity that they truly deserve to be seen in." It's why as well as acting in the film, Pinto executive-produced it, through her Freebird Films Entertainment production company.
The name "symbolises the freedom I feel in my heart to go and tell the stories that I really want to tell," she says. "Stories about courageous, intrepid women all over the world…. my hope is that the projects I produce, and even act in, contribute in some way, shape or form to changing mindsets. We really want our projects to have a deeper meaning; for that to be my legacy." Although a side serving of '90s-style rom-com spirit – big loves, tiny weddings, joyrides, happy babies and all that – can't hurt, either.
"[I want to tell] stories about courageous, intrepid women all over the world…. my hope is that the projects I produce, and even act in, contribute in some way, shape or form to changing mindsets"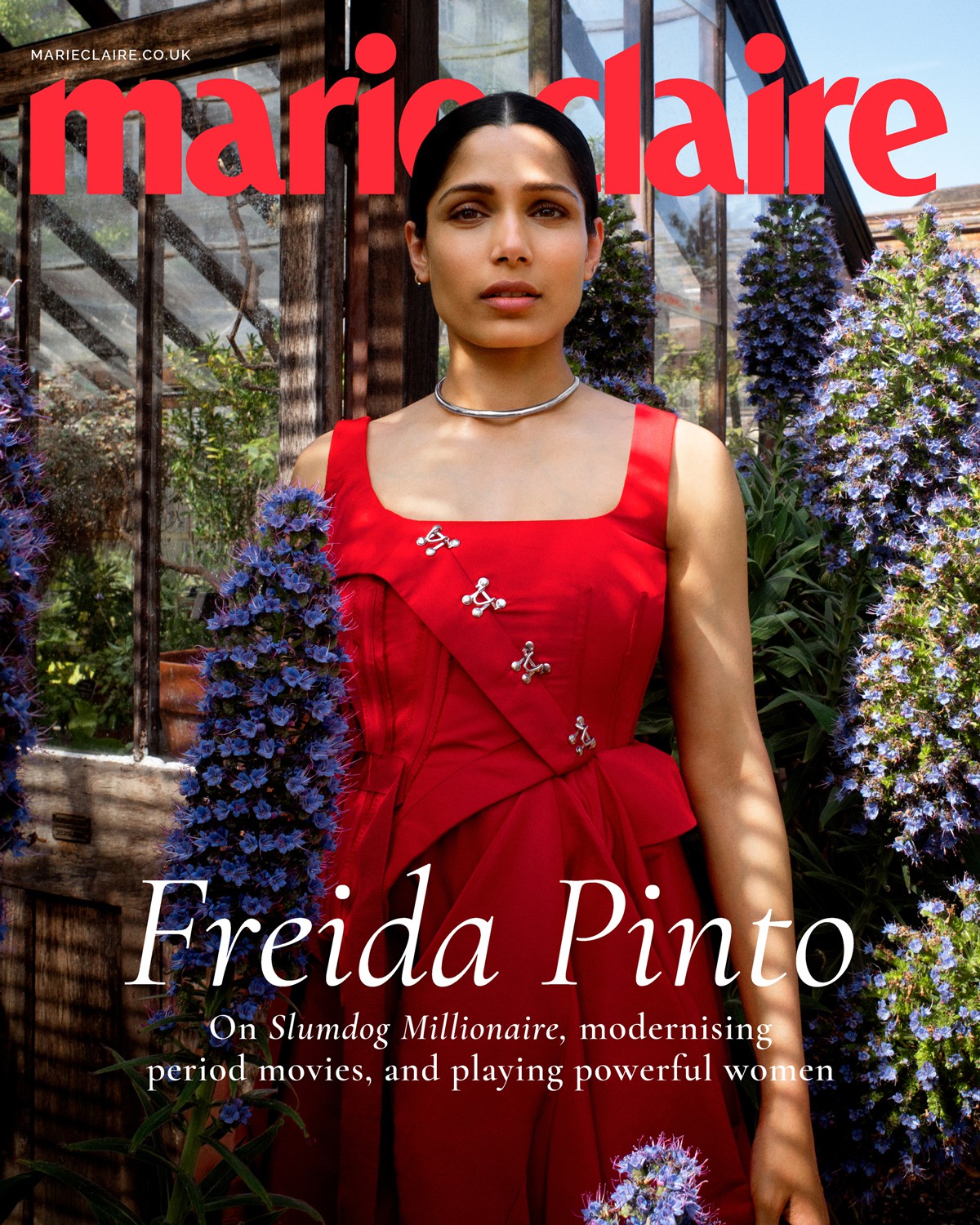 CREDITS:
PHOTOGRAPHER: ASHISH SHAH
WORDS: EMILY CRONIN
EDITOR IN CHIEF: ANDREA THOMPSON
SHOOT AND FILM DIRECTOR: LISA OXENHAM
PRODUCER: GRACE WARN
ART EDITOR: ANA OSPINA
VIDEOGRAPHER: AARON ELVIS KYLE
STYLIST:  NIKHIL MANSATA
MAKE-UP ARTIST: NAOKO SCINTU  AT THE WALL GROUP USING GUERLAIN
HAIR STYLIST: HAIR BY DAYARUCI AT THE WALL GROUP
VIDEO EDITOR: CINEMATIC COLLECTIVE
PHOTO ASSISTANT: EDWARD EMBERSON
PHOTO ASSISTANT: FAVAZ KOZHIKKODAN
FASHION ASSISTANT: ROSHNI SUKHLECHA
FASHION INTERN: AASHANA BRAHMBHATT
MAKEUP ASSISTANT: RACHAEL THOMAS
CHIEF SUB EDITOR: NICOLA MOYNE
LOCATION: CHELSEA PHYSIC GARDENS, LONDON