The Isabella Blow Exhibition Has Finally Arrived And THIS Is Why You Should Be First In Line...
Isabella Blow was one of the most iconic faces of British fashion. She was famous for her eccentric style and flamboyant headgear, as well as championing emerging design talent, the most notable of which was Alexander McQueen.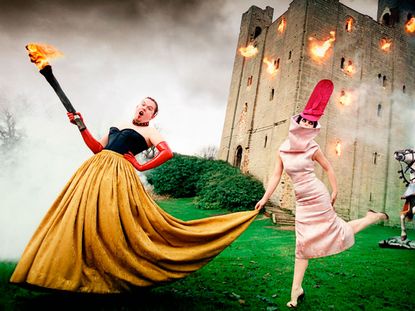 Isabella Blow was one of the most iconic faces of British fashion. She was famous for her eccentric style and flamboyant headgear, as well as championing emerging design talent, the most notable of which was Alexander McQueen.
The Isabella Blow: Fashion Galore! exhibition at Somerset House, which opens today, features over 100 pieces from her private collection, which was bought by her best friend Daphne Guinness after her death. So what was it that made Blow such a visionary?
1. Her love affair with hats (especially those by Philip Treacy).
Blow's love for hats started early and she recalled her fondest childhood memory as being allowed to try on her mother's pink hat. She also famously said that wearing a good hat was better than taking antidepressants. The icon was rarely seen without one of Philip Treacy's outlandish creations on her head and she was even buried in a pheasant hat by the milliner (Isabella committed suicide in 2007). Speaking about his dear friend years after her death, Treacy said: 'Isabella believed a good funeral is like a great wedding. But when you go, you go. You only go once. She loved this pheasant. She said: "I want to be buried in it." So we buried her in it…'
2. She discovered Alexander McQueen.
Isabella famously discovered Alexander McQueen, having seen his work at a St Martin's graduate fashion show in 1992. So enraptured she was by his creations that she bought the entire collection for £5,000, paying him off in weekly installments of £100. Isabella was buried in a red and gold brocade McQueen dress and the designer went on to dedicate his spring/summer 2008 collection, La Dame Bleue, to the late icon. The show's invitations included an illustration of Isabella wearing a McQueen dress in a horse-drawn carriage riding up to heaven and the room smelt of Fracas - the scent Blow always wore.
3. She adored her Manolo Blahniks.
Isabella's husband said that throughout her life her signature look was the trio of Philip Treacy, Alexander McQueen and Manolo Blahnik. It was fitting then that she was also buried wearing a pair of Manolos. Her friend, Daphne Guinness, said of her attachment to her Manolo's: 'Issie was a very fast runner and loved to challenge people to a race. Her only problem was relinquishing her Manolos before she set off.'
4. As well as an eye for designers, Blow could spot a fabulous new model a mile off.
Isabella described Sophie Dahl as 'a blow up doll with brains' and launched her entire career after spotting her crying on a street corner in Kensington. She also handpicked Stella Tennant while she was studying sculpture in London, kickstarting her journey into the world fashion.
5. She was at the forefront of British fashion.
Blow was key in nurturing the talent of many designers - not just McQueen. After Hussein Chalayan's graduate show she helped him pack the collection and then personally took them to Browns boutique, where Joan Burstein put them on display in the window. When it came to fashion, she always led and never followed.
6. She was full of life.
Above all things, Blow was great fun. Alexander McQueen described her laugh as being like that of a Billingsgate fishwife, while her friend Rupert Everett said at her funeral: 'For someone who was suicidal, she was constantly dazzled by life and life was constantly dazzled by her. You were a one-off, a genius friend, your own creation in a world of copycats and I will miss you for the rest of my life.'
7. She was bold with her beauty.
Isabella was as famous for her love of red lipstick as for her Philip Treacy obsession. Famously saying to her employees: 'If you don't wear lipstick I can't talk to you. You need to have lips. They are very important for getting men.' She later went on to collaborate with MAC on a range of Isabella Blow lippies.
8. The exhibition is a celebration of her life.
Back in September 2010, Philip Treacy said that he was desperate that Blow's life should not be looked back upon with sadness. 'Nothing about her was tragic. She was triumphant.' About the decision to create the Isabella Blow: Fashion Galore exhibition at Somerset House, Daphne Guinness said: 'This exhibition is, to me, a bittersweet event. Isabella Blow made our world more vivid, trailing colour with every pace she took. It is a sorrier place for her absence. When I visited her beloved clothes in a storage room in South Kensington, it seemed quite clear the collection would be of immense value to a great many people. I do believe that in choosing to exhibit them we've done the right thing – and that it is what she would have wanted. I am doing this in memory of a dear friend, in the hope that her legacy may continue to aid and inspire generations of designers to come'.
Isabella Blow: Fashion Galore! will run 20 November - 2 March 2014. Visit the Somerset House website for more information.
Celebrity news, beauty, fashion advice, and fascinating features, delivered straight to your inbox!