The Best Tina Fey and Amy Poehler Gags From The Golden Globes 2015
Tina Fey and Amy Poehler were, as always, sharp, sparkling and fierce at the Golden Globes.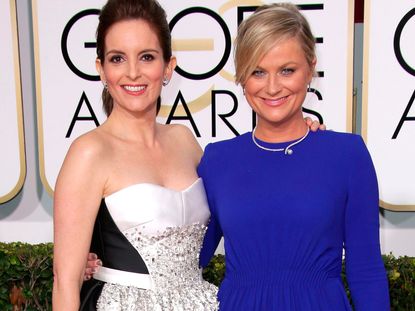 Tina Fey and Amy Poehler were, as always, sharp, sparkling and fierce at the Golden Globes.
Tina Fey and Amy Poehler hosted the Golden Globes for the third and final time last night and, as always, nailed it. Barely anyone escaped their ballsy opening monologue with key targets for their sharp-wit being George Clooney, Bill Cosby and Joaquin Phoenix.
Here are the 7 best jokes from Tina Fey and Amy Poehler at the Golden Globes 2015.
The one about George Clooney 'George Clooney married Amal Almuddin this year. Amal is a human rights lawyer who worked on the Enron case; was an adviser to Kofi Annan regarding Syria; and was selected for a three-person UN commission investigating rules of war violations in the Gaza Strip. So tonight … her husband is getting a lifetime achievement award.'
The one about women over 40 Referring to Boyhood, which was filmed over 12 years, the hosts said: 'She's proved that there are still great roles for women over 40 as long as you get hired when you're under 40.'
The one about Steve Carell 'Steve Carell's make-up took two hours to put on including his hairstyle and make-up. Just for comparison, it took me three hours today to prepare for my role as Human Woman.'
The one about Joaquin Phoenix 'Joaquin Phoenix is nominated for Inherent Vice, but obviously he isn't here tonight because he has said publicly that - quote - award shows are total and utter bull- Oh! Hey Joaquin!'
The one about Cake 'Jennifer Aniston is here tonight, nominated for the film Cake. We should explain for the Hollywood people in the room: Cake is like a fluffy desert that people eat on their birthdays ... And birthdays are thing people celebrate when they admit that they've aged.'
The one about The Interview 'We celebrate at the great television shows we know and love and all the movies North Korea was OK with ... North Korea referred to The Interview as absolutely intolerable and a wanton act of terror, and that wasn't the worst review the movie got.'
The one about Bill Cosby that made the entire audience gasp. Seriously, look at Jessica Chastain's reaction in the GIF below. 'In Into the Woods, Cinderella runs from her prince, Rapunzel is thrown from a tower for her prince, and Sleeping Beauty just thought she was getting coffee with Bill Cosby,' said Fey. 'That's not right,' Poehler said, doing a Cosby impression. 'It's more like: "I got the pills in the bathroom and I put them in the people!"'
Celebrity news, beauty, fashion advice, and fascinating features, delivered straight to your inbox!