12 Insider Things You'd Only Know About The Oscars If You Actually Went
Zanna Roberts Rassi tells us what it's really like to work on the red carpet at the Oscars…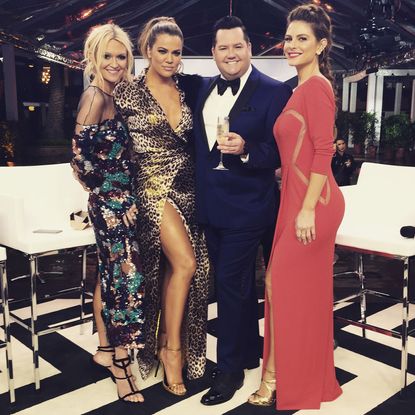 Zanna Roberts Rassi tells us what it's really like to work on the red carpet at the Oscars…
Zanna Roberts Rassi knows a thing or two about awards shows. As E!'s red carpet correspondent (not to mention Marie Claire USA's senior fashion editor) she's covered the Grammys, the Globes, the Oscars and more in the last few weeks alone, manning the front line of glamour with her incredible co-hosts Giuliana Rancic, Kelly Osbourne and Khloe Kardashian.
So, we thought, who better to ask for an insider's view on what really goes on behind the scenes at these major Hollywood dos? Here, Zanna tells us 12 things you'd only know about the Oscars if you were actually invited…
1. Stars Arrive On Time… If They Need Some Airtime 'People judge their arrival time depending on how many interviews they want to do. If you've got a film to promote, this is the place to do it - there are dozens of media outlets right there waiting for you. When somebody does arrive, it's like Chinese whispers down the red carpet. You hear 'Clare Danes, Clare Danes, Clare Danes' coming up the line of journalists, so you have forewarning.'
Picture: Zanna Roberts Rassi with her E! co-hosts; Khloe Kardashian, Ross Matthews and Catt Sadler.
2. Everyone Stays In One Of Four Hotels… 'There's Sunset Tower, where every single room is celeb filled because that's where they have the Vanity Fair after-party. Then Chateau Marmont, the Beverley Hilton and the Four Seasons are all chocka-block too. Lady Gaga was staying on the same floor as my team at the Grammys and we all piled in an elevator together – it was surreal.'
Picture: Lady Gaga and Keira Knightley at the Oscars 2015
3. A Word About Entourages… 'Rihanna will come with 7 or 8 people behind her, while George and Amal will come with no one, just the two of them. People in music generally have more than those in the film industry – there are more big personalities. I think you can totally guess who would have a big entourage!'
4. Plus-Ones Get Ditched, Fast... 'It's fine to be shoved out the way. If you get shoved out the way it only means you've been shoved into another line, probably in-between Olivia Wilde and Reese Witherspoon waiting for their turn. It's not like you're outside in the cold with the cleaner, you're still at the Oscars.'
Picture: Rihanna at the Grammys 2015
5. Lots Of People Try To Crash... 'And they all get arrested. There's an Oscar police who are very, very strict. To get in you need passport ID with you and you have to have your credentials confirmed two days before. You have to show it every time you go through a checkpoint – there are TSA-standard check-ins and metal detectors. It's like Fort Knox.'
6. Once You're In Though, Anyone Could Hold A Trophy... 'They're all just on a table backstage. They weigh like 6 pounds, they're quite heavy!'
7. The Glam Factor Is Off The Scale (But You Knew That One Anyway, Right?) 'It's an awe-inspiring event and the concentration of celebrities in one small space is the highest you'll ever see. People have spent months getting ready, they're putting their best foot forward. It's such a spectacle. My favourite Oscar dress that I've ever seen in real life was probably Cate Blanchett's lilac and yellow Givenchy gown [2011]. I had to just tell her how beautiful it was.'
8. The Oscars Is A Dry Do… 'They don't serve alcohol at the Oscars - they do at the after-parties obviously, but not during the ceremony. It's a very formal event and there's a lot of red tape. That's why the Golden Globes are so much fun, because people eat, drink and be merry - everyone lets loose and everyone gets up and mingles during the ad breaks.'
9. When Everyone's A Star, There's No Star Treatment... 'Stevie Wonder's getting shuffled down the corridor just like Beyonce and Jay Z. No one star really gets treated better than another. It's not like they're left out in the cold, but there's a logistical side to these events and things have to run on time.'
10. Getting Ready Is A Big Deal... 'You can't wing it, that would be so stressful. I always have a Chanel microdermabrasion facial with my dermatologist Amy Weschler beforehand, and do a Crest white strip routine to make sure my teeth look good! This year at the Oscars I did three hair changes and three clothing changes in between my hosting segments on E! so it does require some planning. I rely heavily on the right undergarments as well as the fabulous frocks. My new favourite bras are by Wacoal because they come in all shapes and sizes to work with every neckline!'
Picture: Zanna's Oscars prep kit and scripts
11. The After-Parties Really Are Awesome... 'Madonna's is the Grammy party to go to, always. She's amazing, everyone dances to Madonna - it's like the best reality TV competition you've ever seen. She kind of just sits there, and all these young boys dance in front of her. The Vanity Fair party is always the hottest ticket after the Oscars.'
12. But Watching At Home May Actually Be Better… 'The Oscars producers, the people that are running things behind the scenes - they're the cool people to chat to because they can actually see everything. They tell you how people behave backstage, what people do when they come off the stage with the Oscar - how it all runs. Sitting in the auditorium you can't see people's faces and their reactions when they get an Oscar or don't get an Oscar - and that's the fun part really, isn't it?'
Celebrity news, beauty, fashion advice, and fascinating features, delivered straight to your inbox!