5 major things we learned from the new Chilling Adventures of Sabrina trailer
Plus a first look at Salem...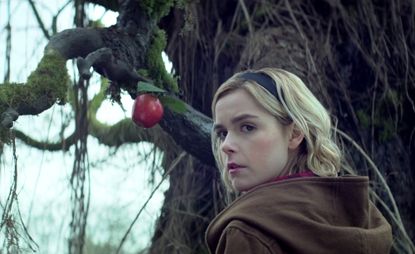 (Image credit: Courtesy of Netflix)
Plus a first look at Salem...
Remember when Sabrina the Teenage Witch was adorable, wholesome and mostly about a regular high school girl with magical powers? Those days are well and truly gone now. The official trailer for the much-anticipated Chilling Adventures of Sabrina has just dropped in time for the spookiest month of the year and it's both cute and eerie AF all at the same time. We're pretty convinced we need to take a strategic sick day on October 26th when the series drops on Netflix.
The new trailer gave us a better idea of what the upcoming reboot is actually going to be like, since before this all we really knew was it was going to be creepier than Melissa Joan Hart's version. But the video basically showed us that creepy was an understatement, as while it starts off pretty sweet and light-hearted – it soon takes a nosedive into the truly horrific. Think pentagrams, bloody magical rituals in the woods, skull-faced girls haunting Greendale and straight up murder. Here's a few things we've learned from the trailer…
Forget everything you know about Sabrina Spellman
Sabrina, played by Kiernan Shipka from Mad Men, is like her predecessor torn between two worlds: regular human society and the darker, more magical underworld. At the start of the trailer, it's made pretty clear that she's going to have to choose between them on her sixteenth birthday. Although Melissa Joan Hart's Sabrina was a bit of an outsider, this new Miss Spellman seems to more popular: she's hanging out at house parties and she and her new Harvey Kinkle already appear to be together. She also seems to be way more confident and headstrong, her declaration at the end, 'My name is Sabrina Spellman and I will not sign it away' gave us chills.
The show has our new favourite reaction GIF
Seriously, the short clip of Sabrina dancing on the stairs and kicking her legs up after Harvey smooches her is a total mood. The possibilities are endless. Payday? Sabrina dance GIF. One extra biscuit in the box? Sabrina dance GIF. That cute guy at the office finally asking for your number? Sabrina. Dance. GIF.
We've still don't know if Salem talks
Okay, this one hasn't totally been confirmed but yes — there is a grumpy black cat in the trailer. It's right after what somebody who appears to be one of Sabrina's teachers disciplines them, as the trailer cuts right to a split second of a cat hissing in disdain up at somebody. Total Salem move, so I'm convinced it's him. The trailer sadly hasn't answered whether or not the cat talks in the show, but fingers crossed we get some sassy feline one liners.
Don't mess with Aunt Zelda
I only picked up on this after watching the trailer a couple of times, but the woman at the end who full on nails Aunt Hilda in the face is Aunt Zelda. The two eccentric sisters don't seem to have a super warm and fuzzy relationship and Zelda actually admits to murdering her sister 'because she annoyed me' and burying her in the backyard. Though it seems like not even a fatal head wound can keep Hilda's optimism down, as she seems to claw her way out of her grave at the end of the trailer.
There's no sign of the Riverdale kids just yet
Ever since it was announced that the Chilling Adventures of Sabrina would be in the same universe as the brand new Riverdale reboot, we were over the moon about a potential crossover. Sadly, we didn't spot Jughead, Betty, Archie and Veronica skulking around the corners of Sabrina's town Greendale but fingers crossed they're just saving it for a later surprise.
The Chilling Adventures of Sabrina will hit Netflix on October 26, just in time for Halloween.
Celebrity news, beauty, fashion advice, and fascinating features, delivered straight to your inbox!
Megan is a freelance journalist who covers entertainment and all things lifestyle, with a particular passion for fashion, beauty, travel and Keanu Reeves stories. She has previously worked on staff for titles including Marie Claire UK, CNN Style and The Evening Standard and has written for titles such as Bustle UK, Wallpaper*, Forbes and Hong Kong Tatler. She splits her time between London and her hometown Hong Kong, where she currently lives with the love of her life - an elderly dog named Poppy - and her husband.