5 Reasons Why You Should Be Watching Transparent
Move over Orange Is The New Black - and Netflix - it's all about Amazon Prime's massively ground-breaking, but super relatable comedy drama Transparent.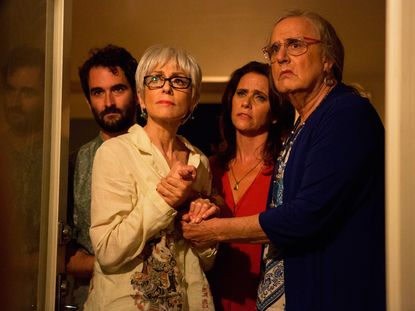 Move over Orange Is The New Black - and Netflix - it's all about Amazon Prime's massively ground-breaking, but super relatable comedy drama Transparent.
It beat Girls and Orange Is The New Black at the Golden Globes…
Yes, it's that good. And it didn't just bag two gongs – Best TV Series (Musical or Comedy) and Best Actor in a TV series (Musical or Comedy) for Jeffrey Tambor – it's also the first online TV show to be honoured.
It's a truly empathetic portrayal of transgender…
During his acceptance speech Tambor (who plays Mort / Maura Pfefferman, a divorced father-of-three trying to come out to his self-obsessed adult children) reiterated this by dedicating his award to the transgender community. 'Thank you for your inspiration. Thank you for your patience, and thank you for letting us be a part of the change.' Adds co-star Gaby Hoffmann: 'There's no vanity, there's no bullshit, we're all in it because we really believe in it and obviously being some sort of positive influence on the world in terms of the transgender community, its hugely important to all of us. But just as important for us is responsibly representing the human experience in all of this heartbreak and glory and misery and happiness – and that's a real privilege to be able to do.'
But actually it's about so much more…
Character driven? This show invented the phrase. There's oldest sister Sarah (Amy Landecker), who starts having a lesbian affair behind her husband's back, her record exec younger brother Josh (Jay Duplass) who veers between being a hot mess and just, well, a mess and then there's Ali (Girls' Gaby Hoffmann) battling body issues, money worries and a questionable arrangement with her new personal trainer.
'Until Mort's revelation the family are in this holding pattern that they are reinforcing for one another,' explains Gaby. 'But then when Mort takes her life in her hands, making these bold choices and coming out to her family, I think it reverberates throughout the family and has a really powerful effect on each character.'
It was created by Six Feet Under's enigmatic Jill Soloway…
Inspired by Soloway's father who came out as transgender in 2011, the process sounds almost effortlessly organic. 'She talked to me about this idea which she was formulating, and I thought it sounded amazing,' recalls Gaby. 'I didn't really imagine anyone would give us money to make it, so we started playing around with the idea right away. She wrote a few scenes and we shot them willy-nilly ourselves in the park. Within a few months Amazon signed on and we were going.'
And the soundtrack is awesome…
Neil Young, Edward Sharpe and The Magnetic Zeros and Gotye's smash hit single Somebody That I Used To Know… it's no wonder music supervisor Bruce Gilbert (and Soloway's husband) reckons the soundtrack is as significant as the characters themselves. 'I'm so intimate with the material and the source of the material that it's so obvious to me who "that character" was, if you're describing music as a character on the show.'
Celebrity news, beauty, fashion advice, and fascinating features, delivered straight to your inbox!