George Clooney: Career In Pictures
Take a look back at the actor and director's outstanding film career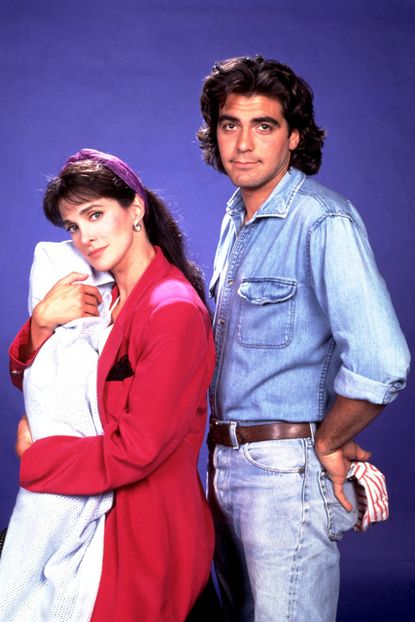 (Image credit: REX)
Take a look back at the actor and director's outstanding film career
The Facts Of Life - 1985-87
George Clooney, son of a former state beauty queen and TV newscaster and actor, earned a living through the '80's with bit parts on The Facts of Life and Roseanne. Clooney, complete with mullet cut, joined the cast of the all-female sitcom The Facts of Life for a two-season run as carpenter George Burnett.



Baby Talk - 1990
George would become something of a TV show veteran starring in no fewer than 15 pilot shows and seven major TV series. Baby Talk, which was loosely on the Look Who's Talking movies, wasn't one of his finest. George was dropped after one season.

Baby Talk - 1990
George would become something of a TV show veteran starring in no fewer than 15 pilot shows and seven major TV series. Baby Talk, which was loosely on the Look Who's Talking movies, wasn't one of his finest. George was dropped after one season.

ER - 1994 - 1999
At 33, Clooney raised his celebrity status, and our heart rates, as Dr Doug Ross on ER. The hospital drama became America's top-rated show, and Clooney was nominated for an Outstanding Lead Actor Emmy in both 1995 and 1996.

The Peacemaker - 1996
The Peacemaker, also starring Nicole Kidman, helped establish George as a leading man in Hollywood. The movie was the first film to be directed by Mimi Ledar (already a famed female director for her work on TV shows such as ER) and was also the first film to be released under Dreamworks.

One Fine Day - 1996
George starred opposite Michelle Pfeiffer in this romantic comedy, set in New York.

Out Of Sight - 1998
George plays charming bank-robber Jack Foley who falls for Jennifer Lopez's character US Marshall Karen Sisco. The film features some steamy scenes of the heartthrob locked in a car boot with the very beautiful Jennifer.

Three Kings - 1999
Three Kings is the hugely successful action/comedy war movie that firmly cements Clooney's place as a feature-film actor. Also starring Mark Wahlberg, the film receives rave reviews for pointing out the hypocrisy of war while managing to maintain it's humour.

O Brother Where Art Thou - 2000
Directed by the legendary Coen brothers, the sepia-tinted film is set in 1937 Mississippi during the Great Depression and is loosely based on Homer's Odyssey. The American folk music soundtrack won a Grammy for Album of the Year.

The Perfect Storm - 2000
Based on the best-selling novel by Sebastian Junger, The Perfect Storm is an action film celebrated for its dramatic visual effects. Billy Tyne (George Clooney) has to see the ship's brave crew, including Mark Wahlberg, through one heck of a strom.

Ocean's Eleven - 2002
Clooney, now a bonafide sex symbol, joins an all-star cast including Brad Pitt, Matt Damon and Julia Roberts, for the big-budget studio film, Ocean's Eleven. The comedy-crime caper, and remake of the 1960 Rat Pack film of the same name, is smash with both the box office and critics.

Intolerable Cruelty - 2003
Clooney teams up with directing duo the Coen brothers again for this romantic comedy, also starring fellow Academy Award winner Catherine Zeta-Jones.

Team America - 2004
Ok, so George may not have actually starred in Team America, or even lent his voice to his puppet character, BUT he was a jolly good sport and laughed off Matt Stone's portrayal of him so he's getting a nod for it.

Ocean's Twelve - 2004
Reunited with old friends, George joins Brad, Catherine, Julia and Damon for the sequel to the blockbuster. Fuelled with such movie star glamour, the film oozes style and wit.

Good Night and Good Luck - 2005
Having majored in journalism at college, Clooney was well equipped when it came to writing and directing the political drama Good Night and Good Luck - a black and white film exploring the conflict between journalist Edward R. Murrow and U.S Senator Joseph McCarthy. The film was nominated for six Academy Awards.

Syriana - 2005
On the back of the Good Night and Good Luck success in 2005 George starred in - and executively produced - Syriana. The political thriller grossed $93.73 million at the box office world wide and made Clooney an Oscar winner for Best Supporting Actor. He also won a Golden Globe and was nominated for a BAFTA.

The Good German - 2006
The Good German echoes the 1940s with its film noir style. In it, George plays a journalist assigned the task of covering the peace in Berlin following the war. Cate Blanchett and Toby Maguire also star.

Ocean's Thirteen - 2007
The gang are back! In the third and final installment, George leads his boys through another mega money job.

Michael Clayton - 2007
The film chronicles the attempts by George's character Michael Clayton, an attorney with a gambling problem, to cope with a colleague's apparent break-down and the corruption surrounding a major client of his prestigious law firm. The role earns Clooney an Academy Award nomination for Best Actor.

Burn After Reading - 2008
The black spy comedy Burn After Reading, produced and directed by the Coen brothers, sees George reunited with former co-stars Brad Pitt and Tilda Swinton. Also starring John Malkovich.


Leatherheads - 2008
Oscar winners George Clooney and Renee Zellweger match wits in Leatherheads, a romantic comedy set against the backdrop of America's pro-football league in 1925. Clooney writes, directs and acts in the movie. Are there no end to this gorgeous man's talents?

The Men Who Stare At Goats - 2009
Clooney, now on constant winning form, stars opposite Ewan McGregor in this film about soldiers in Iraq who attempt to kill goats only by staring at them. It may sound far-fetched but reports emerged revealing the hit film was actually based on real military experiements. Either way it's a great film.


Fantastic Mr Fox - 2009
Clooney voices the title role in Wes Anderson's stop-motion adaptation of Roald Dahl's Fantastic Mr Fox, also starring Meryl Streep. His character, Mr Fox, trades his life of crime for a career as a newspaper columnist, but in his heart remains footloose, looking to make one last score. A film as much for the kids as for the adults.


The Ides Of March - 2011
George turns director for his political, drama, thriller, The Ides Of March, in which he also stars opposite Ryan Gosling and Evan Rachel Wood. The blockbuster, his fourth film as a director, was featured as the opening film at the 68th Venice International Film Festival to rave reviews.

The Descendants - 2012
When Matt King's (played by gorgeous George) wife is killed in a boating accident in Waikiki, he's forced to take care of his two teenage daughters, which is trying enough until he learns that his wife was having an affair at the time of her accident. Then follows a search for his wife's lover as he slowly begins to rebuild his life and family. Could George win the 2012 Best Actor Oscar for his efforts? We've got out fingers crossed!

Celebrity news, beauty, fashion advice, and fascinating features, delivered straight to your inbox!
The leading destination for fashion, beauty, shopping and finger-on-the-pulse views on the latest issues. Marie Claire's travel content helps you delight in discovering new destinations around the globe, offering a unique – and sometimes unchartered – travel experience. From new hotel openings to the destinations tipped to take over our travel calendars, this iconic name has it covered.