Madonna: The Making Of A Pop Icon
For over 35 years, Madonna has been a cultural force to be reckoned with – and there's no sign of her hanging up her leotard any time soon...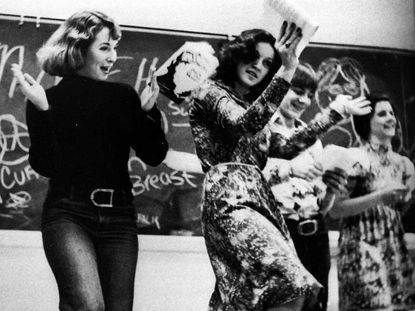 For over 35 years, Madonna has been a cultural force to be reckoned with – and there's no sign of her hanging up her leotard any time soon...
One night in the summer of 1970, 12-year-old Madonna Ciccone was disco dancing at a holiday camp in her home state of Michigan, having hitch-hiked there with childhood friend Moira McFarland. 'When Madonna hit the dance floor, I was like, "How did you learn to dance like that?"' recalls Moira. 'I stood back and watched everyone else watching her, and that's when I knew she was going to be a star.'
Today, at 56, that girl is the biggest-selling female recording artist of all time, with an estimated $500 million fortune. Madonna has shifted more than 300 million albums worldwide and won 273 awards, including Brits, Grammys and a Golden Globe.
It's hard to imagine there's anything we don't already know about the woman who gave us the revealing 1991 documentary In Bed with Madonna, but innovation is inherent for pop's greatest chameleon, and the show's not over yet.
Born Madonna Louise Ciccone on 16 August 1958, she is the eldest daughter of six children to Chrysler engineer Tony Ciccone and his wife, Madonna Fortin. Madonna's mother died of breast cancer in December 1963, aged 30. Just five at the time, Madonna was devastated by her death. Her authoritarian father would later employ a succession of housekeepers to care for his children, one of whom – Joan Gustafson – became his second wife.
In early interviews, Madonna would prefix any mention of her stepmother with the word 'wicked' because of her strict approach. Yet Christopher, the sibling closest to her and creative director on her tours, revealed that Joan's 'sergeant-major tendencies' influenced his sister more than she cared to admit. '[Like Joan] everything had to be done her way, according to her timetable,' he said in his biography, Life with my Sister Madonna.
An A-grade student in high school, Madonna landed a place at the University of Michigan, but dropped out in 1978 to move to New York to become a dancer. A year into living there she was raped at knifepoint by an unidentified man. She talked about it for the first time in 1995, during an interview with NME, revealing little detail. 'That experience turned me round in terms of becoming street smart and more savvy,' she said. 'I was very disturbed about it afterwards, but I knew there was no way that I was going back home.'
Determined to stick it out, Madonna touted herself around the club scene as a singer. In 1982, she signed to Sire Records and released her first single, Everybody, followed by Burning Up. Her third track, Holiday, became a worldwide hit. 'She exerted a level of control back in 1982 that no female performer had ever done,' said Sullivan. 'She wanted to produce her first album, but [Sire] wouldn't let her, because she didn't know what she was doing. But she refused to be told no, learned quickly and took over production from Like a Virgin onwards.'
Fans didn't just love her music; they copied her look – bleach-streaked hair tied with lace, fingerless gloves and bra tops. According to Christopher, his sister was once prudish about being overtly sexual, partly due to their Catholic upbringing. Although she had posed naked as an artist's model to make ends meet, she employed Christopher as her dresser on her first tour because she didn't want anyone else to see her naked.
The turning point came in July 1985, when nude pictures taken during her art modelling days appeared in Playboy. 'Any innocence she may have had is now gone. She has nothing to hide any more,' Christopher said at the time. 'From now on, she will forever invade [her privacy] herself.' Controversy soon became a byword for Madonna, from kissing a black Jesus in her 1989 video for Like a Prayer to appearing naked with Naomi Campbell in 1992 in her Sex book and championing sadomasochism in her Erotica phase that same year.
As her fame grew, she developed a reputation for being high-handed and hard. An awkward scene in her In Bed with Madonna saw the star give her friend Moira the brush-off when she asked Madonna to be godmother to her child. Madonna also claimed they were sexually intimate as teenagers, which Moira denied. 'When it came out I called her and said, "What the hell is in that movie?"' said Moira, who then flew to New York to see her. 'She didn't say sorry, because Madonna doesn't apologise.' But when Moira's son suffered a brain injury in a car accident aged 13, Madonna offered financial support. 'She's always been there when I needed her,' said Moira.
Madonna's fall outs with her Hollywood cohorts make compelling headlines – like her clash with Gwyneth Paltrow over their mutual friendship with personal trainer Tracy Anderson. She also feuded with Demi Moore after Madonna appeared to side with Ashton Kutcher when the couple split. Though her softer side is rarely reported, Carlton Wilborn, who danced on her Blond Ambition and Girlie Show tours and appears in the Vogue video, revealed a rare vulnerability to Madonna that he saw when lodging with her in New York. 'She told me her insecurities, what she wanted to do with her career and what she was frustrated about,' he added. Far from being egotistical, Wilborn insists Madonna treated her dancers as equals. 'She ensured we felt as special as she felt,' he said. 'We travelled on private jets, had suites in hotels and were managed by her as though we, too, were rock stars.'
In 1985, aged 26, Madonna married actor Sean Penn, then 24, after they were introduced as he passed by the set of her Material Girl video. She later confided in Christopher that he reminded her of a younger version of their dad. It was a passionate yet violent union, and they split after four years following an incident in which Penn allegedly tied her to a chair for nine hours and attacked her. He was charged with felony domestic assault, but Madonna later withdrew the charge and filed for divorce. 'It was a miserable marriage,' Penn said years later. 'I describe that marriage as loud. I don't recall having a single conversation in four years of marriage.'
The break-up took its toll. Whatever else Penn did, he was the love of Madonna's life – and still is, actress Debi Mazar, a friend from her New York club days, insisted in a 2013 TV interview. Madonna rebounded into an 11-month fling with actor Warren Beatty, then channelled her feelings into 1992's Erotica. '[I was] cynical about love for a long time,' she later said. 'I was running the gamut of emotions and I think that, creatively, I was all over the place.'
After the release of her coffee-table book Sex in 1992, Madonna was accused of betraying her feminist roots by promoting images of rape as entertainment – something she vehemently rejected. 'I'm in charge of my fantasies,' she said. 'I put myself in these situations with men. Isn't that what feminism is about – equality for men and women? Aren't I in charge of my life?' But the backlash stung and it was two years before another album. A collection of ballads called Bedtime Stories, it reflected her urge to find someone to fill her 'daddy chair', as she and Christopher jokingly called it.
In September 1994, Madonna, then 37, met unassuming personal trainer Carlos Leon, 28, while running in Central Park. In October the following year, their daughter, Lourdes – Lola to Madonna – was born, but they split six months later. On the flip side, Madonna's career soared when she landed the lead in Evita. For years she'd sought to be taken seriously as an actor – for every Desperately Seeking Susan there was a turkey like The Next Best Thing – but at last she had a cinematic hit.
In the summer of 1998, she met Guy Ritchie, the decade-younger director of Lock, Stock & Two Smoking Barrels. Madonna fell instantly for his affable manner. Their son, Rocco, was born in August 2000, and on 22 December that year, they married at Scotland's Skibo Castle, with Stella McCartney, Gwyneth Paltrow and Claudia Schiffer among the guests. For once, Madonna was happy to play second fiddle to Ritchie, adopting his favourite pursuits, such as drinking beer (though her favourite drink is a lemon drop – vodka, lemon juice and sugar). But for Ritchie, the marriage wasn't so rosy. 'I stepped into a soap opera,' he would say later.
That soap opera imploded when they applied to adopt 13-month-old orphan David Banda from Malawi in October 2006, with Madonna forced to deny on BBC's Newsnight she was manipulating the adoption process by promising to build schools in Africa. Interviewer Kirsty Wark recalls, 'She controlled everything. When we got there, her lighting rig had been set up and it was filmy and fabulous, and there I was looking completely different with a mic and one lighting camera.' Wark added: 'I wouldn't mind sitting down for a glass of wine with her, but I wonder would she ever be off her guard?'
After two years of legal wrangling, David's adoption was approved in May 2008. Five months later, after endless press speculation, Madonna and Ritchie confirmed they had split amid rumours he grew tired of her obsession with Kabbalah, a mystical offshoot of Judaism. Despite the tsunami of negative stories about her efforts in Malawi (she also adopted a girl named Mercy) her marriage breakdown and apparent reliance on cosmetic procedures to stay youthful, Madonna continued to wow professionally.
In just eight years she released four albums – Music (2000), American Life (2003), Confessions on a Dancefloor (2005) and Hard Candy (2008) – and completed four world tours, playing 248 concerts. Her last album, MDNA, was her lowest selling yet, but only a fool would dare suggest Madonna's lost her touch. Next year she will release her 13th album, collaborating with the industry's most sought-after producers, including Diplo. 'She knows they're going to produce her better than she can produce herself and that's how she manages to stay relevant,' says Sullivan. When the album's released, Madonna will be three years away from qualifying for a bus pass. Will she retire? 'I think she needs that interaction with her audience; she needs to feel adored,' adds Sullivan. 'It's whether she's going to remain overtly sexual or move towards a more subtle elegance on stage. If Madonna can find a new way of not needing the leotards, she can easily carry on until she's 80.'
Celebrity news, beauty, fashion advice, and fascinating features, delivered straight to your inbox!
The leading destination for fashion, beauty, shopping and finger-on-the-pulse views on the latest issues. Marie Claire's travel content helps you delight in discovering new destinations around the globe, offering a unique – and sometimes unchartered – travel experience. From new hotel openings to the destinations tipped to take over our travel calendars, this iconic name has it covered.