8 of the best BRIT awards moments ever
As the 2023 BRIT awards draw closer, we rounded up the BRIT award moments we will never forget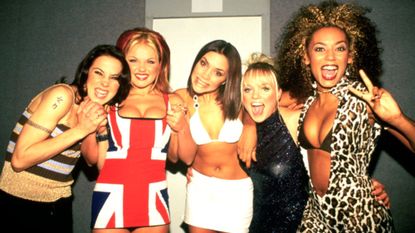 (Image credit: Getty Images)
The BRIT Awards have been one the UK's biggest music award ceremonies for 45 years, and with the 2023 BRIT Awards returning this weekend - the first time they've ever taken place on a Saturday night - we take a look at the biggest moments from the iconic show that we will never forget.
While we love the BRIT award red carpet fashion, just as memorable are the performances from our favourite artists across the world, from Adele to the Spice Girls. Plus, those totally unexpected moments that leave everyone open mouthed (ahem, Madonna's cape).
Here are the best BRIT Awards moments ever to get you excited for this weekend...
1. The Spice Girls
BRIT awards + the Spice Girls = an iconic moment in British history. In 1997, they performed Wannabe and Who Do You Think You Are - and we can still feel the girl power.
There's no denying the band's influence. When Jay-z accepted his BRIT award in 2008, he let everyone know he was inspired by the Spice Girls - just like us.
2. Union Jack Geri
The performance was definitely memorable, but nothing is as iconic as Geri Halliwell's union jack dress. Even if you didn't watch their BRITs performance that night, you know this dress.
The best part? Apparently the union jack was actually a tea towel sewn onto the dress, according to The Mirror.
And her stylist told her not to wear it - thank goodness she didn't listen.
3. Madonna's fall
Only Madonna could fall and get right back up again. Apparently, her Armani cape was just a little too tight, and it was either fall or be strangled - so she went for the embarrassing but safer option.
In true Madonna style, it didn't stop her putting on a show.
4. Anne Marie trips up too
Madonna isn't the only one to take a tumble on the BRITs stage. Last year, Anne Marie fell during her performance of Kiss My and sprained her ankle in the process. Ouch.
It was her first ever BRITS performance but she followed in Madonna's footsteps and kept going with the vocals.
5. Amy Winehouse performs Rehab
Amy Winehouse performed Rehab in 2007 and it was one to remember. It still makes us tear up watching it...
6. Artic Monkey's mic drop
"Invoice me for the microphone if you need to."
After accepting an award on behalf of the Arctic Monkeys in 2014, Alex Turner said that to the crowd before - you guessed it - dropping his mic. It was one small moment that instantly became added to the BRIT Awards memory book.
7. Adele gets us all teary
Adele gave a spine-tingling, no frills performance of Someone Like You in 2011, cementing her place as one of the UK's most talented artists. We still get a little emotional thinking about it now.
8. Adele is interrupted during her speech
Excuse me!? How could anyone interrupt Adele...
But when the British icon accepted her speech, she was rudely interrupted.
A year later, Adele was awarded Album of the Year, her speech was cut short by James Corden, which she took surprisingly well.. minus the middle finger.
Who are you looking forward to seeing at the BRIT Awards 2023?
Celebrity news, beauty, fashion advice, and fascinating features, delivered straight to your inbox!
Dionne Brighton is a writer at Marie Claire UK, specialising in all things shopping, beauty and fashion. Born and raised in North London, she studied Literature at the University of East Anglia before taking the leap into journalism. These days, you can find her testing out the latest TikTok beauty trends or finding out what the next full Moon means.