Channing Tatum's five life lessons: What we learnt from his Vanity Fair interview and lie detector test
Channing Tatum doesn't lie for one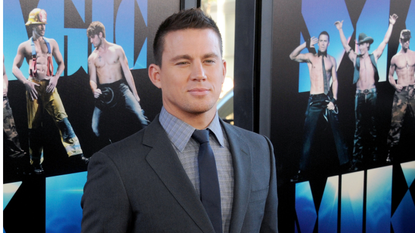 (Image credit: Gregg DeGuire/WireImage)
Channing Tatum is the gift that keeps on giving.
The Magic Mike actor is often top of the headlines surrounding his love life, including his current relationship with Zoe Kravitz, his former flame Jenna Dewan, but also questions surrounding a new Magic Mike, and former career as a stripper.
But there's much more to the 42 year old.
Not only is he a father to nine-year-old daughter Everly, who he had with Jenna, but he's a producer, author, and believes honesty is the best policy - well, that's what we deduced after he passed Vanity Fair's lie detector test with 98%.
In the interview we learnt Channing - who has previously been named People's Sexiest Man Alive - was nicknamed "Chanimal" by his mother, and 33 is his favourite number, as it was the number on his shirt when he played football, the same as his father.
He said: "My dad was 33 playing football, I was 33 playing football.
"I was a 33rd black belt in my kung fu school. That number's just followed me everywhere."
He also shared he could start working on a remake of Ghost, which his company have the rights to.
He said: "We have the rights to Ghost.
"But we're going to do something different. I think it needs to change a little bit."
Channing also discussed his social media following prank, which went awry when he gave his phone to his friends to follow fans only to be bombarded with inappropriate images and had to block the mystery woman.
He also shared how he backs himself in any dance off, and a strip off, against co-star Joe Manganiello, and Jennifer Lopez, which is quite the statement after she played a similar role to his Magic Mike character, Mike Lane, in Hustlers, and thanks Ricky Martin for giving him a big career break as he appeared in the She Bangs music video.
But there were more profound takeaways from Channing's interview with Vanity Fair. We have deduced some of the impressive life lessons the movie star swears by.
Trust the process
Channing split from his longterm partner Jenna Dewan in 2019 after 10 years together.
They met on the set of the iconic dance film Step Up in 2006, married in 2009 and had their daughter in 2013.
Despite every effort to keep their marriage going, they decided to call time on their romance, and though it was difficult at first, Channing has insisted it has done him a favour.
He explained: "We fought for it for a really long time, even though we both sort of knew that we had sort of grown apart.
"I think we told ourselves a story when we were young, and we just kept telling ourselves that story, no matter how blatantly life was telling us that we were so different. But when you're actually parents you really understand differences between the two of you. Because it is screaming at you all day long. How you parent differently, how you look at the world, how you go through the world.
"In the beginning, it was super scary and terrifying. Your life just turns on its axis. This whole plan that you had literally just turns into sand and goes through your fingers and you're just like, 'What now?'"
Speaking about how the separation helped him, Channing said: "It was probably exactly what I needed. I don't think I would've ever done the work, I think, on myself in the way that I had to do the work on myself to really try to figure out what next.
"Really, it just started with my daughter. I just dropped everything and just focused on her. And it was truly the best possible thing that I ever could have done. Because in the alone time that I have with just me and her, we've become best friends."
In short, Channing believes "life has a really fun way to give you exactly what you need when you need it. Not meaning gifts, or anything like that. But what you need to learn."
Laugh a little
"I like laughing. I like finding the hilariousness in things", Channing shared, and we couldn't agree more.
However, Channing revealed he used to use humour to deflect from difficult conversations or situations.
Now instead of masking or deflecting, he simply chooses to seek out the silver linings in everything.
He said: "I don't want to get all corny, but I guess that is kind of my coping mechanism in life, is to find the fun."
After all, life is too short.
Honesty is the best policy
In Channing Tatum's Vanity Fair interview, he also sat a lie detector test to accompany the interview, which he joked could make a great sketch in any future Magic Mike dance skits.
Throughout the test Channing was hit with various questions, but he answered them all (almost) truthfully.
Except for two, but he didn't quite know how the polygraph came up with that conclusion.
One question posed was: "Do you think you could have won America's Next Top Model?"
Despite venturing into the modelling sector, Channing answered no, which was flagged as a lie in the test.
A surprised Channing went on: "I wasn't a great model, and guys are different. It's not about wearing the clothes, you just get hired to be naked when you're a male model."
But when asked if there's more to life than being "really really good looking", he replied: "Absolutely there's more to life", which was correct.
The second incorrect answer was when asked if he would like more sex acts to be named after him, to which he laughed "Yeah, ok sure", though this turned out to be a lie.
After the test, Channing was proud of his near-perfect score. He said: "Steady as a rock. I only lied about one and I didn't understand why I lied."
It was two actually, Channing, so...
Sometimes the best things happen after the worst times
Channing seems to have a positive outlook on life, and we are here for it.
The actor-come-author-come-producer came to this realisation when he split from Jenna, but also after seeking some words of wisdom from a professor of comparative religion following the break-up.
The advice was that the best wisdom comes from those who have lost "two worlds", which we take to be a nod to the classic motto "what doesn't kill you makes you stronger."
Channing explained his take: "Meaning like experiences, two kind of life-deaths where everything changes.
"Everything that you thought was just all of a sudden in a blink of an eye, you lose a child or you, get a divorce, your life falls apart. You know? Where your world as you know it completely just evaporates in front of your face forever.
"So he's saying wisdom only comes from people who have really had a life and experienced the spectrum of life, and all the peaks and the valleys, if you will."
Money isn't the motivator - take a break
Channing has starred in various productions, and dabbled in other projects outside of acting and the film industry, including writing his book, and getting involved in art, as well as sports, which saw him appear alongside Bear Grylls on Running Wild With Bear Grylls.
Channing has appeared in 21 Jump Street, the Magic Mike sequel, The Lost City, Dog and many more productions. But there was a point where Channing had money in the bank, and still wasn't happy or fulfilled.
He openly explained: "I was working a lot. I had gotten to work with some of my favourite directors. I had checked boxes that I would never have hoped to dream about. But something just wasn't quite filling me up. I was sort of kind of just trying not to be bad in movies, instead of being good. And it really had nothing to do with my work. It was really about my life.
"I got really busy, and then life kind of fell apart, and then I stopped working for almost five years."
Technically, we have two takeaways from Channing's experience; money isn't everything, but also your happiness is worth more so take the necessary breaks to recharge.
Celebrity news, beauty, fashion advice, and fascinating features, delivered straight to your inbox!
Maisie is a writer and editor, covering Royal News, Showbiz, Lifestyle content, as well as Shopping Writing and E-Commerce, for print and digital publications, including Marie Claire, Hello!, Fabulous, Mail Online and Yahoo!.