Rebecca Loos describes the 'horrific' trolling she's suffered since Netflix's Beckham documentary aired
She gave her first TV interview since the docu-series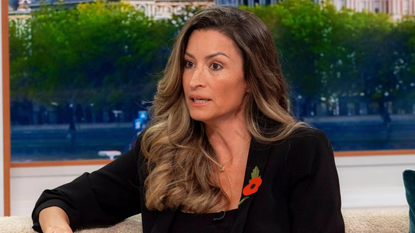 (Image credit: Good Morning Britain / ITV)
Rebecca Loos has spoken out over the awful trolling she's received since the popular Beckham documentary aired, which briefly covered the alleged affair between herself and David while she was working as his PA in the early '00s.
The Beckham documentary has been a huge success in terms of ratings and reviews, with viewers praising the candid insight into the world of one of the most talked-about UK couples. Showing the humanity behind the headlines, both David and Victoria have enjoyed much praise since the documentary aired earlier this month. On the flip side, Rebecca has been subjected to a barrage of abuse, bringing her back to events that happened 20 years ago; a time she'd rather forget.
In her first televised interview since the documentary landed on Netflix, Rebecca discussed how its reference to her involvement with the couple has promoted 'horrific' abuse online.
Speaking to hosts Kate Garraway and Richard Madely on Good Morning Britain on Monday, she explained: "I woke up to all these horrific messages on Instagram being called horrible names, awful trolling. I had heard about trolling before but never experienced it because 20 years ago we didn't have social media."
'He's not denied it. He's never denied it.' @rebecca_loos Rebecca Loos speaks exclusively about her claimed affair with David Beckham, which resurfaced following the release of the 'Beckham' documentary on Netflix. pic.twitter.com/5T4lFCuvwlOctober 30, 2023
See more
The landscape has completely changed since the affair allegations were originally published in 2004. We've seen the rise of the online troll, with trolling the third most prevalent form of online abuse in the UK, according to stats from Stastica.
But that's not to say that there wasn't a hefty amount of negative attention coming Rebecca's way in the noughties, with the media laying into Rebecca on a deeply personal level. Shortly after the news broke, journalist Jane Moore accused David's former PA of selling 'a fundamentally decent family man down the river' in an article in the The Sun.
Then in reference to the News of the World's crass 'Rebecca's more posh than Posh' angle - which crudely pitted the two women's social standing against each other - Jane continued: "Well, the Adamses may not have 'old' money, but they're rich in decent morals and family values. Which puts them a cut above Ms Loos any day."
Later in 2006, Rebecca faced a public shaming from Sharon Osborne during an appearance on The X Factor: Battle of the Stars. Singing Robert Palmer's Addicted to Love alongside James Hewitt, who has come under much media scrutiny himself in the '90s over his relationship with the late Princess Diana, Sharon told the pair that they 'both have so much in common and it shows on stage'.
She added directly to Rebecca: "Mrs, you know what, if you get through tonight you should try doing tomorrow's performance with your knickers on, because it will help warm up your voice a bit more," before concluding that while Rebecca had a 'bad vibe', she also had a 'very good boob job', as a final swipe.
In the documentary, David and Victoria touch on the allegations that David had an affair - a claim he has always denied and originally dismissed as 'ludicrous' - though they don't name any names.
During the series, the Beckhams describe the hardships they faced following Rebecca's claims. David said in the documentary: "Victoria's everything to me. To see her hurt was incredibly difficult, but we're fighters, and at that time, we needed to fight for each other. We needed to fight for our family, and what we had was worth fighting for, but ultimately, it's our private life. I felt physically sick every day when I opened my eyes."
Victoria revealed her pain in the aftermath of the alleged affair, saying it was 'the hardest period for us because it felt like the world was against us and… we were against each other'.
Undoubtedly a painful time for all involved, Rebecca insisted during this morning's interview that she would 'rather not be here'. She explained: "I had left it all behind me, I'd much rather not be here and talk about this again."
Rebecca, who lives in Norway with her husband and two sons, is now working as a yoga instructor, continued: "I had moved on with my life."
But it was David's apparent lack of accountability that encouraged Rebecca to take action and agree to the televised interview that would show her side of the story. While she didn't cover much old ground in the interview, she did share her reasons for speaking out.
"It really bothered me, the angle how he played the narrative and how misleading it is and how it's making me look like the bad person," she said on GMB. "Of course, I am also guilty, it takes two to tango, it's not all his fault but it's both of us."
Rebecca went on to explain that she does have some regret over how the news of the alleged affair broke, explaining: "I wish I had done it in a different way, I've always said this. At the time the advice I was given was that this was the way to go about it, but 20 years ago - and the new generation don't know this - but all the power was in the media. I mean you both remember this [directed at Kate and Richard], if anything was to happen it was through the media."
When asked if there was anything she wanted to say to David and Victoria, Rebecca replied: "I don't really want to say anything to them. But what I would like to say is, I think by him not acknowledging responsibility, he is giving a message that it's OK to behave like this and I think that is a wrong message to give. My message is, you make mistakes, own up to them, say sorry, move on, and that's what I'm teaching my kids."
She also went on to explain how she explained the documentary to her children, referencing again the online abuse she's suffered, adding: "I said I feel that it's very unfair, because of the way I'm being treated now, and the bullying I'm getting and the trolling, and I want to say something, and I'm going to do an interview so there might be some media and how do you feel about that? And so my youngest son said: 'Good for you, mummy. Yes, I would say something too.'"
Beckham is available to stream on Netflix now.
Celebrity news, beauty, fashion advice, and fascinating features, delivered straight to your inbox!
Lauren is the former Deputy Digital Editor at woman&home and became a journalist mainly because she enjoys being nosy. With a background in features journalism, Lauren has bylines in publications such as Marie Claire UK, Red Magazine, House of Coco, women&home, GoodTo, Woman's Own and Woman magazine.
She started writing for national papers and magazines at Medavia news agency, before landing a job in London working as a lifestyle assistant and covers everything from fashion and celebrity style to beauty and careers.