This Ole Henriksen eye cream is a bestseller so we asked 3 beauty editors to put it to the test
Did it live up to the hype?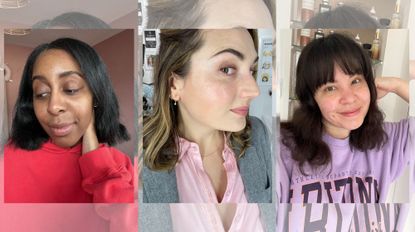 (Image credit: Keeks Reid Mica Ricketts Madeleine Spencer)
If you ever ask someone to list some of the best eye creams out there, they are most likely going to mention the Ole Henriksen Banana Bright + Eye Crème. It's basically famous in the beauty industry, promising to brighten, diminish dark circles and help your under-eye concealer last all day.
Inspired by banana powder, a must-have product in any make-up artist's kit to help brighten the under-eye area, this eye cream features universally-flattering light-reflecting mineral pigments to bring tired eyes to life.
The formula has recently been upgraded and now features real gold (yes, really), which apparently helps the delivery of vitamin c to the skin. But, does it really work? That's where we come in. We've asked three beauty editors to put the eye cream to the test and give their honest opinion on everything from how it sits on the skin, how it makes their under-eyes look and whether make-up lasts longer when applied on top. Keep on scrolling to see if the product really lives up to the hype.
For more inspiration, don't forget to check out our guides to the best retinol eye creams, the best caffeine eye creams and even how to apply your eye cream correctly. You are welcome.
Buy Ole Henriksen Banana Bright + Eye Crème
Ole Henriksen Banana Bright + Eye Crème
Keeks Reid, Freelance Beauty Broadcaster
The results
The verdict
I'm a huge fan of the Banana Bright range- it's my favourite by Ole Henriksen and one of my top skincare ranges in general, but I had never tried the eye cream. The cream toes the line of eye cream and make-up prep. The formula contains long-term benefits thanks to the triple vitamin c complex, bioflavonoids and hardy orange extract but it makes a great eye make-up primer too.
There is also a yellow tint to the colour of the cream because of the banana powder aspect of it. You can tell that this cream was created with make-up in mind, but I like that it isn't the only aspect of it. I definitely think that the colour pigments, which help to reflect light and neutralise sallow-looking skin, lifted the appearance of my dark circles. If I was just having a chill day, I would happily wear it alone without concealer. There is no coverage but it feels like it does lift your under eyes because it's gently brightening. For make-up days, it sits well under my concealer. I love it and it's now a key part of my morning routine.
Mica Ricketts, Freelance Content Editor & Copywriter
The results
The verdict
I was already a huge fan of the original Ole Henriksen Banana Bright Eye Cream, so I was dubious when I heard that the formula had been supposedly upgraded to include real gold. Honestly? I couldn't give two hoots whether my eye cream includes a precious metal and still can't really understand the reason behind this, but a triple vitamin c complex and a promise to brighten, boost elasticity and revive tired eyes I can get behind. Especially as I have a 3-year-old and an 8-month-old who both apparently hate sleep.
The eye cream has a lightweight cream texture and on close inspection there's definitely a slight shimmer to the product. (Is that the gold? Who knows!) I pat it on with my ring finger after cleansing, serum and moisturiser and it sinks in easily, leaving behind a kind of glowy sheen to the skin. Honestly, I don't know if it's the placebo effect of applying an eye cream (I'm notoriously lazy about sticking to one) but I genuinely feel like my eye area always looks instantly brighter and more awake once I've applied this. In fact, on days that I don't use it I find that I look way more tired. Plus, with daily use I genuinely think my dark circles are starting to minimise. (And that must be the eye cream as my children certainly haven't started loving sleep!) Bonus points for the fact that it doubles as a brilliant primer for concealer which always applies beautifully on top and looks way better than the days that I don't use this.
Madeleine Spencer, Journalist, Broadcaster & Make-up Artist
The results
The verdict
One of my non-negotiable make-up steps is concealer right on the inner corner of my eye. I loathe seeing that big chunk of darkness which, yes, is worse if I've not slept enough or haven't been drinking enough water, but is pretty much always there whatever I do.
I was unsure about the brightening promise in the name of this eye cream. How, precisely, would it brighten? And how significantly? Could I skip inner eye corner concealer altogether if I got on board and used it every day? The answers after testing are as follows:
Yes, it brightens. Enough that I noticed it after a week. I attributed this to the vitamin c and gold which Ole Henriksen say helps the delivery system of said vitamin c. I still wanted to reach for concealer - but not quite so much. That's a pretty big deal for me.
In other findings worth mentioning, it is hydrating but not insanely so, so if dryness if a big issue for you, this won't be the one. I preferred using it in the morning for the brightening kick and then opted for a more buttery formula at night. I also liked the way it prepped the skin around my eyes for make-up so started to put it on right before SPF rather than pre-serum, so it would be as close to the make-up as possible.
Celebrity news, beauty, fashion advice, and fascinating features, delivered straight to your inbox!
Grace Lindsay is currently Junior Beauty Editor at Who What Wear UK and previously was Marie Claire UK's E-Commerce Writer. With over three years of experience in the fashion and beauty industry, she covers everything from the best make-up and skincare deals to how to shop the stand out trends of the season. When she's not typing away at her laptop, Grace can be found shopping her favourite vintage markets IRL, or catching up on her never-ending list of books to read.