Mario Badescu: What You Need To Know About The Skincare Celebs Use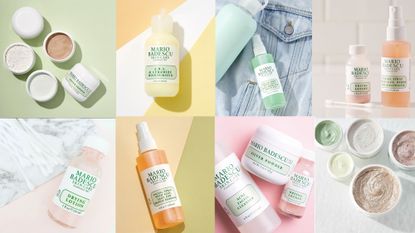 Bella Hadid is known to love a clarifying skincare product. One of her most snapped hauls on social media? Mario Badescu.
In particular, his Drying Lotion, a Pepto-Bismal pink concoction that banishes zits fast. And when we say fast, we mean fast.
Unsurprisingly, endorsement by big-name celebrities like Hadid (Gwyneth Paltrow and Kylie Jenner are other fans) has propelled the niche skincare brand to cult status. 690,000 Instagram followers only adds to the mystique.
So what's all the fuss about?
What Is Mario Badescu?
'Mario Badescu founded his namesake brand in 1967 out of a studio apartment on Manhattan's East Side,' a brand spokesperson told Marie Claire.
'Mr. Badescu was a cosmetic chemist and aesthetician. His business started as a salon known for its signature facials and custom product line that became a trusted resource to a loyal clientele of actors, models, and New York City locals. This original location is still in operation and thriving. Today—after a number of expansions over the years—the Mario Badescu Skin Care Salon can accommodate almost 200 facials a day.'
One thing that has changed is the owner. After Badescu's passing in the mid-1980s, the brand was acquired by Morise Cabasso, who is still at the brand's helm, along with his sons and three of his grandchildren.
What Is The Mario Badescu Drying Lotion?
Few products, let alone the best acne treatments, can boast almost 7,000 tagged instagram posts.
But the Drying Lotion does just that and has remained a best-seller for the brand for almost five decades.
This product uses salicylic acid to exfoliate, encourage cell turnover and treat congestion. The addition of calamine lotion soothes, draws out whiteheads and reduces redness even on under-the-skin blinders.
A major draw of the Drying Lotion is that dotting the product directly on a spot is perfect Instagram fodder.
'It really embodies the brand philosophy of delivering simple and effective skincare,' explains a spokesperson for Mario Badescu.
'The bi-phase, pink-on-the-bottom formula is so recognisable that early on in our history that pink solution became a visual representation of the brand. On the lighter side of things, it's really fun to use!'
How Do You Use Mario Badescu Drying Lotion?
This genius little bottle packs a punch when it comes to acne and spot-prone skin. But how do you use it?
Step 1: Don't shake it
Whatever you do, resist the urge to shake the bottle. This product is intended to be used with the formula separated inside. 'Instead, dip a clean cotton swab down into the separated solution until the bud picks up some of the pink sediment.'
Step 2: Apply it directly on the spot
'Dot the pink solution directly on the blemish only. The technique is important for a couple of reasons. Firstly, the formula is intended to effectively target surface blemishes, so you never want to apply it to clear skin or large areas of skin. Only on spots. Additionally, dipping the cotton swab into the separated liquid ensures that you have a good ratio of blemish-fighting ingredients to calming and soothing ingredients on your swab.'
Step 3: Let the solution dry on the skin
'Leave it on overnight. Remove with water and cleanser in the morning. Think of it as a micro-mask.'
Is Mario Badescu safe?
Of course, we can't talk about Mario Badescu without touching upon the controversy surrounding the brand a few years ago.
In 2013, Mario Badescu settled a class action lawsuit brought against it by thirty-one former customers for failing to disclose the inclusion of two strong steroids (hydrocortisone and triamcinolone acetonide) in its Control Cream and Healing Cream.
These steroids can trigger enlarged capillaries and can cause skin atrophy – where skin becomes so thin that it easily perforates and oozes, burns and peels.
The brand subsequently changed the formula to remove them.
Is It Sold In Stores?
Yes, the line is available in Urban Outfitters, Harvey Nichols and Liberty, as well as online at these retailers.
More Best-Selling Mario Badescu Skincare Products
Add to basket now...
Mario Badescu Facial Spray with Aloe, Herbs and Rosewater, £12, Harvey Nichols
Reach for this facial spray whenever skin feels stressed. First launched back in the 80s, the botanical skin soothers immediately take down that tight, uncomfortable feeling that makes skin see red. Spray over your day and night creams for a boost of hydration or use it to set your make-up.
Mario Badescu Silver Powder, £12, Liberty
OK, it sounds like some kind of kitch 70s beauty tincture. But this mix of calcium carbonate, kaolin and zinc oxide is great for mopping up excess oil and unclogging the gunk that bungs up pores. It's also weird/fascinating/satisfying to apply.
Mario Badescu Vitamin C Serum, £44, Liberty
Anything over 7 per cent ascorbic acid is considered major brightening. This contains 7.5 per cent for bouncier skin and even tone, minus irritation.
Mario Badescu Acne Facial Cleanser, £15, Liberty
Congested pores and just-come-to-the-surface spots don't stand a chance against this blend of acne-fighting salicylic acid and soothing aloe vera.
Mario Badescu Facial Spray with Aloe, Cucumber and Green Tea, £12, Harvey Nichols
Badescu always used botanical-infused waters in his facials - hence the facial sprays became household names. Despite being designed to invigorate dull, tired skin, this one isn't unexpectedly bracing. Just cooling thanks to cucumber and peppermint, while green tea provides powerful antioxidant protection.
Mario Badescu AHA Botanical Body Soap, £8, Harvey Nichols
Wake up your skin and your senses with this invigorating blend of ginseng and fruit enzymes to slough away dead cells.
Mario Badescu Glycolic Acid Toner, £16, Harvey Nichols
Your shortcut to skin as smooth as a plum, thanks to glycolic acid and a natural exfoliator found in papaya. Added aloe vera ensures this is gentle enough to use morning and night, minus the sting.
Mario Badescu Collagen Moisturiser, £24, Liberty
Ideal if you're looking for anti-ageing benefits but are worried about sweat-induced breakouts. This super lightweight formula still locks in moisture and plumps up lines but is more skin-friendly than thicker creams laden with oils.
Mario Badescu Enzyme Cleansing Gel, £14, Liberty
If your skin is easily riled then try this non-foaming cleanser, which thoroughly removes the day's make-up, dirt and oil without being overly drying. Forget scratchy exfoliators, too, as AHAs (Alpha Hydroxy Acids) in papaya and grapefruit do the work of preventing dulling build-up that can cause blackheads.
Celebrity news, beauty, fashion advice, and fascinating features, delivered straight to your inbox!
Fiona Embleton has been a beauty editor for over 10 years, writing and editing beauty copy and testing over 10,000 products. She has previously worked for magazines like Marie Claire, Stylist, Cosmopolitan and Women's Health. Beauty journalism allowed her to marry up her first class degree in English Literature and Language (she's a stickler for grammar and a self-confessed ingredients geek) with a passion for make-up and skincare, photography and catwalk trends.