7 foods that will help to make your skin clear
Because as the saying goes, you are what you eat...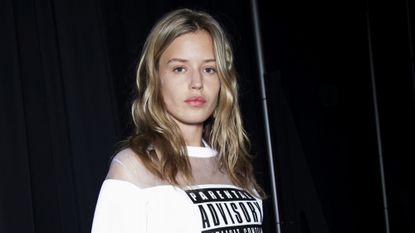 (Image credit: Davide Gallizio/IMAXTREE.COM)
Because as the saying goes, you are what you eat...
There's a reason why the beauty industry is one of the most profitable in the world – because we all want our skin to look and feel amazing. We're willing to do whatever it takes to make our complexion glow with health, but sometimes slathering on the best cleanser after a day out or topping up your hydration levels with the best moisturiser for dry skin (yes, even one of our beauty editor-approved ones) simply isn't enough. Instead, you need the best foods for clear skin.
Whether it's spots or wrinkles, you can help the state of your skin by eating right. Supplementing a well-balanced diet with a few super foods will aid your skin in its daily process of hydrating and renewing itself, to give you a clear, glowing complexion.
And the fun part is, a lot of them are based on colours, so it's easy to recognise exactly what you need and why you need it. For example, orange vegetables, like carrots, sweet potato and squash, are rich in Beta Carotene – which converts to vitamin A in our bodies to help cell renewal and strengthen our skin's barrier.
Similarly, greens contain minerals like calcium, magnesium and alkaloids, which help to alkalise the body, preventing it from becoming too acidic, making foods like broccoli, spinach and spirulina essential for our systems.
There are also superfood families to consider, like berries, which are a good source of the anti-oxidant, vitamin C, known to protect our cells from free-radical damage like pollution. and foods rich in Omega 3 such as salmon, tuna and trout, which help hold moisture and plump skin from within. even herbs can give your skin the nourishment it needs. Take mint for example, which is a great an anti-inflammatory to tone down any redness.
So if you want the best skin of your life, you need to work from the inside out and add these foods to your grocery list the next time you go shopping…
Celebrity news, beauty, fashion advice, and fascinating features, delivered straight to your inbox!