The best spot treatments to zap your pimples into oblivion
Stock up on these your products to get an angry spot under control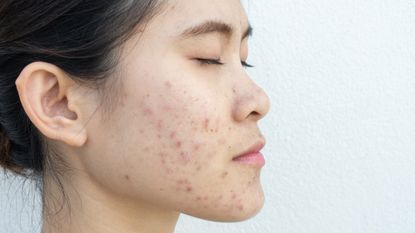 (Image credit: Getty Images)
Why is it that a giant, painful spot always appears just before a really important event? This unfortunate turn of fate is exactly why you need the best acne treatment products to hand: to get rid of 'em.
While we all know that the best way to avoid spots is to nail a good skincare routine for acne which involves gentle daily sloughing off dead skin cells and keeping inflammation in check, when that falls short, you'll need to use something more targeted.
That said, if you're caught short, don't panic: you can always use a bit of your usual clay mask as a treatment, just applying it a couple of times a day to help resolve the spot.
But if that's not doing the trick, you're going to need something a bit more potent. Enter the best spot treatments going to dab on and let do their thing while you get on with life. (Btw if it's acne patches you're after, we tried and tested the best of those, too.)
How do spot treatments work?
The best spot gels usually contain a combination of anti-inflammatory and bacteria-reducing ingredients, like salicylic acid and niacinamide to help reduce the painful swelling and declog. Salicylic acid in particular can get deep into your pores to help decongest them, speeding up the spot-shrinking process.
Should I squeeze my spot before I apply spot treatment?
Short answer: no. Long answer: no, but we know that you're going to do it anyway. We get it. We've all been there. Please do yourself a favour and learn how to do it like the pros by reading our guide to how to pop a pimple with the help of Dr Pimple Popper.
The best spot treatments going:
Team Marie Claire took to testing the below with aplomb, and, though we all have different skin types and concerns, spots seemed to plague a fair few of us, so there were plenty of the blighters to zap with these.
We kept notes on how quickly they worked, and how effectively they took down inflammation.
SLMD Salicylic Acid Spot Treatment
Dermatologist Sandra Lee — best known as Dr. Pimple Popper — created this product as an expansion of her existing SLMD skincare range. Health Editor Ally Head put this to the test and said, "This is easily the best and most effective I've tried. It's a simple-to-use roll on and eased the soreness of both cystic and non-cystic spots overnight. As the main ingredient is maximum strength salicylic acid, you don't need to use a lot (I can imagine if you did, your skin would get rather dry)."
For
Roll on application was easy
It noticeably reduced spots overnight
Against
The formula was a bit drying
It sometimes hurt to roll over cystic spots
Mario Badescu Drying Lotion
This pinky mixture of salicylic acid, zinc and a punchy level of sulphur (10%) helps reduce the size of a spot, rids the area of bacteria, controls the oil and prevents any further blemishes. The key to this product is to not shake the bottle - you want the separation. Dip a cotton bud into the bottle, ensuring you go all the way to the bottom to pick up the pink sediment, then dab a small amount onto the offending spot. The addition of calamine lotion soothes, draws out whiteheads and reduces redness even on under-the-skin blinders.
For
It feels gentle on and doesn't sting
It doesn't dry the surrounding skin out
The sulphur means it works really quickly
Against
Using the bud to apply is a bit of a faff
It would sometimes not quite 'stick' right to the spot after dabbing on
Origins Super Spot Remover Blemish Treatment Gel
A super spot solution from Origins that'll clear your skin in no time – it may be pint-sized (the thimble of solution will last you ages), but you'll feel it getting to work as soon as you've applied it to the affected area. As well as salicylic acid, this one also contains red algae to soothe and calm red, inflamed skin, and dries as a clear protective film over your spot. It's reliable when an angry red one pops up, but there's nothing to show for it. A couple of applications of this and all the bad stuff comes to the surface.
For
It's very potent
It really takes down redness
A little goes a LONG way
Against
It can feel a little drying
You have to cleanse when it's done the job as it leaves a little residue
Clinique Anti Blemish Solutions Clinical Clearing Gel Mini
There are two people on team MC who wax lyrical about Clinique's Clearing Gel and who say they'll turn to it every time a spot rears its head. It's brilliant at reducing the size of said spots and at preventing them from getting any worse. It recommends you apply to your whole face after cleansing, but it's pretty drying so we would just apply it directly to the spots.
For
It's easy to apply
It really brings down spots quickly
Against
It would dry out skin if applied everywhere
Kate Somerville Microbiome Blemish Mark Fading Gel
OK, yes, this is a lot to pay for a spot treatment. But when it's as good as this one, you'll see that it's worth the investment. Although it's designed for post-blemish marks, it works beautifully when your spots are at their angriest, drying it out overnight and reducing the redness instantly.
For
It's super speedy AND gentle
It works on post-spot marks, too
Murad Rapid Relief Spot Treatment
Murad's spot treatment is a game-changer for your handbag. At 2% concentration, this is a maximum strength salicylic acid formula, and it'll reduce your spot's size and redness within four hours. And, rather wonderfully, it can be used under or over make-up, so you don't need to wait until you're bare-faced to zap that zit.
For
It is pretty punchy
It doesn't sting at all
You can wear it under make-up
Against
To wear with make-up, you must apply in a thin layer
Eve Lom Dynaspot Spot Treatment
This is a really, really good spot treatment. It has a pinky-white chalk appearance, so you won't be wearing it during the day. However, as soon as you get back from work, cleanse your skin then apply it to blemish or blemishes, and by the next morning you will see a significant reduction in size.
For
It really works - but is gentle
It dries like a paste so is easy to remove
Against
It's pale pink so you can really see where it is
The INKEY List Succinic Acid Blemish Treatment
A purse-friendly option that works. A combination of 2% Succinc Acid, which shrinks the offending spot, 2% sulphur which draws out the impurities, 1% salicylic acid which exfoliates and 0.4% hyalruonic that stops it from drying the skin out.
For
Also contains hydrating ingredients
Really reduced the throbbing of hormonal spots
Against
The squeeze tube can mean mistakes with amount dispensed
Celebrity news, beauty, fashion advice, and fascinating features, delivered straight to your inbox!
Katie Thomas is the Senior Beauty Editor at Marie Claire UK. With over 10 years of experience on women's luxury lifestyle titles, she covers everything from the best beauty looks from the red carpet and stand out trends from the catwalk, to colonic irrigation and to the best mascaras on the market. She started her career on fashion desks across the industry - from The Telegraph to Brides - but found her calling in the Tatler beauty department. From there she moved to Instyle, before joining the Marie Claire digital team in 2018. She's made it her own personal mission to find the best concealer in the world to cover her tenacious dark circles. She's obsessed with skincare that makes her skin bouncy and glowy, low-maintenance hair that doesn't require brushing and a cracking good manicure. Oh and she wears more jewellery than the Queen.
With contributions from