Bacne (yes, that's back acne) getting you down? Here's how to get rid of it for good
Even the peskiest cystic spots.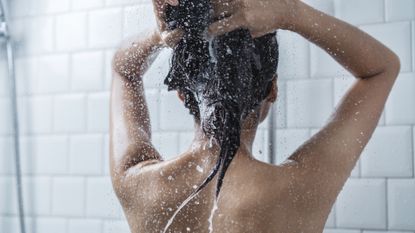 (Image credit: Getty Images)
If you suffer from back acne, it can seem like an impossible place to treat - even with the best acne treatment, applying a standard skincare routine for acne isn't simple when you're dealing with such a big area which is hard to access.
This also makes it an area which is hard to apply concealer or foundation to in order to cover said spots, leaving you potentially feeling quite vulnerable and uncomfortable about exposing the area.
Enter the experts. We spoke to Clinical Aesthetician Pam Marshall, to Consultant Dermatologist Dr Justine Kluk and to Skincare Expert Abigail James - and then I used my years of struggling with acne to test and test and test to make sure we arm you with all the information you need to vanquish bacne for good.
What causes back acne, aka bacne?
While the intricacies differ, the overarching things that cause breakouts tend to be the same—whether it be chin acne, chest acne and even neck acne. However, when it comes to back acne, there are some specific causes.
"The reasons for acne appearing on our backs are similar to the reasons acne appears elsewhere, which comes around as a result of excess sebum production, which is the natural oil produced by the sebaceous glands in our skin, after which a build up of dead skin cells which mix with the sebum get trapped in our pores,"explains Dr. Kluk.
"In those who are prone to spots, this accumulation creates an ideal environment for a bacteria called Propionibacterium acnes to thrive - and sweaty, moist conditions, as well as inappropriate skin or hair care products can contribute."
How do I get rid of bacne?
Daily habits are really important here, and Dr. Kluk suggests "cleansing your skin thoroughly in the shower every day, and using an acne body wash containing ingredients such as salicylic acid, glycolic acid and lactic acid can help prevent dead skin cells from building up and blocking your pores."
Pam Marshall likes to run through this checklist of common causes and solutions with her clients:
Hormones
"There's often a hormonal component, especially in early puberty to mid/late 20s, when androgen levels are high. This is often an underlying cause, and managing lifestyle factors can usually keep it more or less under control."
When you wash your hair
"Conditioner is formulated to stay on hair and your body is coated in fine vellus hair, so that can really cause blockages. I always advise washing your body and face after hair is completely clean and never beforehand."
Working out
"Exercise is of course a good thing - but to keep acne at bay, you do need to make sure you're showering and washing hair after a session, and wearing exercise clothes only once before washing them (this rule counts every time you get sweaty, by the way). It's also worth remembering that increasing the amount of weights you're lifting will up testosterone, which can increase your chances of getting back acne."
Which in clinic treatments can help?
Abigail James suggests looking for clinics that offer "an exfoliation peel, LED, and even laser" to help clear things up, advising that "LED red light is healing and anti-inflammatory, while the blue light is antibacterial."
I recently tried the Cavendish Clinic Hydrafacial Back Treatment after some suncream broke out my back and it was very thorough, with extractions followed by a mask and some LED. A week after visiting, the break out on my back was completely cleared up.
Best back acne treatments
As a beauty journalist of over 10 years who's struggled with acne, I was in the perfect position to put a load of products to the test to find you the definitive best of the best:
Bacne Body Spray
Murad Clarifying Body Spray
This spray is a godsend for body acne thanks to the nozzle which allows 360 degree spraying, making it very easy to spritz your whole back. Salicylic acid speedily calms breakouts and diminishes redness. We found it felt satisfyingly cooling on spotty areas, and really did clear spots when used every day for a consecutive week.
Bacne Body Scrub
Gentle exfoliation of dead skin cells can help to break the acne cycle, but you need an exfoliant that contains gentle enzymes and which doesn't leave an oily film on skin which compounds the problem. This is the perfect buy, and the creamy polish leaves skin smooth but not coated every time.
Bacne Body Wash
Zitsticka Silkshake Probiotic-Rich Body Wash
The aim of this body wash is to calm irritation and to balance the microbiome, which means spots will occur less frequently and, when they do, hang around for less time. It's not cheap, so use on targeted areas and stick to your usual body wash for everything else.
Celebrity news, beauty, fashion advice, and fascinating features, delivered straight to your inbox!
Madeleine Spencer is a journalist and broadcaster who has contributed to titles including Grazia, Glamour, InStyle, The Independent, The Evening Standard, and Stylist, as well as offering commentary for the BBC, Sky News, and ITV.
She is keen on exploring the significance beauty rituals, products, and memories have on people from different walks of life, and enters into conversation on the topic with guests on her podcast, Beauty Full Lives.