The best pregnancy beauty products Meghan Markle would approve of
For legs, bums and tums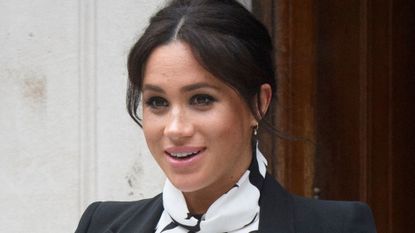 (Image credit: Shutterstock/Rex)
For legs, bums and tums
Pregnancy can be really tough on the body. Not only are you constantly exhausted and moments away from being sick, but your temperature is all over the place, you get more spots that normal, your legs and feet swell and that's before we even get to the stretch marks. Your homones are all over the place and it's your body that takes the brunt of it. Plus it isn't just when you're pregnant, the actual birth itself is one heck of thing and your body needs time and some TLC whilst it recuperates.
What you need is an arsenal of pregnancy beauty products that will help alleviate some of these symptoms and make your pregnancy journey that little bit easier.
It might look like Meghan Markle is sailing through her pregnancy (not a swollen ankle in sight), but she's no stranger to investing in a good pregnancy beauty product to help take care of her skin during her pregnancy. In fact, she's always been quite open about her favourite beauty products.
Meghan Markle Pregnancy Beauty Products
It's been reported that both Kate Middleton, and now Meghan Markle, used Beuti Skincare's Sleep Elixir during both of their pregnancies. The Elixir is made up of 14 plant-based oils, which have huge anti-inflammatory properties. After a couple of days notice, you'll notice the change in your skin; your complexion will appear more even and glowy. Which when you're tired and feeling a bit out of sorts is just what the doctor ordered. According to the founder of Beuti Skincare, the palace recieve regular supplies of the Sleep Elixir.
Meghan has also waxed lyrical about her love of Nivea's Q10 Firming Lotion. She told Beauty Banter: 'It's honestly my favourite lotion on the market, it's so affordable, and makes my skin look and feel amazing. I would buy a case of this at a time if I could find it,' she added. The brand have now developed a Q10 Firming body oil that also targets stretch marks, so we reckon she might have given it a bash.
Keep scrolling through for more pregnancy beauty products that you can use during pregnancy and then once your little one arrives.
Neal's Yard Morther's Balm, £20 John Lewis
Start using this as soon as you can, it helps maintain your skin's elasticity and soothes any itching or soreness from stretching.
Bamford B Silent Night-Time Bath Concentrate, £63 Liberty
The trouble with being pregnant is that one night you can be so exhausted you just make it to bed before conking out and other times you can lie awake for hours, struggling with preganacy insomnia. Try and get yourself into a relaxing night-time routine that starts with a bath. This bath oil contains all of the sleep-inducing ingredients you could possibly need, like vetiver root, lavender and chamomile.
Bloom and Blossom Nip and Lip Soothing Balm, £16 John Lewis
Breastfeeding is hardwork on your nipples. Constant feeding can leave them red raw. This soothing balm can be used on both chapped lips and chapped nips.
Mama Mio Pregnancy Boob Tube, £29.50 Fabled
One of the first signs of early pregnancy is sore breasts that feel like they've doubled in size overnight. They can feel tender to the touch. This cream is rich in natural omega oils that help keep the skin in tip top condition - supple and soft. It also helps with stretchmarks.
Burt's Bees Mama Bee Leg & Foot Creme, £12.99 John Lewis
If you follow Jessica Simpson or Man Repeller's Leandra Medine on Instagram, you'll know that both of them suffered from swollen ankles during their pregnancies. It's completely natural, but can feel like your legs and feet are on fire. This cream infused with peppermint will feel super cooling and leave you feeling a little bit more refreshed.
Cowshed Gorgeous Cow Blissful Bath & Shower Gel, £18 Feelunique
Cowshed's Blissful range is created with Madagascan Rose, Indian Palmororsa oils and French Lavender and Linden Blossom. This winning combination encourages a happy and blissful mood, whilst also sooth and balancing mind. What more could you want from your morning shower, when you're feeling a bit sick and have had to drag yourself out of bed.
Natural Birthing Company Down Below Perineal Massage Oil, £15.99 Look Fantastic
You are encouraged to get your 'area' ready for the birth. What does that mean? Well it's suggested that massaging 'down there' will help elasticity to reduce the risk of tearing during birth. Don't use any old massage oil, use this 100% natural oil that can be safely used on your nether regions.
My Expert Midwife Spritz for Bits, £19.50
After you give birth, you are going to be oh-so-tender down there. You might have stitches, bruising, stretching and/or swelling; it's safe to say things are bound to be a little painful. This spray is made with soothing lavender (known for it's ability to soothe soreness), tea tree oil (which is antibacterial) and witch hazel that helps with swelling. You'll want to keep this one close to you at all times.
The original. The classic. As soon as you tell anyone you're pregnant, you're immeditately told to buy a bottle of Bio Oil and start using immeditately. There's a reason for that. It helps increase the skin's elasticity, so helps reduce the chance of any new stretch marks popping up.
Celebrity news, beauty, fashion advice, and fascinating features, delivered straight to your inbox!
Katie Thomas is the Senior Beauty Editor at Marie Claire UK. With over 10 years of experience on women's luxury lifestyle titles, she covers everything from the best beauty looks from the red carpet and stand out trends from the catwalk, to colonic irrigation and to the best mascaras on the market. She started her career on fashion desks across the industry - from The Telegraph to Brides - but found her calling in the Tatler beauty department. From there she moved to Instyle, before joining the Marie Claire digital team in 2018. She's made it her own personal mission to find the best concealer in the world to cover her tenacious dark circles. She's obsessed with skincare that makes her skin bouncy and glowy, low-maintenance hair that doesn't require brushing and a cracking good manicure. Oh and she wears more jewellery than the Queen.