Assumed SPF in foundation was sufficient protection? You'd better think again—here's why
Time to bust some beauty myths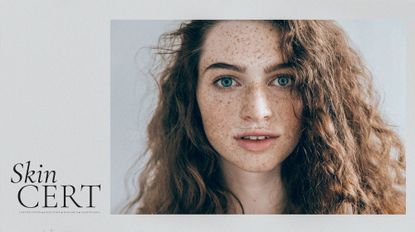 (Image credit: Future/Getty Images 1144763186)
It's no secret by now that SPF is important. Whether it's the best sun cream, the best facial sunscreens or the best SPF moisturisers, you should always be applying it as the last step in your morning skincare routine.
But what about SPF in foundation? Lots of the best foundations and best primers come with added SPF protection, and we know a whole bunch of people who turn to such formulas for their daily SPF hit—but is it enough to really protect your skin from the sun?
Here at Marie Claire UK, we are all about being responsible when it comes to beauty. With so many different opinions out there, we always go straight to the experts for advice that we know we can trust.
So, we contacted a range of dermatologists and make-up artists to find out all about whether SPF in foundation is really safe for your skin, or whether you're better off sticking to a separate sunscreen all together. Keep on scrolling for everything you need to know...
What does SPF do to make-up?
First things first, it's important to know what SPF really does to your make-up. We don't know about you, but we've always wondered if adding SPF to foundation changes the formula. As it turns out, adding it can have an effect.
"SPF traditionally changes the texture of foundation, and can cause the product to become thicker, chalkier and/or greasier, says CeraVe Consultant Dermatologist, Dr Alexis Granite. "However, technology has come a long way and textures have significantly improved, so finding a foundation with SPF that suits your skin tone and type should be easier." That being said, if you've found the perfect foundation formula, just beware that if you're looking to move to an SPF-containing formula, results will likely be different.
Does foundation with SPF in provide enough sun protection?
So, now that's out of the way, do foundations with SPF protect your skin from the sun? The short answer is no. "Theoretically, make-up in foundation should provide adequate sun protection, but unfortunately sun protection factors are determined based on a thick application of product, and realistically you would need a lot more foundation than is practical to apply," explains Granite.
Most dermatologists recommend applying two finger-lengths of SPF onto your face, and in order to get this from your foundation, you'd have to be applying layers and layers of product, which just isn't practical.
Ridah Syed, Senior Medical Aesthetician at Skinfluencer London, agrees. "Think about how much SPF you apply as a solo product. In many cases, people will not apply a similar amount of foundation. Instead, they will use foundation more sparingly which means they definitely won't be getting the protection they need."
Should you wear a primer with SPF?
Alongside SPF in foundation, many brands have also started adding SPF to primers for added protection. Again, we find ourselves asking, is this really enough to keep our skin safe?
"SPF in primers helps to protect the skin, however, I always encourage using a separate SPF if sun damage is a main concern," says Rebecca Moore, National Senior Makeup Artist at NARS. "The important thing to remember is that using a primer with SPF 30 and a moisturiser with an SPF will not add together to create a higher SPF. The benefit of using two products with an SPF is that if you have missed an area with one of the products, the second should help to protect that area."
All in all, it's worth investing in a primer with SPF for added protection, but always make sure to apply your facial sunscreen first.
NARS Cosmetics Radiance Primer SPF35
"My favourite SPF primer has to be the NARS Radiance Primer, especially if you have dry skin or are looking for an added glow," says Moore. With SPF 35, what's not to like?
Charlotte Tilbury Invisible UV Flawless Poreless Primer SPF 50
This SPF primer is infused with hyaluronic acid, which is the perfect ingredient to hydrate your skin before applying make-up. With SPF 50 PA++++, it will protect you from both UVA and UVB.
Nars Smooth & Protect Primer SPF50
For oily skin, Moore recommends the NARS Smooth and Protect Primer. This primer is also great if you want extra protection as it also has an SPF50+++, which means it is protecting the skin from UVA and UVB.
Should you apply a separate SPF under make-up?
So, even with all of these skincare and make-up hybrids on offer, you should still apply a separate SPF under your make-up. "Sunscreen should be the last step in your skincare routine and the first step before make-up," says Granite. "Think of sunscreen in make-up as icing on the cake."
It seems that Syed agrees. "In my opinion, you should always have a separate SPF, not one combined in a liquid foundation or moisturiser as they can be ineffective at offering full protection."
Should you wear SPF under make-up in the winter?
Some people think that SPF is just for summer, but in reality, SPF should be worn all year round. "SPF in make-up is better than no SPF at all, but it's still best to apply a separate SPF first all year long," says Granite. Even if the sun isn't shining, which let's face it, happens a lot in the UK, your facial sunscreen should still be the last step in your morning skincare routine.
The best SPF for under make-up
After hearing all of that, we were curious to hear what SPFs the experts recommended wearing under make-up. It's safe to say that we will be adding these to our baskets ASAP.
Ultra Violette Queen Screen SPF 50+ Luminising Serum Skinscreen
Granite recommends this SPF by Ultra Violette. This chemical sunscreen can be used solo or layered with your serums, moisturiser and foundation for extra hydration.
Zo Skin Health Daily Sheer Broad Spectrum Sunscreen SPF 50
"In terms of SPF, my absolute favourite is ZO Skin Health Daily Sheer SPF," says Syed. "It is terrific for all skin types. It is not drying and it doesn't cause breakouts. It also gives skin a nice glow."
CeraVe AM Facial Moisturising Lotion SPF50
Granite also recommends this SPF by CeraVe. Designed for normal to dry skin, the rich cream contains a blend of three ceramides for a soft, smooth base.
Celebrity news, beauty, fashion advice, and fascinating features, delivered straight to your inbox!
Grace Lindsay is currently Junior Beauty Editor at Who What Wear UK and previously was Marie Claire UK's E-Commerce Writer. With over three years of experience in the fashion and beauty industry, she covers everything from the best make-up and skincare deals to how to shop the stand out trends of the season. When she's not typing away at her laptop, Grace can be found shopping her favourite vintage markets IRL, or catching up on her never-ending list of books to read.