As a beauty journalist and make-up artist, this affordable foundation range has won me over
I put each of formula to the test and found some utter gems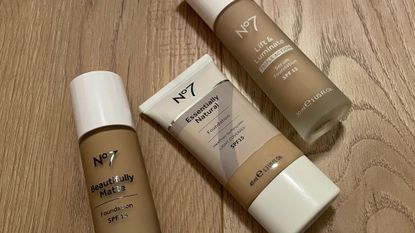 (Image credit: Madeleine Spencer)
As someone who has spent more than two decades daily covering spots as a side effect of having PCOS, finding the best foundation under the sun has been something of an obsession. Add in that I write a lot for publications on beauty, as well as working as a make-up artist, and you can probably understand why I often try new formulas and have lists and lists of the bests: best tinted moisturiser, best foundation for mature skin, best foundation for oily skin, etc.
That said, No7 hasn't really been on my radar for foundation. Mascara, YES (the Full 360 Mascara is a joy, and I regularly recommend it as a purse-friendly option). Skincare, you bet. But I'd never really got into their foundations.
I have now learned that this was an error of epic proportions - they make loads of options for different finishes and application preferences, and they're hugely affordable, making them a very savvy brand to tap up at any point.
I tested them all as if I were thinking of buying them for day-to-day life, asking myself how easy they were to apply, how long they stuck around for, and how they fared on my skin in general. Here are the ones I think you should know about:
Best for on-the-go
1. No 7 Stay Perfect Stick Foundation
No7 Stay Perfect Stick Foundation
This was a perfect addition to my on-the-go make-up bag—it's lightweight, and the stick format means I could just swipe it on bits where my foundation had worn off, and blend it with my fingers. I liked it with a little bit of powder over shiny bits, but I do lean towards some shine so you may well be fine without any.
One thing to note: it's easy to apply quite a lot if you push down hard, and I also found it transferred onto polo necks if I wasn't careful.
For
Offers full coverage
Handy if you need to reapply
Doubles up as a concealer
Can be buffed out with a brush for a lighter finish
Against
It is easy to apply more than you intended
The mousse finish can transfer onto clothes
Best for a whisper of coverage
2. No7 Essentially Natural Foundation
No7 Essentially Natural Foundation
I felt like this was skincare plus - yes, it offered some coverage, but I did the bulk of hiding spots and redness with concealer, while this added a soft focus veil and a LOT of hydration to my skin.
In terms of staying power, it's precisely what you might expect from a hydrating, light-coverage foundation in that yes, it hung on for a while (I noticed it was still doing good work of making my skin look glossy during the middle of the afternoon, and I'd applied it at 8am), but there didn't seem to be much left in the evening when I cleansed my face.
For
Makes skin look glossy and healthy
Great packaging - lightweight and hygienic
It's hydrating
Adds a slight blur effect to skin
Against
Isn't buildable to a fuller coverage
It doesn't stick around for a long day
Best long-wear option
3. No7 Stay Perfect Foundation
No7 Stay Perfect Foundation
If you're busy and want to fling on a foundation knowing it's not going to require much maintenance throughout the day, this is probably the one for you.
I needed concealer on spots as it's thoroughly a medium-coverage foundation, but I found that the mild redness around my nose was covered by it.
The finish is velvety, though some sheen broke through on my t-zone by the evening, as you can see in the above picture, which I took at 9pm, after having worn it for more than 12 hours.
For
Stays put and doesn't migrate into wrinkles or crevices
Doesn't become too shiny over the course of the day
The SPF 30 is a handy addition
Against
The glass packaging is a bit bulky
It offers medium coverage so you'll still need concealer
Best for a matte finish
4. No7 Beautifully Matte Foundation
No 7 Beautifully Matte Foundation
I loved the finish of this on my oily t-zone: it took down shine, but didn't make my skin look flat or lifeless as too much powder can. It didn't move a lot or disappear. I found using it down the centre of my face where shine is most prevalent worked best, then used a more luminous formula on my cheeks where I'm ever so slightly more dry.
A note if you opt for it: applying it with a brush gave me the best finish.
For
Mattifies without looking chalky
Doesn't crease over time
Makes skin look very smooth
Against
Bulky glass packaging
You'd ideally need a brush to apply
Best skincare/make-up hybrid
5. No 7 Lift & Luminate Triple Action Serum Foundation
No 7 Lift & Luminate Triple Action Serum Foundation
Containing a cocktail of vitamins A, C, and E, this is part light to medium coverage foundation, part skincare. It wore really well, not settling into dry patches or making the creases around my eyes look pronounced.
The illuminating bit, by the way is very much true - it made me look glowing and healthy, even when I was nursing a hideous cold.
For
It looks after skin thanks to the vitamins and peptides in the formula
It makes skin look very glowing
Against
The glass packaging is a bit bulky
It might be too shiny on very oily skin
Celebrity news, beauty, fashion advice, and fascinating features, delivered straight to your inbox!
Madeleine Spencer is a journalist and broadcaster who has contributed to titles including Grazia, Glamour, InStyle, The Independent, The Evening Standard, and Stylist, as well as offering commentary for the BBC, Sky News, and ITV.
She is keen on exploring the significance beauty rituals, products, and memories have on people from different walks of life, and enters into conversation on the topic with guests on her podcast, Beauty Full Lives.