I just tested all of the Fenty Beauty foundations—and there's truly something for everyone
Whatever your skin type, expect a glowing complexion from every formulation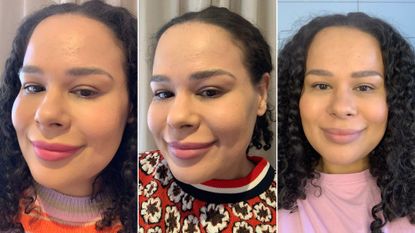 (Image credit: Amerley Ollennu)
I've been on the hunt for the best foundation for over two decades. It started almost ten years before I became a beauty editor, and was spurred on by my desire to cover up my acne (see the MC roundup of the best foundations for acne-prone skin here).
So, as you can imagine, over the last 25 years I've tried more than my fair share of bases in a bid to find my perfect match. One that looks like a second skin, covers my breakouts, glides over my pores, mattifies my oily areas, but doesn't cling to my dry patches either and stays put all day long.
I'm no stranger to the Fenty Beauty foundations, not just because I'm a beauty editor but also because when a brand (and a celebrity one at that) launches with the most amount of foundation shades on the market, you take note.
"Foundation is one of those areas in the beauty industry that has a big void for people at extreme ends of the shade spectrum. There's this middle ground that's covered really, really well, but then if you're very light or if you're very deep, there aren't a lot of options," shares Fenty Beauty's founder, Rihanna. "So I wanted to make sure that people of all skin tones were covered so they could be included in what I created."
The brand's foundations not only aim to cover all the bases when it comes to shade offerings (50 to be exact), but they also aim to deliver the perfect base for a range of skin types too. So, how did they fare? Well, for this acne-prone, mixed-heritage beauty editor with combination skin, the results were surprising.
Keep on scrolling to find out more, and for more inspiration, don't forget to check out the Marie Claire guides to the best foundation for oily skin, the best foundation for dry skin, the best drugstore foundations and the best tinted moisturisers.
Best for oily skin
1. Fenty Beauty Pro Filt'r Soft Matte Longwear Foundation
Fenty Beauty Pro Filt'r Soft Matte Longwear Foundation
The Fenty Beauty foundations are pretty high-tech, and they all adapt to the climate, so if your skin temperature heats up, your base won't look like it's melting off—hooray. While heat wasn't an issue when I tested, I did find that this foundation did stay put all day long. It offers a luminous-matte finish, so rather than being flat and one dimensional my skin still had some 'life' to it, which I liked. However, while it's meant to be a buildable medium-to-full coverage base, I found it didn't cover my hyperpigmentation, or smooth over my pores as well as I'd like, and it looked too cakey if I applied multiple layers to my skin.
For
Lasts all day
Impressive shade range
Mattifying
Against
The colour oxidises
Clings to dry patches
Not full coverage
Best for dry-to-normal skin
2. Fenty Beauty Eaze Drop Blurring Skin Tint
Fenty Beauty Eaze Drop Blurring Skin Tint
In my teens I wanted my base to completely camouflage my skin, but now I'm a big fan of a light-to-medium coverage foundation for casual outings, Zoom meetings and alike. I expected my pores, acne scars, spots, redness, and hyperpigmentation to be somewhat visible, so was stunned that my pores were well blurred, and that my redness instantly disappeared with just one layer. Even my hyperpigmentation was less visible, and yet my skin had a natural glow to it. But hours later, despite using a setting powder on my oily T-zone, my skin was far too shiny for my liking.
For
Blurs pores
Buildable coverage
Easy to use and apply
Best for oily skin
3. Fenty Beauty Pro Filt'r Soft Matte Powder Foundation
Fenty Beauty Pro Filt'r Soft Matte Powder Foundation
There's no other way to describe this finely milled powder than that light as air. Even after applying multiple layers of the stuff with a dense brush for extra coverage, I still couldn't feel it on my skin, and I didn't look cakey either—not even on my dry patches. It's mattifying, but like all the Fenty Beauty foundations, it doesn't look flat. While it didn't offer total full coverage, it kept oil at bay for hours. It's also easy to carry around and comes with an applicator, so it wasn't a pain to reapply about four hours in.
For
Feels feather light
Keeps oil at bay
Can be used as a setting powder
Against
Highlights large pores
Not for dry skin types
Not full coverage
Best all-rounder
4. Fenty Beauty Pro Filt'r Hydrating Longwear Foundation
Fenty Beauty Pro Filt'r Hydrating Longwear Foundation
A little goes a long way when it comes to this medium-to-full coverage foundation, so start with a small amount and build up depending on the coverage desired. Fenty Beauty states that this hydration-packed base is best for normal-to-dry skin, but my combination (at the time of testing I had oily, dry and normal patches) skin loved it. It glides over pores, offers impressive coverage, left my skin luminous in all the right places, and lasted about four hours before I had to dust some powder over my T-zone.
For
Hydrating
Buildable coverage
Long-lasting
Comfortable
Luminous
Against
Needs setting around the nose
Might be too hydrating for oily skin
Celebrity news, beauty, fashion advice, and fascinating features, delivered straight to your inbox!
Amerley is an award-winning beauty & lifestyle journalist who has been writing for the UK's most well-known glossies, websites and newspapers for almost two decades. Known for her ability to predict the next big trend, there is really very little she won't try for a story. From microblading and injectables, to 10-step skincare plans and breathing her way to better skin, Amerley loves to share her experiences and write relatable, informative and trend-led features for beauty novices and junkies alike. When she's not testing the next big thing, you'll find her perfecting tequila cocktail recipes, listening to female-focused financial podcasts or trying to master the art of meditation.