I just put every Charlotte Tilbury foundation to the test—here are my honest thoughts
So much glow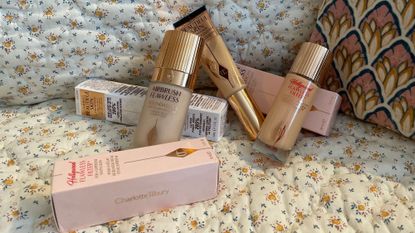 (Image credit: Mica Ricketts)
Even as a beauty editor I have to admit that I find shopping for the best foundation incredibly overwhelming—the sheer number of options is immense and that's before you've even got into deciphering the different textures, finishes and shades. However, there is one thing that I do know: a Charlotte Tilbury foundation is guaranteed to give you unrivalled glow.
From skincare to makeup, the brand's entire line-up is pretty much centred on boosting radiance and the brand's foundations really don't mess around when it comes to creating a complexion that's luminous and dewy.
Even better—Charlotte Tilbury has totally streamlined its foundation offering to make it easier than ever before to shop with them. There are now just three foundations to choose from in sheer, medium and full-coverage formulations depending on the level of opacity that you're after. (Although, can we spare a moment of beauty silence for the Light Wonder Foundation which is currently being phased out? You can still get the last remaining shades at charlottetilbury.com.)
But which one is best? I've been putting every Charlotte Tilbury foundation through its paces to work out exactly which formula is best and for who. Here are my findings…
1. Charlotte's Beautiful Skin Foundation
Charlotte Tilbury Charlotte's Beautiful Skin Foundation
Reasons to buy
+
Medium, buildable coverage
+
Hydrating, healthy finish
Reasons to avoid
-
Might be too dewy for oily skin types
Almost every single beauty editor I know went wild for this foundation launch and, if I'm totally honest, I wasn't at all sure when I first tried it. Yes, the initial finish is as beautiful as the name suggests—it smooths texture, evens tone and leaves skin looking dewy, fresh and plump. Plus, it brings down redness and diffuses the appearance of blemishes and pigmentation without looking cakey or mask-like.
My initial thoughts were that it was way too glowy for my oily skin, and by lunchtime I was definitely looking shiny rather than radiant. This time around, however, I've been using a small amount of powder on my t-zone to set it in place and have been genuinely impressed at how good it still looked by the end of the day.
Despite this, I'd say this foundation would suit normal to dry skin types better than anyone excessively oily or who doesn't want to use a powder as part of their makeup routine.
2. Charlotte Tilbury Hollywood Flawless Filter
Charlotte Tilbury Hollywood Flawless Filter
Reasons to buy
+
Sheer coverage
+
Versatile—use to prime, highlight and as a skin tint
I have to come clean and admit that I'm already a huge fan of this product, but I have never used it as a foundation before the Charlotte Tilbury team told me they consider it to be part of their foundation line-up. Generally speaking this is a bit of a does-it-all glow booster. I tend to use it beneath my normal foundation as a luminous primer or pressed onto cheekbones as a highlighter and I love the gleam that it imparts onto the most tired-looking of skin.
For the purpose of this piece, though, I used it all over as a foundation and I have to say I was pleasantly surprised at the results. It is sheer, so it won't cover things like pigmentation or blemishes, but it does dial redness down a notch. What I liked most about this is just how damn dewy my skin looked. There is a slight metallic sheen to the finish which could leave you veering into Tin Man territory if you overdid it, but pressed into skin with a makeup sponge I found that it blended seamlessly with my skin and just made it look bouncy and fresh.
This is an excellent base on days where you can't be bothered with a full-on face of makeup or don't mind your natural skin texture shining through.
3. Charlotte Tilbury Airbrush Flawless Foundation
Charlotte Tilbury Airbrush Flawless Foundation
Reasons to buy
+
Full coverage
+
Long-lasting
Reasons to avoid
-
Might cling to dry patches
I don't normally opt for foundations that claim to be either full-coverage or have a matte finish but, spoiler alert, I'll make an exception for this Charlotte Tilbury one. While I am a real advocate for not feeling like you have to cover anything up on your skin, I'd be lying if I said there aren't days or occasions when I don't want my natural skin texture and blemishes taking centre stage. For those moments, or for events where I want my makeup to stay put, this foundation is unrivalled.
I find it best applied with a damp makeup sponge to really help it mesh with my skin and prevent it looking cakey—due to the opacity of the formula I found that applying it with a brush ended up looking a little too full-on for me. It glides onto skin and creates the illusion of a totally smooth, poreless complexion that acts as the perfect canvas for whatever makeup you want to apply on top. And the longevity is impressive on my oily skin—with or without powder.
I'm not sure how drier skin types would fare with this all day, as it does have a tendency to cling to more dehydrated areas. But if you want a long-wearing, full-coverage foundation with a velvety finish then I can't rate this enough.
Celebrity news, beauty, fashion advice, and fascinating features, delivered straight to your inbox!
Mica Ricketts is a freelance beauty editor and contributor to Marie Claire. She has written for titles including Refinery29 and Who What Wear UK, and also works with beauty brands on content messaging and marketing copy. She was previously Who What Wear UK's beauty editor. As someone that has tried basically every acne product on the market, she has a particular passion for debunking skincare myths and finding products that work. Plus, with two small children at home she is all about time-saving beauty routines that boost glow and disguise dark circles.