According to experts and beauty editors, these are the 5 best hair dryers for curly hair
Curls deserve respect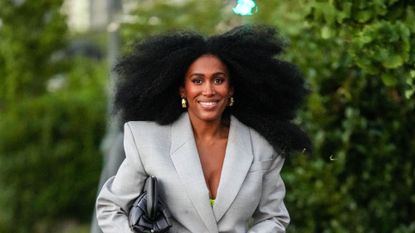 (Image credit: Getty Images)
When it comes to picking the best hair dryers for curly hair it can be a bit of a minefield. And let's be honest, often the criteria for any of the best hair dryers is based on how they work on straight hair. However, what about those with wavy, curly and coily hair?
You might be forgiven for thinking that all hair dryers are created equally, but things such as ease of use, power, attachments and accessories can set models apart. And when it comes to enhancing your curls and making your hair routine effortless, these things can make all the difference.
Alongside choosing the best shampoo for curly hair, "When it comes to caring for curly and natural hair, selecting the right hair dryer is crucial," explains Rose Ovensehi, Founder of natural hair care brand Flora & Curl. This is because improper heat and airflow can lead to frizz, damage, and eventually, loss of curl definition.
How to choose the best hair dryers for curly hair
The things to look out for when buying a hair dryer for curly hair:
Technology
Power & Wattage
Heat & Speed Functions
Attachments & Accessories
Technology
The materials and technologies to consider when looking for the best hair dryers for curly hair include ceramic, tourmaline and ionic technology.
Hair dryers with ceramic or tourmaline components emit even and gentle heat. This helps prevent hotspots and reduces the risk of heat damage to delicate curls. "While infrared hair dryers use longer wavelengths of energy to dry the hair from the inside out, which can be less damaging to curls." says Ovensehi.
However, Angela Stewart, Afro Hair Educator and Specialist, explains that ionic hair dryers are ideal for curly and coily hair because they can help "breakdown the water molecules and redistributes them into smaller water particles that helps to shorten the drying time and by doing so ensures the least amount of damage is done to the hair strand."
Power & Wattage
Power & wattage is equally as important. And whilst you might be thinking: what difference does the power and wattage of your hair dryer make? The answer is that it can make a world of difference to your curly hair drying experience if you don't have a hair dryer with enough power.
"A dryer with at least 1800 watts is recommended for quicker drying, especially for those with thick or long curly hair. Higher wattage provides more airflow and heat, which can speed up the drying process." says Jason Crozier, Hairdresser and Colour Specialist at Neville Hair & Beauty.
Heat & Speed Functions
A lot of curly girls steer clear of heat, but the reality is that hair dryers for curly hair are like any heated styling tool (including the best straighteners for curly hair) and can make wash day and styling a lot easier when used correctly.
"It's really important when selecting a hair dryer for curly and afro hair to pick one that has a variety of heat options and settings." explains Elena Diaz, Freelance Makeup and Hair Stylist with over 10 years experience in commercials, films, TV, editorial and fashion.
A breadth of temperature and settings give you a lot of flexibility when styling your hair, particularly as different sections of curly or natural hair can differ in texture. "Lower temperatures are less damaging for fine and delicate hair, while higher heat settings will help thicker and more densely textured hair to dry quickly." chimes in hair stylist Charlotte Mensah.
Attachments & Accessories
When purchasing a dryer that's perfect for your curly hair, ensure that it comes with a range of attachments that will meet your styling needs. Think about if you just want to just dry your curls or coils, or if you want to be able to straighten or stretch your hair before you install your braids. If you're a lover of wigs and weaves, do you want to be able to style those too? If so, bear this in mind when hunting down your dryer.
June Forbes, TV and Film Hair Stylist, Industry Consultant and Hair Educator adds, "A diffuser is key to maintaining curls and reducing frizz when styling naturally curly hair. A comb or brush attachment can be useful for the less experienced or for speed when wanting to straighten the hair. A concentrator nozzle is also necessary for a smooth finish if you prefer to blow-dry your hair using a brush."
Best hair dryers for curly hair 2023: Tried & tested
As someone with natural hair, my checklist for what constitutes being a good hair dryer for my hair varies from my friends with poker straight locks. So when I started my search for the best hair dryers for curly hair, I took the above criteria into consideration, as well as the hair dryers' weight, how quickly it dried the hair, definition of curly/frizz, the noise and functionality of attachments/accessories, particularly the diffuser.
1. Lily England Deluxe Hair Dryer with Diffuser
Lily England Deluxe Hair Dryer with Diffuser
Best affordable hair dryer for curly hair
Reasons to buy
+
Great price point
+
Quiet
+
Lightweight
+
Minimises frizz
Reasons to avoid
-
Only come in white & rose gold colourway
What I like the most about this dryer is that it's functional and also kind to your pocket (because, hello cost of living crisis). I was surprised by how lightweight and quiet the dryer was. It has both a nozzle and a nice size diffuser, and a very handy hanging loop, which I wasn't expecting considering the price point. It dried my hair rather quickly and with minimal frizz. It would make a really nice first hair dryer.
2. GHD Helios Hair Dryer
GHD Helios Hair Dryer
Best hair dryer for curly hair that professionals use
Reasons to buy
+
Feels professional and polished
+
Brushless motor
+
Easy to control
Reasons to avoid
-
Attachments are separate
Aeroprecis technology sets this dryer apart, gives it a longer-life, brushless motor, and uses advanced internal aerodynamics. It feels sleek. luxe and salon grade. However, the powerful airflow travels at 120 kmph and it feels a tad noisier compared to the other hair dryers I tried, but it did feel like I had a lot of control over the settings.
It's also a favourite with Charlotte, "It has a built-in ionic technology, which locks in moisture whilst drying hair. It also minimises frizz and flyaways. Finally, it adds 30% more shine to afro hair, helps tighten cuticles leaving you with a sleek and smooth-looking blow dry every time."
3. Dyson Supersonic
Dyson Supersonic
Best luxury all rounder hair dryer for curly hair
Reasons to buy
+
Magnetic attachments
+
Five styling attachments
I'd heard a lot of hype about the Dyson Supersonic, so I was dubious about how it would hold up against drying my natural hair, but I wasn't disappointed. The intelligent heat control technology prevents extreme heat damage, which made me feel secure that I wasn't frying my coils while I used the diffuser.
Roughly, half way through drying my hair, I switched to the flyaway attachment, which I ran over the top of my hair. To be honest, I wasn't sure if it would actually do anything to my curls, but my hair seemed to be more compact and my boyfriend also noticed (which is excellent praise). I was also pleasantly surprised that it features a comb attachment, which is great for blowing out/stretching out natural or relaxed hair. So if you can work this dryer into your budget, it's worthwhile.
4. Cloud Nine Airshot Pro
Cloud Nine Airshot Pro
Best hair dryer for damaged hair
Reasons to buy
+
Magnetic attachments
+
Self cleaning
+
Ionic technology
+
Eco-precision motor
A hair dryer that is self-cleaning and that's kind to your hair, feels like it's too good to be true, but the Airshot Pro seemed to tick all the boxes. This lightweight hair dryer felt very professional and was noticeably quiet when I used it. It also features an intelligent variable temperature control, regulating heat at 100 times per second to protect your hair's shine, and has ionic technology, reducing the amount of negatively charged particles in every strand, which helped to6. reduce frizz. I noticed that my hair dried very quickly (probably due to the eco-precision motor that provides more power) and my hair had a lot of volume. Win-win in my books.
5. Remington PROluxe You Adaptive Hair Dryer
Remington PROluxe You Adaptive Hair Dryer
Best hair dryer for styling curly hair
Reasons to buy
+
Different settings for styling
+
LCD screen display
+
Advanced diamond ceramic coating
+
Ionic conditioning
I actually think that I audibly gasped when I turned on the Remington PROluxe You Adaptive Hair Dryer. I've never used a hair dryer with an LCD screen; it felt like I had stepped into the future. The screen displays the intelligent StyleAdapt Technology with three styling modes that learns, adapts and personalises the heat to your hair's styling needs. My hair felt nice after using the diffuser with the diffuser setting, however, it felt a little heavier compared to other dryers.
Celebrity news, beauty, fashion advice, and fascinating features, delivered straight to your inbox!