Meet the three designers who were front and centre this Ukrainian Fashion Week
"We will never destroy, but we will always create."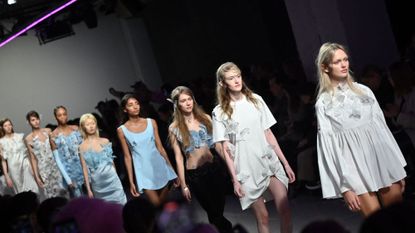 (Image credit: Getty Images)
As London Fashion Week draws to a close, the capital has lent its stage to Ukraine.
Ukrainian Fashion Week is unable to go ahead in Kyiv as usual due to the ongoing war, with this week marking one year since Putin's 2022 invasion. But despite the air raid sirens and missile attacks, Ukrainian designers continue to create.
As a result, the British Fashion Council invited Ukrainian Fashion Week to be a part of the official schedule this season, showcasing the work of three leading Ukrainian designers - KSENIASCHNIEDER, PASKAL and FROLOV.
The RTW collections were all created in Ukraine, amid the Ukraine-Russian war, and under the sound of bomb sirens, with the designers coming together to deliver an all-important message.
"We strive to create. Creating collections is our resistance to war. Today more than ever, we need creativity for life," they announced in a powerful statement.
"The fashion show on the London Fashion Week runway is our manifestation of will. This is the fulfilment of our strength and resilience. This is a reflection of the courage of all Ukrainians.
"To create in spite of everything," they continued. "Despite working in the most unstable and difficult conditions, under the sounds of air sirens... Together with our teams, we continue to work on the collections.
"We know that all of this is for the sake of our common peaceful future. For the sake of inviting all of you next season to our show in liberated and free Ukraine.
"We will never destroy, but we will always create."
Features Editor Jenny Proudfoot attended Ukrainian Fashion Week, and went backstage to interview the three designers as they made their London debut.
KSENIASCHNIEDER
KSENIASCHNAIDER was founded in 2011 by married couple Ksenia Schnaider and Anton Schnaider. With sustainability at its core, the collections cover women's and men's ready-to-wear, reworked, upcycled patchwork denim and accessories. All collections are made at the brand's own production in Kyiv, Ukraine.
Talk me through the inspiration behind your collection...
I did not have particular inspiration for this collection - I was just working with KSENIASCHNAIDER legacy. I used all our classical techniques - such as zero-waste patchwork of waste, upcycling of sportswear and reworking denim. I know that all these ideas are not new, but it was important for me to show to the bigger audience what we were doing for ages in Ukraine. I dedicate this collection to my team, who decided to stay in Kyiv and keep working in our studio. They all are my true heroes and I value their craft, their incredible work with old clothes and dead stock.
What does Ukrainian Fashion Week mean to you?
I started showing at Ukrainian fashion week at the age of 19 when I was working for another Ukrainian brand. So it`s been a lot of seasons for me there in different locations. I value them like our partners, they were always very supportive. When Irina proposed to me to become part of the London Fashion week showcase she said "We have only one condition for you to become part of the LFW show - promise me to have a big show in Kyiv after our victory". I think it tells a lot about her as a person and her love for the Ukrainian fashion community.
What message do you hope to send with this show?
The main message was written on the cards that we put on the seats at the venue. We created it together with my colleagues Paskal and Ivan Frolov - "We will never destroy, but we will always create."
This week marks one year since Russia's 2022 invasion of Ukraine - how can we support the people of Ukraine right now?
"At the finale of our shows we were walking with a Ukrainian flag to mark this tragic date. On the flag there was the name of an organisation who provides help to Ukrainians - United24, we wanted to encourage people to continue donating and supporting us. This help can save lives."
PASKAL
PASKAL was founded by Julie Paskal, then an architecture graduate, back in 2013. Since then the brand has gone onto become renowned for its delicate silhouettes and minimalistic shapes, taking huge inspiration from Paskal's architectural background. This collection, 'Out of Cocoon' is PASKAL's first return to the runway in three years.
Talk me through the inspiration behind your collection...
The leitmotif of the 'Out of the Cocoon' collection is a butterfly, as a metaphor for the beauty and fragility of life. It is a very special symbol for me. It is the epitome of transformation, which is usually not an easy process. For the most part, it is quite brutal, yet, it is natural and vital. The aspect of temporality evokes the urge to see and cherish the uniqueness of our world. Being an ethereal creature, a butterfly can change the world with a flap of her tiny wings. And then, the next cycle of change begins. So let's take a moment to appreciate the stealing beauty of a butterfly that lands on your shoulder.
What does Ukrainian Fashion Week mean to you?
Unconditional love and support of Ukrainian designers. Having an opportunity to represent our country in its modernity and creativity means everything to me and the whole Paskal team. Plus, my brand had not been on the runway for the last three years, so this moment is also personally overwhelming. Now, we are out of the cocoon, in a way.
What message do you hope to send with this show?
The main message of this collection is how precious life is by itself. It is an invitation to slow down and take a look at the deeper level, to see the tension between eternity and finiteness, originality, and cyclicity. Once again, to see the beauty of life, which is born on the cusp of these oppositions. It is a dialogue on the power of change and staying true to yourself at the same time. We may get quite surreal while manifesting these ideas through the fabrics, colours, and silhouettes. But what is real, after all?
This week marks one year since Russia's 2022 invasion of Ukraine - how can we support the people of Ukraine right now?
Every contribution matters. There is no universal answer but I think that everyone can do something: donate to local volunteer organizations, visit a manifestation in your city, or simply raise awareness and spread information. And it all starts with keeping yourself aware and your eyes open. Keep Ukraine on your radar! I think that only our unity against Russian terror and helping Ukraine to resist at the frontier will bring us peace.
FROLOV
FROLOV is a couture-to-wear brand that was founded back in 2015 by Ivan Frolov. The brand originates from Kyiv, with 'love' being at the centre of everything they do, and the meaning behind their logo - an anatomical heart. FROLOV has been worn by a host of Hollywood celebrities, from Beyonce to Dua Lipa.
Talk me through the inspiration behind your collection...
We love to give our collections names that reflect their main idea in a short form. The one we were representing during London Fashion Week is named "Song to Song". I was deeply inspired by authentic Ukrainian music I loved throughout my whole life. In childhood, we had a tradition of listening to those certain songs as a family, and it stays in my heart like the symbol of something very intimate, deep, and emotionally evoking. Songs accompany us throughout our lives, from the time we've been born to when we die, when we celebrate something or even have sex. And it is so interesting that a heart, a symbol of our brand, is the source of the song itself. It has a rhythm, its beat changes at different moments, and it can have a melody when you listen very carefully.
As each of us has a heart, it makes us all a song ourselves. Together we make a solo, a duet a triptych, and even an orchestra. And as a brand we're deeply connected to music, working a lot with Ukrainian and international artists, we feel clothes best through a song. And when the heart of the piece syncs with a heart of the person, a new melody is created. From song to a song.
What does Ukrainian Fashion Week mean to you?
Ukrainian Fashion Week has been the biggest supporter of our brand since we've started. This is the biggest and oldest Fashion Week in Eastern Europe that helped a huge amount of talented Ukrainian designers to be seen by the wider fashion community. UFW are basically the founders of the modern Ukrainian fashion, and we're so happy and proud to work with them so closely each season!
What message do you hope to send with this show?
I hope it has evoked emotions in people - that was my main goal here. And I know these emotions can be very versatile, but the main thing to me is reaching the hearts of the audience so that people do not stay indifferent. It was also a great chance for us to show that there's nothing impossible for Ukrainians, and we are able to continue living, working and fighting for our freedom. We felt like cultural warriors who are able to continue to talk about Ukraine in every way possible. We are happy to use this opportunity as a platform to represent Ukrainian talent, to show it to the world and continue spreading the message that we won't give up on our main goal and what we're doing in any circumstances.
This week marks one year since Russia's 2022 invasion of Ukraine - how can we support the people of Ukraine right now?
First of all, I want to thank the whole international community, every single person in the UK and abroad for their incredible support of Ukrainians, for every small and big action, for standing with us and helping in every possible way. Without you, we wouldn't be able to still defend Europe from the Russian terrorists. As Ukrainians, we do everything to bring this common victory together, so I can just ask to never stop talking about Ukraine, support our talent, buy our products. It is crucial for our economy and survival. Because the war is still isn't over and in order to win we have to feel the world is still by our side.
"We are delighted to welcome Ukrainian Fashion Week to the London Fashion Week schedule this season," announced Caroline Rush, Chief Executive of British Fashion Council. "Ukraine is home to a host of exceptionally skilled creatives and artists, and we must continue to support Ukrainian craftsmanship during this time of immense unrest and beyond."
We will continue to update this story.
Celebrity news, beauty, fashion advice, and fascinating features, delivered straight to your inbox!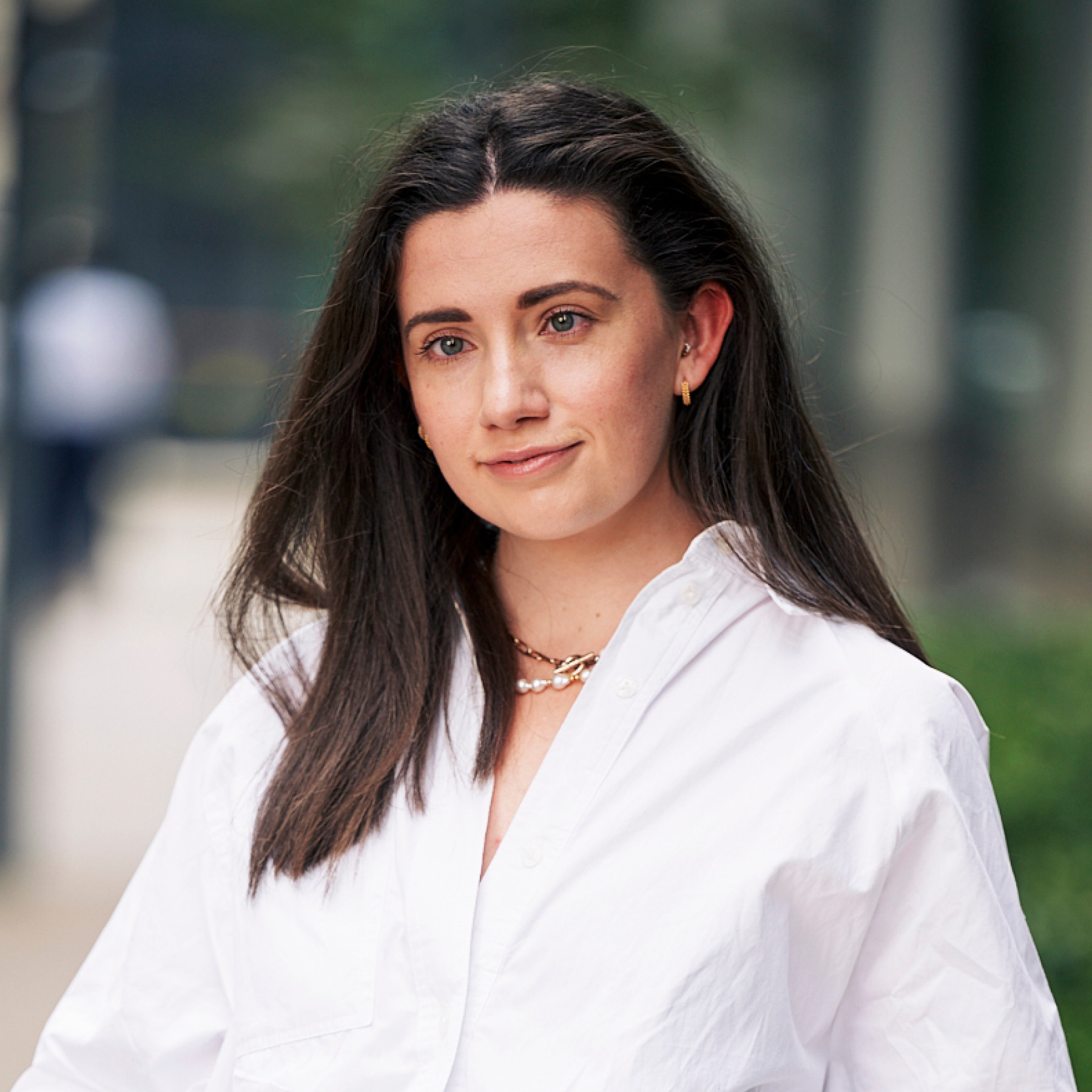 Jenny Proudfoot is an award-winning journalist, specialising in lifestyle, culture, entertainment, international development and politics. She has worked at Marie Claire UK for seven years, rising from intern to Features Editor and is now the most published Marie Claire writer of all time. She was made a 30 under 30 award-winner last year and named a rising star in journalism by the Professional Publishers Association.