The Queen has unveiled a new portrait and shared an important message ahead of the Platinum Jubilee
She spoke of looking to the future with "confidence and enthusiasm."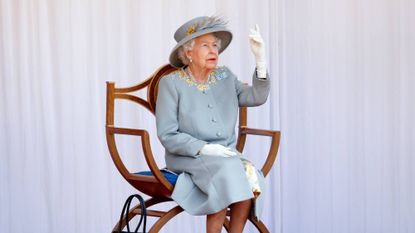 She spoke of looking to the future with "confidence and enthusiasm."
The Queen's Platinum Jubilee - marking 70 years of the monarch's reign - kicks off today with Trooping the Colour. It's set to be a long weekend of pomp, ceremony, fanfare and celebrations for Her Majesty.
In honour of the historic event, a new portrait of Queen Elizabeth II has been unveiled, along with a poignant message from the HRH.
Wearing a dove blue dress coat designed by Angela Kelly and embellished with a pearl and diamante trim, the Queen is seen sat in front of a window at Windsor Castle. The image has been captured by royal photographer Ranald Mackechnie.
The official Platinum Jubilee portrait was released by Buckingham Palace, along with a message from the Queen, who holds the title of the longest reigning British monarch.
In the message, the Queen speaks of the goodwill shown to her and how this inspires her. She continues by saying that she hopes "the coming days will provide an opportunity to reflect on all that has been achieved during the last seventy years, as we look to the future with confidence and enthusiasm."
As well as thanking all those involved in bringing together communities, families, neighbours and friends to mark the Queen's Platinum Jubilee, Her Majesty continues by saying: "I know that many happy memories will be created at these festive occasions."
She signs of the statement with "Elizabeth R."
The four-day weekend brings with it a jam-packed schedule for the royal family, who along with the nation, will be celebrating the Queen's Platinum Jubilee.
Trooping the Colour, which marks the official birthday of the British Sovereign and has done so for more than 260 years, has already kicked off.
Thousands of royal fans have lined the Mall to excitedly watch the ceremony performed by regiments of the British Army and to catch a glimpse of the royal family travelling in the carriage procession.
Princess Anne and Prince William are riding on horseback, while the Duchess of Cambridge travels by carriage along with the Duchess of Cornwall and - for the first time - the three Cambridge children: eight-year old Prince George, seven-year-old Princess Charlotte and four-year-old Prince Louis.
Celebrity news, beauty, fashion advice, and fascinating features, delivered straight to your inbox!
Amy Sedghi is a freelance journalist, specialising in health and fitness, travel, beauty, sustainability and cycling.
Having started her career in The Guardian newsroom working with an award-winning team, Amy's proud to have reported on a variety of topics, speaking to a range of voices and travelling far and wide to do so. From interviews on ski lifts to writing up breaking stories outside courtrooms, Amy is used to reporting from a range of locations (she's even been known to type up a story in a tent).
She also loves being active, spending time outdoors and travelling - with some of her favourite features she's worked on combining all three. Cycling and eating her way round the Isle of Man, learning to sail on the Côte d'Azur and traversing the Caminito del Rey path in Spain are just some of her highlights.
Covering a diverse range of subjects appeals to Amy. One minute she may be writing about her online styling session with Katie Holmes' stylist and the next she's transporting readers to the basketball courts of Haringey where she joined a group trying to lower knife crime in the capital.
While at university, Amy was awarded The Media Society bursary. Following her stint at the Guardian, Amy worked at Google and as well as writing for Marie Claire, she regularly contributes interviews, features and articles to National Geographic Traveller, The Guardian, The Independent, The Telegraph, Stylist, Refinery29, Glorious Sport, Cycling Weekly and Rouleur.
When she's not writing, Amy can be found trying to get through her towering stack of books-to-read, cycling down at Herne Hill Velodrome or looking for the next place to eat and drink with friends.