Is Hugh Grant going to play Prince Andrew in a new film about the royal's Newsnight interview?
That infamous BBC interview is getting the Hollywood treatment.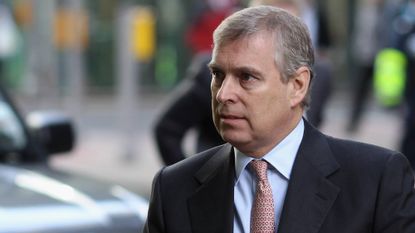 That infamous BBC interview is getting the Hollywood treatment.
Emily Maitlis' bombshell interview with Prince Andrew, in which she questioned him about his former friendship with Jeffrey Epstein is to be turned into a film, with Hugh Grant tipped as taking on the role of the disgraced royal.
According to an exclusive by Deadline, the film will be called Scoop and Your Honor screenwriter Peter Moffat is on board to write the screenplay. The publication state that the 61-year-old Notting Hill actor is "one of the unconfirmed names on wish list" to play Prince Andrew.
Scoop is expected to explore the story of how the BBC's Newsnight obtained the exclusive interview with Prince Andrew in 2019. The hour-long show made headlines across the world and was widely regarded as a PR disaster for the royal.
Although Hugh Grant has been named as a desired lead actor for Scoop, casting has not yet begun and the actor's representatives told the BBC that he hadn't even heard of the project.
The British actor has also addressed the rumours: in reply to a now deleted tweet by OK! Magazine about him playing Prince Andrew, he wrote "No I'm not. Never heard of it."
Moffat told Deadline that the film would focus on "how the BBC's Newsnight team got the scoop." He added: "The other thing is, 'Why did he agree to do it?' How was it that he decided it was a good idea to do a great big long interview with Emily Maitlis on the BBC?"
In the interview with Maitlis, Prince Andrew commented on his former friendships with convicted sex offender Jeffrey Epstein and Ghislaine Maxwell, who has since has been sentenced to 20 years in jail for sex trafficking and other offences.
Deadline say that shooting for the project is hoped to begin in November this year. They also say that the announcement of the film is "likely to be greeted with little amusement from Andrew's mother, Her Majesty Queen Elizabeth II, and other members of the Royal Family."
It was announced in 2019 that Prince Andrew would be stepping down from royal duties and earlier this year, the Queen stripped him of some of his titles.
Celebrity news, beauty, fashion advice, and fascinating features, delivered straight to your inbox!
Amy Sedghi is a freelance journalist, specialising in health and fitness, travel, beauty, sustainability and cycling.
Having started her career in The Guardian newsroom working with an award-winning team, Amy's proud to have reported on a variety of topics, speaking to a range of voices and travelling far and wide to do so. From interviews on ski lifts to writing up breaking stories outside courtrooms, Amy is used to reporting from a range of locations (she's even been known to type up a story in a tent).
She also loves being active, spending time outdoors and travelling - with some of her favourite features she's worked on combining all three. Cycling and eating her way round the Isle of Man, learning to sail on the Côte d'Azur and traversing the Caminito del Rey path in Spain are just some of her highlights.
Covering a diverse range of subjects appeals to Amy. One minute she may be writing about her online styling session with Katie Holmes' stylist and the next she's transporting readers to the basketball courts of Haringey where she joined a group trying to lower knife crime in the capital.
While at university, Amy was awarded The Media Society bursary. Following her stint at the Guardian, Amy worked at Google and as well as writing for Marie Claire, she regularly contributes interviews, features and articles to National Geographic Traveller, The Guardian, The Independent, The Telegraph, Stylist, Refinery29, Glorious Sport, Cycling Weekly and Rouleur.
When she's not writing, Amy can be found trying to get through her towering stack of books-to-read, cycling down at Herne Hill Velodrome or looking for the next place to eat and drink with friends.