'I left London at 21 and married an Amazon warrior'
When anthropologist and documentary maker Sarah Begum, 28, flew to Ecuador, she wasn't prepared for the impact it would have on her whole life…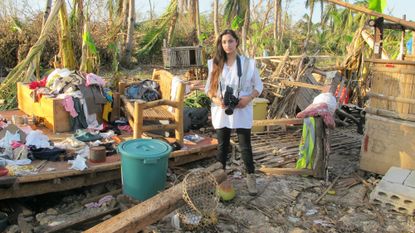 When anthropologist and documentary maker Sarah Begum, 28, flew to Ecuador, she wasn't prepared for the impact it would have on her whole life…
'I was standing stark naked on the grass, wearing a crown made out of Macaw feathers when I suddenly realised what was happening. All around me, men and women were chanting words that I didn't understand. But I didn't really need to know the language they were speaking to know that everyone was celebrating something. Next to me, I realised a 52 year old man was also wearing a crown and smiling in my direction, and it dawned on me that he was the only other person who was silent. The penny plummeted. "Oh my God, they're marrying us," I thought. "I'm naked and wearing a crown, and now I'm married."
Ever since I was nine years old, I've wanted to go to the Amazon. I remember hearing about the deforestation of the rainforests, and feeling instantly indignant about the injustice of it all. Sometimes I think children can see through all the crap that clouds our vision in adulthood. I couldn't understand why anyone would think it was OK to destroy such a clearly magical place.
But there's a big difference between telling your friends in Year Five that you're going to live in the jungle when you grow up - and actually packing your life up into a rucksack and doing that. As I got older, my interests changed. I started studying Film and Television Journalism at university, and to be totally honest, I really thought I was going to direct the next Godfather. I dreamed of watching some kind of big budget production in the cinema and seeing my name flash up on the screen at the start. Ask any film student what they want to achieve in the future, and I'm pretty sure they'll say the same thing.
So I'm not really sure how I ended up on a plane to Ecuador on my own, unable to speak Spanish and clutching a camera I'd borrowed from a (rather reluctant) university tech team. I wanted to produce my first film and after taking the time to think about what really, truly inspired me, I'd realised that it wasn't Marlon Brando and dramatic action sequences after all. It was still those rainforests.
En route
Arriving in Ecuador was like having all five of your senses simultaneously sucker-punched. Back in the UK, when I'd decided that I wanted to produce an immersive documentary about a tribe that I knew still lived in the heart of the jungle, I'd applied for funding from private investors and a student scholarship programme – making a bid that argued I'd be the youngest person to ever film a tribe within the Amazon. The money that I was allocated – along with all my savings – enabled me to hire a sound guy and a cinematographer, both of whom I met for the first time in Quito. The second they saw me, I could see the doubt in their eyes. "She's just so young." It was a familiar feeling. So many other people said the same thing – in fact, they told me that they thought it was a bad idea for me to go full stop: that my project was too ambitious, and I couldn't possibly manage it. Meanwhile my mum was freaking out – she couldn't understand what I was doing at all. But the more people questioned me, the more determined I was to prove to everyone that I could do this.
Before heading into the jungle, I decided we should spend a day climbing one of the mountains on the outskirts of the city. Jetlagged and overwhelmed, we walked for hours until we were completely lost. I sat on a rock, looking out onto the vast green landscape and meditated – up there in the clouds, I felt calm and alive. I didn't know what I was getting into, but if I could raise awareness of the human impact of deforestation then I knew I was doing the right thing. I looked back over my shoulder and saw the cameraman staring at me like I was completely insane.
The Amazon
To reach the tribal village, we had to drive into the jungle and then travel by canoe along the Amazon for another 14 hours. The guys paddling the boat told me that there were piranhas and anacondas in the water, and I couldn't work out if they were joking or not. To be honest it didn't matter either way - I can't swim.
By the time we arrived at the village, everyone had stripped off down to their underwear because of the thick, airless humidity. Together we scrambled and slid our way up a steep, muddy slope to the settlement, and I stood gasping and panting at the top. A group of the village elders approached us, and looked me up and down with thinly disguised confusion. I found out later that no women in their early 20s had ever visited before – they were used to meeting middle aged reporters who had worked for a long time to reach a point in their careers where they could finance or justify a visit. Nobody seemed to understand why a 21 year old would be stood there, holding a borrowed camera and blinking at them in the sunlight.
We were shown the hut where we'd all be staying, but after the second night I realised that my sleeping bag was already infested with microscopic worms – so I switched to a hammock, strung from the rafters. It was at around this time when Steve, the sound guy, started getting sick. We'd met a guy with an infection the day before, and I was scared he might have caught something from him. A team from National Geographic were flying out of the region within a few hours, so as Steve's health deteriorated, we decided he should join them and go to hospital back in the city. A couple of days later, I got a call from one of the doctors saying that he'd died. I didn't know what to do – I was stuck, almost entirely alone in the Amazon, and I couldn't leave. In the end, I had to just carry on and hope for the best. At the end of the trip, when I made it back to Quito, Steve was there. "Oh, they just got me mixed up with another guy," he said.
The purpose of my documentary was simple: I wanted to show the human lives and cultures that were at risk of being destroyed by global warming, climate change and deforestation. That meant immersing myself in their way of life – shedding my old skin, as such, and just living alongside them. When they woke up, I woke up. When they ate, I ate. When they hunted, I hunted. They tried to teach me to catch fish with my bare hands, and I helped them cook. Admittedly, when they told me I had to wash in the river – piranhas and all – I did hesitate. Then they said I wouldn't be allowed to eat with them that night if I wasn't clean, so I went for it.
The only thing I struggled with was the nudity. All of the elders were naked all of the time, which wasn't a problem - until one day, when I was helping some women prepare fishnets, and one of them came over to get me. He invited me into their hut, and they told me to get undressed. As I stood there, surrounded by all these naked men in their 60s, I felt suddenly panicked. All of the other women, bar one, were wearing underwear or scarves for modesty. But nudity is sacred in their community, and despite my discomfort, I understood that their invitation was an honour. With a deep breath, I stripped off. It felt awkward and uncomfortable, but I kept telling myself "this isn't a big deal here, this isn't a big deal here". A woman nearby looked at me, and saw I was struggling. Without saying anything, she walked over and took her clothes off, then pulled her young daughter close and undressed her too. She smiled reassuringly, and I let my hands drop from where I was still trying to cover myself up.
That night they held the wedding ceremony. As they placed the crown on my head, the elder told me I was now an Amazonian "Queen". The man I was married to was the tribe's most accomplished warrior, but he was closer in age to my parents than me, so when we spoke after the ceremony, I mostly found myself talking to him about my mum. There was never any expectation of consummation – it was a marriage of honour, not love. The village elders wanted to celebrate the bond that we'd built over the last few weeks, and to create a cross-cultural alliance. They trusted me, I was told, to go back to the city and tell everyone about their lives.
The aftermath
Readjusting to "real" life was beyond anything that I'd anticipated. After leaving the jungle, I fell sick and started hallucinating – I was back at home in London, but I genuinely thought I was still among my new friends, or swinging back and forth in my hammock. It took me three months in total to stop feeling disconnected from my friends and family – they hadn't been there, so they couldn't relate and that wasn't their fault. But I felt incredibly lost. It sounds strange unless you've been there, but essentially I felt like I'd been at one with nature. I'd learned first hand about the power of our planet, and how to live in its wilds without constraints. Coming back to tower blocks and traffic jams made me panic. I'd try to escape to parks for fresh air whenever I could, but it wasn't enough.
I put everything I had into making my documentary of reality into, well, a reality. I had a month of footage. At the same time, I'd started a new job in a post-production house – running around, making tea, doing admin and learning everything I could. When my shift ended, I'd sit in the editing suite for hours, trawling through everything my cameraman and I had collected.
It took three years, but it paid off. With the help of experienced producers who I met at work and who took me under their wing, I managed to reduce a month-long-experience into a 30 minute-long documentary. I finished it a couple of hours before the final deadline for submissions to Cannes Film Festival – and when I woke up the next morning, I already had an email saying that they'd love me to screen it there.
These days, I'm based in Ghana – which is hilarious, because everyone there thinks I'm white. But I've learned a lot since living in the Amazon. I've mastered the art of packing (a few tops and some trousers; shades, suncream) and I'm pretty fearless when I'm documenting new situations on my own. It is risky sometimes - The other day, I was filming the election results, when some guys grabbed me and I had to fight my way out – but there's a big difference between taking risks and being reckless, and I'm never reckless. But most of all, I've learned to be a sponge – to travel around the world and just soak up new experiences and cultures. Life becomes much more colourful as a result.'
Sarah Begum is the latest individual discovered by San Miguel as part of its search for the San Miguel Rich List, a list of 'life-rich' individuals from across the globe who have unique, compelling, aspirational human stories. To find out more about the campaign visit www.sanmiguel.co.uk/richlist
Celebrity news, beauty, fashion advice, and fascinating features, delivered straight to your inbox!