And the most popular emoji is… (drum roll please)
Guys, you didn't let us down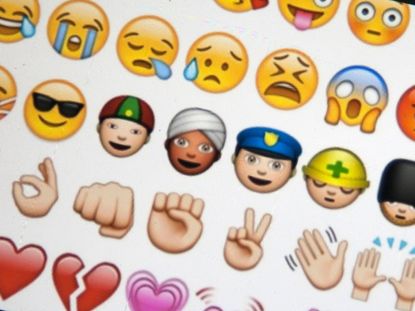 (Image credit: Rex Features (Shutterstock))
Guys, you didn't let us down
The language of emoji is so pervasive that we no longer need spoken word, or even real life feelings, to convey emotion. Feeling happy? There's an emoji for that. Sad? Weepy emoji cat has your back. Feeling like shit? Yep, the poo emoji will effectively communicate what traditional words cannot.
Thanks to Twitter, we have just discovered another immeasurably important, culturally shifting, fact about linguistics. Just as each country displays indigenous language quirks, so too does Language Emoji.
The social media giant has just worked out the most used emoji around the world, country by country. And the results make a lot of sense.
The U.K.'s most used emoji – on Twitter – is, drum roll please… the despairing crying face. This is also the case for Canada and the Unites States, not really surprising with everything that's going on in the world right now.
Here's a lovely infographic that outlines the world's most used emoji – Italy and France are staunchly playing up to their stereotype and throwing out the heart emoji at any given opportunity (FYI, Twitter also found out that there are more full heart emojis tweeted than broken heart ones. Love is alive!)
Mexico and India are all about being blessed, or giving out high 5's, depending on how you read emoji. Which is a complex thing, seeing as you've probably been using the sassy girl emoji all wrong.
But of course, the most important takeout from this is the most tweeted food emoji. Heads up, it's cake, followed by pizza. Inexplicably, third on the list is the strawberry. Which until now, we forgot even existed. We prefer the cherries.
Celebrity news, beauty, fashion advice, and fascinating features, delivered straight to your inbox!
Holly Rains is the digital editor of Marie Claire UK. She has over 10 years journalism experience, working as an editor and writer, specialising in digital media, content strategy and dog breeds. Prior to Marie Claire, she has held senior staff positions at ELLE UK, Grazia and Company magazine.
Holly is a frequent speaker, panelist and interviewer on a range of subjects including media trends, careers and entertainment. From working with Reuters to provide global red carpet coverage for events like the BAFTAs, to discussing fashion and beauty trends on network TV, she was also the host of the Marie Claire series 'Holly's First Dates', where she regularly interviewed a mix of inspiring woman and A-list celebrities (including Jack Black, Dakota Fanning and Renée Zellweger) - a series which garnered half a million views in its first two months. And was approved by The Rock.
Her love of office-based meetings means that the days of discovering the melting point of Cadbury's Flakes are long gone, but when she isn't dreaming of scheduling in meetings, she likes to think about social media, and how best to avoid it whilst still retaining the title of 'digital' editor. She also likes learning about emerging technology, Influencers and how to become a Financially Responsible Adult.
Contact Holly: holly.rains@futurenet.com