Social Media should remain switched on during civil unrest
Representatives from Facebook, Twitter and Rim insist that there is no evidence to show their services were used to plan riots in August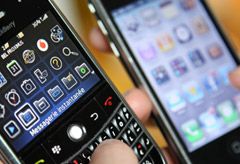 (Image credit: Rex Features)
Representatives from Facebook, Twitter and Rim insist that there is no evidence to show their services were used to plan riots in August
Executives from Facebook, Twitter and Blackberry maker Research in Motion have told a committee of MPs that there is no evidence to show that social media services were used to coordinate August's riots and looting.
Executives warned a committee of MPs that turning off social networks during times of civil unrest would be a poor decision, asserting that social networks were a force for good and that attempts to restrict the sites in some Middle Eastern countries had proven a bad idea.
Alexander Macgillivray, the general counsel for Twitter, says: 'We think it's an absolutely horrible idea to suspend (social networks) during important times.'
Richard Allan, the director of policy for Facebook in Europe, the Middle East and Africa, noted that restricting the sites would not serve the public interest.
'We are extremely pleased that the home secretary has indicated that there is no intention to restrict internet services and we hope that position is sustained after this committee has concluded.'
Stephen Bates, the UK managing director of Rim, was forced to defend claims that the semi-private messaging service Blackberry Messenger (BBM) played a key role in the riots. Asked whether the company felt it had a responsibility to tackle suspected rioters, Bates said that Rim complies with UK legislation on interception communciation.
'We felt that it was very important that we were quick to respond to the authorities about lawful access. The position is very clear that we would meet the obligations and comply with the law
'We saw many instances while the riots were happening where social media were used to check people were safe and they had got to places were they wanted to.'
Twitter, meanwhile argued that it is distinct from Facebook or BBM because the site is used by people who wish to say things publicly.
Celebrity news, beauty, fashion advice, and fascinating features, delivered straight to your inbox!