Phone hacking inquiry begins - story so far
Lord Justice Leveson today begins his inquiry into press ethics following the News of the World phone hacking scandal. See the story so far, here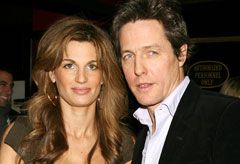 (Image credit: Rex Features)
Lord Justice Leveson today begins his inquiry into press ethics following the News of the World phone hacking scandal. See the story so far, here
Lord Justice Leveson today begins his inquiry into press ethics following the News of the World phone hacking scandal.
The Royal Courts of Justice in London will play host to the inquiry where 53 alleged victims will be given the opportunity to present their cases. Hugh Grant and Jemima Khan, pictured, have been outspoken campaigners for an inquiry into the scandal and it's thought that the actor will be one of many high profile names giving evidence.
The first witnesses are expected to be called next week to appear before the six-strong panel advising Leveson.
The panel includes the director of Liberty, Shami Chakrabarti, ex-Channel 4 News editor Elinor Goodman, former Ofcom chair Lord David Currie, ex-Telegraph political editor George Jones, former Financial Times chair Sir David Bell and former police chief constable Sir Paul Scott-Lee.
See the story so far, here:
July 2009: High-profile figures including Elle Macpherson, Nigella Lawson and Gwyneth Paltrow consider legal action against the News of the World over allegations that their phones were tapped illegally. Scotland Yard rejects inquiry.
May 2010: Andy Coulson named as head of David Cameron's media operation.
January 2011: News of the World denies allegations that illegal phone hacking may have been going on as recently as last year and Kelly Hoppen sues over alleged hacking.
Former News of the World editor, Andy Coulson, resigns from Downing Street.
April 2011: Sienna Miller rejects the News of the World's apology for 'violations of privacy' and demands full disclosure in hacking scandal.
Former News of the World reporter Neville Thurlbeck and editor Ian Edmonson are arrested on suspicion of phone hacking. The NOTW admits it had a role in the scandal.
July 2011: Kate Middleton and Gordon Brown named as a phone hacking targets. Jude Law sues News International for hacking and it's revealed that schoolgirl Sarah Payne was amongst those targeted - and on the mobile phone that former editor Rebekah Brooks gave her as a gift.
Families of 7/7 victims told that they may have been targeted by News of the World, the FBI start investigating 9/11 phone-hacking allegations and News International announces that the News of the World is to close.
The Met hand phone hacking reports to Hugh Grant and Jemima Khan and Rebekah Brooks resigns as chief executive of News International in wake of the scandal.
August 2011: Piers Morgan asked to answer questions over claims a journalist from his former paper, the Daily Mirror, hacked the phone messages of Heather Mills.
September 2011: Rupert Murdoch has offered the family of Milly Dowler a payout of £3m following revelations that her mobile phone was hacked and voicemails deleted.
November 2011: It is revealed that the NOTW had Prince William under surveillance whilst they were being investigated for hacking his voicemail. Leveson inquiry begins.
Celebrity news, beauty, fashion advice, and fascinating features, delivered straight to your inbox!