Met hand phone hacking reports to Hugh Grant and Jemima Khan
High court have finally ordered the Metropolitan police to hand over phone hacking information to Hugh Grant and Jemima Khan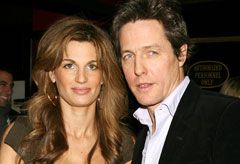 (Image credit: Rex Features)
High court have finally ordered the Metropolitan police to hand over phone hacking information to Hugh Grant and Jemima Khan
Hugh Grant and Jemima Khan have won the right to view evidence that their voicemail messages were hacked, after a high court judge forced the Metropolitan police to hand over the information.
Both Grant and Khan had been previously contacted by police with details to suggest that their phone messages had been intercepted by private investigator Glenn Mulcaire.
Mr Justice Vos has now told the court it is 'expedient and proper' that the information in connection with the hacking incident should now be disclosed to the pair.
The high court has also decreed that former News of the World reporter Clive Goodman's notes, pertaining to his work as royal editor at the tabloid as well as his Blackadder gossip column, should also be revealed.
Goodman has already once been found guilty of intercepting phone message and was sentenced to four months in jail four years ago. Mulcaire, now a suspect in the phone hacking scandal, also pleaded guilty then to the same charge and spent six months behind bars.
Grant and Khan will now be able to view all documentation relating to the phone hacking case. According to information heard in the high court yesterday, this evidence may involve other newspapers other than just the News of the World. It is believed the messages illegally procured by Mulcaire were used in other papers, which are yet to be disclosed.
Celebrity news, beauty, fashion advice, and fascinating features, delivered straight to your inbox!
Natalia is a health journalist with 14 years experience in the publishing industry. She has worked for a number of well known magazines and websites including Marie Claire, Woman&Home, Top Sante, Boots and The Telegraph. She likes to think she practices what she preaches when it comes to health and fitness. Her athletic prowess began early. A keen fencer for 13 years, she wielded an epée for Olympic Team GB during her teenage years. She likes to think she made sword-fighting cool before Game of Thrones came along! While working on her sporting performance with the team, she also participated in a lot of nutrition and psychology training, When it comes to time off, you'll most likely find her up a mountain somewhere. It seems holidays have become a time for climbing several thousand feet, rather than chilling out. She's now hiked eight of the major mountain ranges across four continents – including the Appalachians, the Smokies, the Sierra Nevadas (she spent her honeymoon hiking to the top of Half Dome), as well as hitting the summits of Snowdon, Pen-Y-Fan (Brecon Beacons), Table Mountain in South Africa, the Blue Mountains in Australia and the Atlas Mountains in Morocco. She's also passionate about all things health, particularly vaccinations, and will happily jump on her soap box at any given opportunity to talk about their benefits to anyone who will listen!