Gordon Brown latest victim of phone hacking scandal
Former Prime Minister Gordon Brown appears to be the latest victim of the phone hacking scandal following allegations that News International journalists attempted to access his voicemail and his son's medical records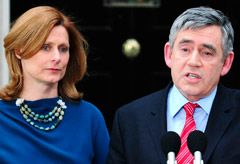 (Image credit: Rex Features)
Former Prime Minister Gordon Brown appears to be the latest victim of the phone hacking scandal following allegations that News International journalists attempted to access his voicemail and his son's medical records
Gordon Brown has condemned the 'disgusting work' of News International journalists following revelations that attempts had been made to obtain information from his bank account, his legal files and his family's medical records.
The latest revelations are the first to implicate the Sun after Gordon Brown confirmed that following the birth of his son Fraser in 2006, Rebekah Brooks, then editor of the newspaper, claimed the paper had obtained details suggesting the boy was suffering from cystic fibrosis.
'I have never talked publicly about Fraser's condition,' says Brown. 'We wanted to keep that private.'
The former PM says he has no idea how the Sun had obtained the information and questioned the paper's claim last night that it had been done legitimately.
'I'm genuinely shocked to find that this has happened,' he says. 'If I – with all the protection and all the defences that a chancellor or a prime minister has – can be so vulnerable to unscrupulous and unlawful tactics, what about the ordinary citizen?'
Mr Brown confirmed that he had known at the time that his bank account had been penetrated by the Sunday Times but was unaware that News International had relied on the help of criminals.
He went on to reveal he had legal files and medical files broken into, as well as experiencing missing tax returns.
'I do know that in two instances there is absolute proof that News International hired people to do this and the people who are doing this are criminals with records of violence and fraud,' he says.
Brown claims that News International had attempted to interfere in his government's policy on the BBC and the media regulator, Ofcom. He believes standing up to the company to protect public interest is the reason why it's newspapers had attacked his government.
'There is absolutely no doubt that News International were trying to influence policy,' he says. 'This is an issue about the abuse of power as well as the abuse of civil liberties.'
Celebrity news, beauty, fashion advice, and fascinating features, delivered straight to your inbox!