Marie Claire's May issue is here! We've picked 6 of our favourite bits from inside
Ready for a fresh new hit of fashion, beauty and culture? Here's a sneak peek of what's inside the new issue of Marie Claire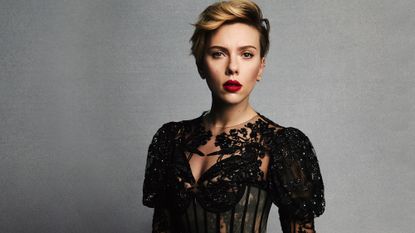 Ready for a fresh new hit of fashion, beauty and culture? Here's a sneak peek of what's inside the new issue of Marie Claire
Cover star Scarlett Johansson reveals some pretty specific baking skillz
Speaking to writer Brooke Hauser, Marie Claire's May issue cover star Scarlett Johansson talks activism, friendship, her new role in Ghost in the Shell and... penis cakes. 'Oh, my god, my sister-in-law got these big penis cake tins [for a hen do]. And I was like, "I'm coming over to ice that thing!" I mixed up this flesh tone. Anyway, I wanted it to be kind of realistic-looking. It was disgusting. But, actually, it tasted delicious. I'm walking down the street with this penis cake, trying desperately to get a cab.'
Marie Claire's @work special is here to give you a career-boost
From becoming a 'micro-expert' to pulling your working life back from the brink, our @Work special features wisdom from successful women in a range of industries on how to get ahead. Writer Alix O'Neill also speaks to YouTuber Lilly Singh about her new no-nonsense career manual for millennials, while Marie Claire's own features assistant Rosie Benson visits a brand new interview school run by casting agents that promises to help you make a great first impression.
The Marie Claire fashion desk see you into bare-leg weather
Dreamy diaphanous frocks, cool denim and optical prints you can wear to work, our fashion pages have covered all bases for coat-casting season. Plus check out our 'Prairie tales' shoot on p142 for a fresh, summery take on monochrome.
Journalist Jancee Dunn dissects the 5 rows you'll have after having a baby
'Our lives were laughably tranquil when my husband Tom and I got married... Then we had a baby,' writes journalist Jancee Dunn. In a feature for Marie Claire she gets real about the strain having a kid can place on your relationship and identifies the five arguments you'll have after having children, with tips on how to deal with them.
Our beauty editor tackles one of the big skincare hang-ups
A third of us worry more about pores than wrinkles. Marie Claire's Fiona Embleton gives some new insider tips on how you can minimize them.
We've got the latest research on how to tackle hayfever
Whether it's pollen or pet hair that sets you off, writer Andrea Childs has the low-down on the latest research and products to help tackle your allergies.
The May issue of Marie Claire is on sale now
Celebrity news, beauty, fashion advice, and fascinating features, delivered straight to your inbox!