Behind The Scenes At Stella McCartney's Resort 2014
We were invited backstage at the Stella McCartney Resort show in New York to learn all about the designer's eco credentials, all with a little thanks to Aveda.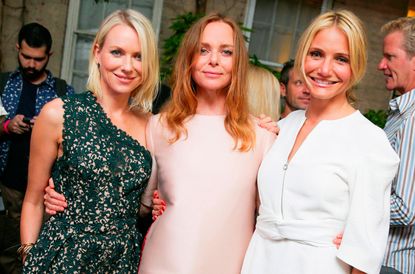 (Image credit: Rex Features)
We were invited backstage at the Stella McCartney Resort show in New York to learn all about the designer's eco credentials, all with a little thanks to Aveda.
Don't get me wrong, I know my quinoa from my kale, I'm a recycling fascist (woe betide any unsuspecting guest that inadvertently mixes the PET with the paper) and I'm an avid supporter of the WSPCA, but let's face it, eco isn't exactly synonymous with sexy. Until now that is.
Take a rather damp (read: sodden) day in New York, mix in Ms Stella McCartney, add a dollop of Aveda hair products followed by a generous smattering of A-listers, and suddenly you have the recipe for green glamour with a capital 'G'.
The occasion? Stella McCartney's Resort 2014 show with a roll-call of Hollywood's elite in attendance (Madonna, Kate Bosworth, Naomi Watts and Cameron Diaz to name-drop a few) as well as yours truly, who'd somehow managed to wrangle my way onto the guest list.
The venue was a quaint little oasis of green nestled in the achingly hip West Village, known in everyday life as Jefferson Market Garden but for the purposes of this occasion was moonlighting as an English garden party (albeit an under cover one due to the authentically British downpours). Jazz bands strummed, bottles of organic Stella honey were proffered and quintessentially British canapés were served (veggie, of course!). But, being the intrepid beauty bod that I am, before I got to gawp at Anna Wintour and pet the canine guests (Stella had invited the US equivalent of the PDSA), I wanted to take a peek backstage, where I was interested to learn exactly how stylist extraordinaire and Aveda Global Creative Director Antoinette Beenders was going to counteract a full-on frizz-fest.
The hair and make-up stations were located in the basement of the rather lovely St Joseph's Church a short trot away from the show. Being the green crusader she is, Stella had enlisted Aveda as her hair brand of choice, known for their dedication to environmental sustainability and high-performance plant-based products. A match made in eco-heaven it would seem as Aveda, in turn, only work with eco-focussed designers and strive to set an example by minimising waste (in terms of packaging and hair products) as well as organising locally sourced fresh food to support the community businesses.
But if there was ever a day to test whether natural products perform as well as their synthetic counterparts this was it. 'It's often harder to create a clean, effortless look that holds, especially given the humid, rainy weather tonight,' said Antoinette, who set about prepping the hair with Aveda's Pure Abundance Style Prep before sectioning and blow-drying using a large round brush.
Her top tip for minimising frizz? Do your hair outside if you can. 'This is a great tip for people getting married,' says Antoinette. 'It's when you prep your hair inside with air conditioning that makes it freak out the minute you step outside.'
A spritz of Aveda's Air Control Hairspray later and the girls were ready to go.
My verdict? If this is what tree-huggers look like, I want in!
Celebrity news, beauty, fashion advice, and fascinating features, delivered straight to your inbox!