PICS! Victoria Beckham's daring Marie Claire cover
The Brit fashionista has opened up on her famous hubby in an interview with US Marie Claire, gushing about how they're more in love than ever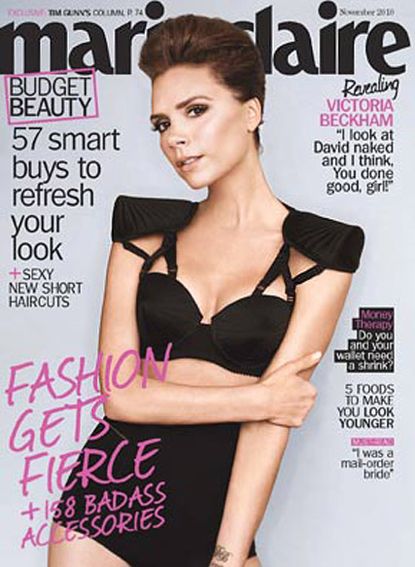 The Brit fashionista has opened up on her famous hubby in an interview with US Marie Claire, gushing about how they're more in love than ever
Victoria Beckham has opened up on her 'perfect' hubby in a new interview with US Marie Claire, telling all on their extraordinary life in LA, how she never takes anything for granted, and why they're more in love with ever.
DAVID AND VICTORIA: RELATIONSHIP IN PICS
Mrs B also joked about David's high pitched voice, and how people just have to 'find something wrong with him'.
'I don't really notice that he's got a high-pitched voice. I just think he's so goddamn perfect that people have to find something wrong with him,' she told the mag.
'We were about to go out somewhere the other day, and he was sending an email. He was sitting at the end of the bed, and he had no clothes on whatsoever. I was getting out of the shower, and I just stood there looking at him.
'He was all tan. Has all those tattoos - which I love. Hadn't done his hair. He just naturally looks good all the time.
'So he's sitting there sending his e-mails, all ripped. Not an ounce of fat on him. And I thought, 'You done good, girl'. I sure wasn't thinking of his high-pitched voice.'
The down to earth star also revealed she still gets excited by the trappings of fame, and never takes anything for granted.
'Some people are so blasé about having an extraordinary life. ButDavid and I never take anything for granted,' she said.
'I think it's very cool to still get excited about things. I get as excited now as I ever did when I get a chauffeur driven car pick me up and I stay in a fantastic hotel or get to fly in a private plane. I never want to get blasé.'
And it seems Posh also applies the same rule to her children, revealing she doesn't want them to be spoiled, and, despite their multi-million pound fortune - makes sure they all know the value of money.
'The other day we got up early to have breakfast and I was teaching them about American money,' she said.
'I had Post-Its on all the breakfast cereal. On the bread. On the milk. I got a box of fake money from Toys 'R' Us. "All right," I told them at 6am. "We're going to learn about American money. I'm going to make you buy your breakfast."
'I hand them all a bit of the money. They were all just waking up and going, "Mum, we just want our Coco Puffs." And I'm going, "Coco Puffs! Cost one dollar twenty!"'
What are your thought's on Victoria's Marie Claire cover? Do you think they are as happy as ever? Let us know in the box below.
SEE VICTORIA'S S/S11 COLLECTION HERE
VICTORIA BECKHAM STYLE HISTORY
Celebrity news, beauty, fashion advice, and fascinating features, delivered straight to your inbox!