Twilight Breaking Dawn Part 2 review: It triumphs over all other Twilights
Twilight Breaking Dawn Part 2 had Marie Claire so swept away, we'd have waited a thousand years to see it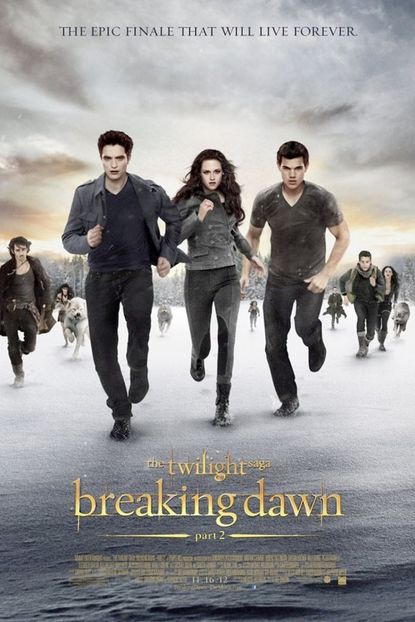 (Image credit: Summit Entertainment)
Twilight Breaking Dawn Part 2 had Marie Claire so swept away, we'd have waited a thousand years to see it
Twilight Breaking Dawn Part 2 is almost here, with Kristen Stewart and Robert Pattinson reprising their now iconic roles one final time. While you'll have to wait just two more days for the film to hit cinemas in the UK, Marie Claire were thrilled, make that ecstatic, to be invited to an early screening.
PHOTOS! TWILIGHT PREMIERES THROUGHOUT THE YEARS
And our excitement didn't stop once we sat in our seat, the pace of Breaking Dawn Part 2 trounces all of the other Twilights, the finale is much more of an adrenaline-fuelled adventure, assisted by the fact the film's ending is surrounded in mystery and will literally have you gasp out loud.
Breaking Dawn Part 2 may start with its signature romanticism from Bella and Edward exchanging 'I love yous' before hitting the bedroom (more of that to come later) but there's a swift about turn in tone with the very real threat that their daughter, Renesmee will be burned by the Volturi. The big build-up to one final and rather incredible fight scene is helped along with the introduction of a whole host of new vampire characters that we were itching to see more of.
KRISTEN STEWART'S BEST EVER QUOTES ABOUT TWILIGHT
And perhaps we will, with there being enough loose threads that could well be stitched into a new spin-off filmn – we can all live in hope. But for now, we'll live off these highlights from the final film, that you'll want to watch out for.
Kristen Stewart as a vampire Off-screen Kristen may be a little awkward but when she's playing the newborn vampire, Bella Cullen, she is anything but. As a wife, mother and now vampire her protective qualities are animalistic and we mean that in a good way. You'll be internally cheering 'Go Bella' throughout.
Robert Pattinson as a father We couldn't help but die a little inside when Edward emerged with baby Reneseme in his arms, it may be a cliché but it worked. While he steps back somewhat in this film, and lets Bella shine, Edward is beautiful, caring and finally begins to soften towards Jacob.
Kristen Stewart and Robert Pattinson's sex scene Kristen called it 'awful', Robert said it was 'intense' but we called it 'short'. For a 12A rating it's to be expected that all we see is some kissing, skin grabbing and little else. And the chemistry between the pair is magnetic, make of that what you will…
The final fight scene This is possibly the best ever moment in the whole of Twilight, yes, even more so than Edward walking through the canteen doors in the first film or Jacob stripping off. We don't want to give away much, but all we can say is that it's drama-filled, dangerous and ends things incredibly.
Breaking Dawn Part 2 really is the only Twilight you need to watch, even if the first four films didn't convince you to become a Twi-hard, the final piece of the pie may just encourage you to take another bite…
Are you dying to see Breaking Dawn Part 2? Let us know below.
Watch our interview with Kellan Lutz and Nikki Reed about the pressures of being in Twilight
Twilight Breaking Dawn Part 2 is out 16 November
Celebrity news, beauty, fashion advice, and fascinating features, delivered straight to your inbox!