The Kimye Wedding: Everything You Need To Know
As expected, Kim Kardashian and Kanye West are pulling out all the stops for their lavish, over-the-top wedding this weekend.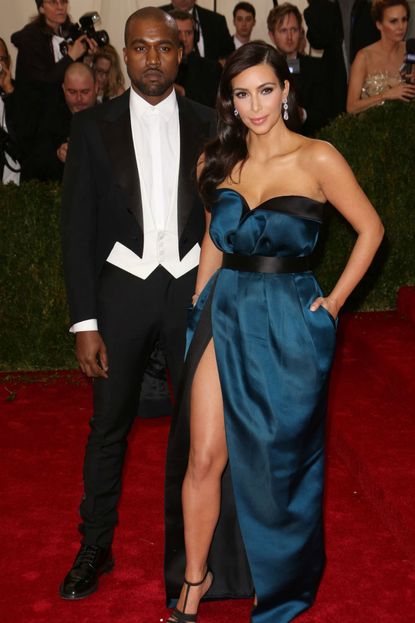 (Image credit: Rex)
As expected, Kim Kardashian and Kanye West are pulling out all the stops for their lavish, over-the-top wedding this weekend.
Kim Kardashian and Kanye West are getting married, in case you hadn't heard...
Oh, who are we kidding? Love 'em or hate 'em, talk of the famous couple's upcoming wedding has been pretty tough to avoid over the past few weeks. Now that the time is finally here (the wedding is tomorrow!), we're wading through what we know, what we think we know and what's still being kept under wraps.
Of course, we'll be bombarded with all the details soon enough, as Kim's not really one to keep a secret. But until then, here's the dirt on the Kimye wedding:
The third time's the charm for Kim. Yes, this will be Kim's third trip down the aisle. (In case you forgot, she eloped at age 19. And we could never forget her 72-day marrige to Kris Humphries.) But just because she's done it all before, doesn't mean she's reining it in. This wedding is shaping to be even more extravagant than her last. Although she has promised that it will be 'small and intimate,' so you never know...
It's a family affair. The Kardashian-Jenner clan loves to do pretty much everything together, so it's no surprise that the whole gang will play a huge part in Kim's wedding. Her four sisters are expected to serve as bridesmaids and stepdad Bruce Jenner (who's separated from Kim's mum Kris Jenner) will walk her down the aisle.
And their extended (a.k.a. non-famous) family will be there, too. Kim shared this sweet picture of her grandmother via Instagram: 'My grandma MJ. Her 1st time in Paris.'
http://instagram.com/p/oRMj05OS2q/embed/
You can't watch it on TV. Unlike Kim's last wedding, this one will not be filmed for a telly special. 'We are not filming our wedding for Keeping Up With The Kardashians,' the reality star tweeted. 'You will see everything leading up until and maybe even photos. As much as we would love to share these memories, privacy is our main priority.'
Jay Z is the best man. Early reports said that Kanye West had asked his best mate Jay Z to serve as best man and got rejected. Apparently, Hova wasn't keen on the idea of making a cameo on the Kardashian reality show. But new reports say that Jay Z has since agreed, after the decision was made not to film the ceremony.
Beyoncé will (probably) be there. Rumour has it that Bey wasn't exactly jumping at the chance to attend the publicised wedding. But sources say she feels like she should since her husband is playing such a key role.
Lana del Ray is singing. The popstar has reportedly agreed to sing at the nuptials for a hefty six-figure fee. Sources say she'll be singing Kim's favourite song, 'Young and Beautiful.'
Kim had her hen party last night. The bride-to-be had a ladies' night out with all her girlfriends on Thursday. The group trekked all around Paris to pose for glamorous group pictures near the city's most famous landmarks, which Kim promptly posted to Instagram.
http://instagram.com/p/oUctMBuS6c/embed/
We especially love that Kim put a fashionable twist on an old hen do tradition. Often the bride-to-be will wear a white cocktail dress, while all the other ladies wear black. Well, Kim took it one step further, wearing a fabulous baby-blue Balmain dress with luxe pearl embellishments, while the rest of her gang rocked darker shades. Very cool. The wedding is happening in Florence. The guests have all gathered in Paris, where the pre-wedding festivities are taking place. But rumour has it that at some point today, they will all meet at a palatial estate on the outskirts of Paris. There, they'll be whisked away by private plane to Florence, Italy. A spokeswoman for the the mayor's office in Florence confirmed last week that the couple as rented the 16th century Belvedere Fort (for a whopping €300,000) to hold their wedding ceremony and reception.
The dress remains a mystery. The details of Kim's wedding dress(es) have been among the most closely guarded secrets. Rumours are flying about the designer (Lanvin, Alexander McQueen, Givenchy, Balmain and Valentino have all been named), and reports say the bride will wear up to four different dresses during the day.
Knowing Kim, we're sure she has some tricks up that designer sleeve of hers...
Got a tablet? Take the new look Marie Claire wherever you go, download straight to your iPad & iPhone, Kindle (just search the store for 'marie claire magazine'), Nook or Google Nexus for only £2.99.
Celebrity news, beauty, fashion advice, and fascinating features, delivered straight to your inbox!
Ali Gray is an award-winning content director and digital strategist. Most recently she was the Director of Branded Content at Hearst, and helped to bridge the gap between the editorial and commercial worlds working across all Hearst brands, including ELLE, Cosmopolitan, Esquire and Harper's Bazaar. Prior to that she worked as an editor contributing to several brands such as The Telegraph, iVillage UK.