Shilpa Shetty: Pray for Jade Goody
Shilpa Shetty urges people to pray for Jade Goody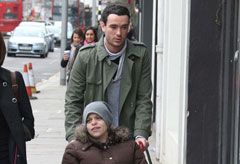 (Image credit: Rex Features)
Shilpa Shetty urges people to pray for Jade Goody
Shilpa Shetty has turned down her invitation to Jade Goody's wedding on Sunday, but has urged the public to pray for the cancer-stricken reality TV star.
Jade's treatment of the Bollywood actress on Celebrity Big Brother in 2007 sparked an international race row, but Shilpa has asked people to forget their tumultuous history.
'I called her and she invited me to the wedding on Sunday. It's really unfortunate that it's very little short notice and I'm shooting in Bombay, but if I was in London I would definitely have been there to show my solidarity,' she told ITV News.
'I buried the hatchet a very long time ago, not because I'd heard she had been diagnosed with cancer but because I really didn't want to harbour any ill feelings against her. It's really sad to know her health is deteriorating.'
She continued: 'I really want people to forget the past and pray and send her good wishes, because that's something that will give her energy. I really want all the positive things to be affecting her at this point.'
Meanwhile, it has been revealed that Jade will have to have a special 'drugs pouch' sewn into her wedding dress to help her get through her big day.
The reality TV star's £3,500 gown, which was a gift from Mohamed Al Fayed, will be customised so that she can store a pouch of painkillers.
Her publicist Max Clifford told GMTV: 'Anybody that knows Jade knows what a determined young lady she is.
'And of course the hospital have given her everything to try to control the pain as best as it's possible to.
'There's even going to be a special pouch in her wedding dress for pain killers, so that hopefully that will help her during her big day.'
Her fiancé, Jack Tweed, has also spoken out about his love for the dying 27-year-old.
'Even if I have to drag her down there, she'll be down that aisle. Even in that hospital bed, I'll wheel the hospital bed down there,' he said. CLICK HERE FOR MORE NEWS
Celebrity news, beauty, fashion advice, and fascinating features, delivered straight to your inbox!