Scarlett drops a stone on Gwyneth regime
Scarlett 'loses 14lb' on Gwyneth's diet regime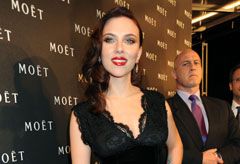 Scarlett 'loses 14lb' on Gwyneth's diet regime
Curvy Scarlett Johansson has reportedly fallen foul to the pressures of Tinseltown and dropped 14lbs for her latest movie role, thanks to Gwyneth Paltrow's strict regime. The not-so-blonde bombshell has always extolled the virtues of a fuller figure and consistently achieved nods from the fashion world for her style credentials.
However, the 24-year-old has reportedly been taking tips from wellbeing pro Gwyneth, her co-star of Scarlett's forthcoming movie project, Iron Man 2.
According to Star magazine, the actress has dropped over a stone since preparing for the role. 'The pair have been doing daily workouts with Gwyneth's personal trainer Tracy Anderson.
'Scarlett is also staying away from carbohydrates.'
Anderson is credited with keeping Madonna's 50-year-old body in shape and Gwyneth has relied on the celeb trainer for some time now.
Stars often hit the gym ahead of action-packed movie roles but one source who spoke to Star insisted the newly-married actress has hit the diet to fight off any competition from younger actresses for roles in Hollywood.
'Scarlett has always been happy with her curves, but recently she has been feeling pressure to lose a few pounds.
'She knows that she is up against tough competition from younger, prettier and increasingly skinner actresses.'
Whatever the reason behind the regime, we think you look fab just the way you are Scarlett!
Celebrity news, beauty, fashion advice, and fascinating features, delivered straight to your inbox!