So Ryan Reynolds Would Use Blake Lively As A Human Shield To Protect Their Baby...
Ryan Reynolds just LOVES being a parent...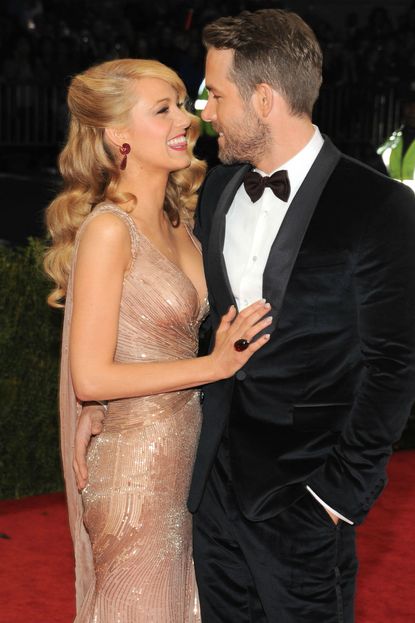 (Image credit: Rex)
Ryan Reynolds just LOVES being a parent...
Ryan Reynolds has given the sweetest new dad TV interview ever, actually going so far as to say that he would use wife Blake Lively as a human shield to protect their newborn daughter.
'I used to say to [Blake], 'I would take a bullet for you,'' Ryan joked to US chat show host David Letterman. ''I could never love anything as much as I love you.' I would say that to my wife. And the second I looked in that baby's eyes, I knew in that exact moment that if we were ever under attack, I would use my wife as a human shield to protect that baby.'
Opening up about his new role as a father, the actor still wouldn't give away the baby's name, only revealing that it was a family name and 'kind of biblical.'
'I'm just a diaper changing facility hooked up to a life support system, but my wife, she's breakfast, lunch and dinner,' he said of the natural parenting roles that he and Blake have taken. 'She's a human Denny's all day long … and it never ends for her. She's the most beautiful Denny's you've ever seen though, I guarantee it.'
Earlier in the day he appeared on the Kelly and Michael Show again sharing just how much he's loving being a parent.
'If anything else woke up every 45 minutes during the night demanding to see my wife's breasts, you kill it,' he laughed. '[But with] a baby, you're like, 'Wahoo!' 'I'm happily not getting any sleep. It's what you do - you're up all night. What's weird is you're happy about it in a strange way.'
Celebrity news, beauty, fashion advice, and fascinating features, delivered straight to your inbox!