Russell Brand deported from Japan
The cheeky Brit comedian was kicked out of the country after jetting out to visit wife Katy Perry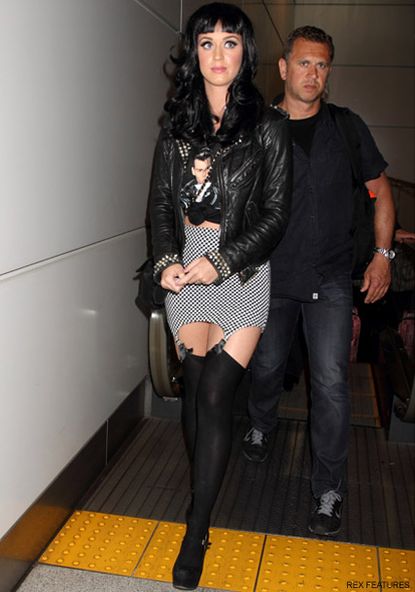 (Image credit: Rex Features)
The cheeky Brit comedian was kicked out of the country after jetting out to visit wife Katy Perry
Cheeky British comedian Russell Brand was deported from Japan over the weekend, after jetting in to visit wife Katy Perry.
The starlet is currently in the country on the Asian leg of her California Dreams world tour.
SEE RUSSELL AND KATY'S WEDDING PICS HERE!
It's thought unlucky Russ was held at customs as he touched down, and – after several hours in custody – forced to turn around and go home.
It's not clear exactly why the star – who has reportedly been arrested 12 times during his career – was not allowed in to the country.
Katy posted a series of Tweets revealing she was 'sad' her hubby wouldn't be able to join her in her 'favourite place', joking he had been kidnapped by authorities.
'So...my husband just got deported from Japan. I am so. sad. I brought him all this way to show him my favorite place #tokyodreamscrushed,' she Tweeted. 'It was for priors from over 10 years ago! #mamanothappy! #don'tmessw/mahman! #uwannaplaylet'sgo #don'ttakeawomansmanfromhershe'llgetshiasty!'
Putting on a brave face, she added: ...But of COURSE I ♥ my Japanese fans & the show #MUSTGOON no matter the daily aftershocks or husband kidnappings! #it'snotrightbutit'sokay
Luckily Russell saw the funny side of the situation, posting a serious of hilarious tweets and pictures from captivity.
'Planning escape from Japanese custody. It's bloody hard to dig a tunnel with a chopstick' he wrote alongside one of the snaps.
'Stockholm syndrome kicking in. Just asked my guard out for (vegetarian) sushi. He giggled.'
Finally, Russell joked: 'Alcatraz! Shawshank Redemption! And now this! Ah, sweet blue bird of freedom!' before being allowed to leave the airport and return home.
Phew.
SEE RUSSELL AND KATY'S WEDDING PICS HERE!
Celebrity news, beauty, fashion advice, and fascinating features, delivered straight to your inbox!