Lindsay Lohan and Samantha Ronson call it quits
Lindsay and DJ Sam Ronson have split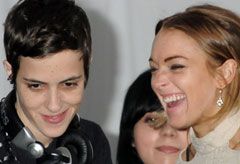 Lindsay and DJ Sam Ronson have split
Lindsay Lohan's turbulent relationship with Samantha Ronson has finally come to a end – for now.
The 22-year-old announced she is 'taking a brief break so I can focus on myself' to E! News, following a wild weekend in which the troubled star was banned from a Ronson family party.
The spat between the pair blew up at the Chateau Marmont hotel in Los Angeles after Ronson became fed up with Lohan's partying ways.
After the tirade, Lilo made the row even more public by reaching for her Blackberry and Twittering about the tiff. She accused the DJ of cheating, writing: 'I was right all along. Cheat.
'Being cheated on does wonders to you. I'm doing this publicly because you and your friends call [US magazine] People. So you win, you broke my heart. Now go away. I loved you.'
Direct and to the point Lindsay…
She later posted the appendage: 'PLEASE leave me ALONE. And stop staying in the room below me, you've woken me and my mother up. Go to bed. Keep cheating – you win.'
The rant didn't stop there as Lohan went on to accuse the Brit DJ of drug abuse.
The split will come as no surprise in Tinseltown where the tempestuous relationship was always on display, fanning the rumour flames that the couple were on the verge of breaking up.
Now, according to reports from People.com, the split is official after Lohan moved her belongings out of the couple's shared home in Los Angeles and Ronson changed the locks. One source revealed: 'Lindsay moved her stuff out as much as she could. She's basically totally out of the house as far as her stuff and she's not living there anymore. Lindsay was pretty devastated.'
Celebrity news, beauty, fashion advice, and fascinating features, delivered straight to your inbox!