Jourdan Dunn on motherhood and the new-gen supermodel crew
We meet the model who's just designed a collection for Missguided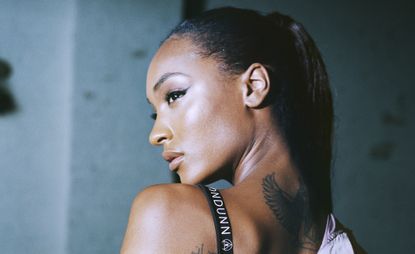 We meet the model who's just designed a collection for Missguided
The 26-year-old model Jourdan Dunn was first discovered during a Primark shopping trip in Hammersmith back in 2006. Fast forward 11 years and she's found herself part of the next-gen supermodel crew that counts Gigi Hadid and Karlie Kloss amongst its members.
She's also smashed statistics, being the first black model to walk the Prada catwalk in over a decade and covering campaigns and magazine covers the world over. She also landed Forbes' top-earning model list back in 2014. Not a bad accolade for your early twenties, right?
The West London-born model has now collaborated on a collection for high-street brand Missguided and talks to us about everything from fashion to family and food...
How do you nail athleisure?
First, it has to suit you and make you feel comfortable and confident. I like rocking a good mix of fabrics and different styles, like a fleece, high waisted skirt and a pair of heels. I feel like it's all about that balance.
How do you do off-duty fashion - even if you're not a model?
I feel like you just have to have your go-tos. You can't go wrong with a pair of skinny jeans, a great hoodie, a vest top, and a bomber jacket with a pair of heels. Or even sneakers! Alright, 'trainers' 'cos I'm back in London now!
Very American of you!
I know, I said 'fries' today and everyone was like 'Jourdan!' and I'm like, 'yeah, I need to stop!'
What's your fail-safe colour palette?
I'm always in black, grey, nudes, navy blue and white.
Do you and all the other models have a WhatsApp group?
I'm not on WhatsApp! I feel like I'm the only person who's not... But I don't want to be accessible to everybody! I don't want people to know when I'm online... And I feel like because I'm not on it, people who really want to reach out to me, will.
Where are your go-to places in London?
There's this really nice Thai spot in Soho called Janetira Thai Street Food and it's this cute little café that does amazing food. I love curry and they have this really hot mackerel curry which has got like five flames on the menu! I like the whole nose run, sweat on tongue, crying feeling!
How's your cooking going?
Good! I'm now getting back into the passion of cooking because when I was doing the show, it got kind of demanding, and it almost took the fun out of it so now that I'm working on my cookbook, and back in the kitchen, and doing recipes and having my son get involved and it's been going good! I'm getting my passion back again.
What's your favourite dish to cook?
I love curries because of all the different flavours that I like to combine to make such an amazing dish. I make my own curry paste all from scratch, too. If I'm doing a Thai curry, I'll put lemongrass and cumin seeds in it.
What's your favourite breakfast?
Scrambled eggs with avocado and toast! There's an art to doing scrambled eggs and I've nailed it. I used to put in milk but now I just whisk up the eggs and cook it in a saucepan with butter on a low heat, and just whisk it. It gets it so nice and fluffy - like hotel standard. I learned that from Gordon Ramsay!
What's always in your store cupboard?
Hot sauce! I always need hot sauce, salt and pepper. My spice rack is crazy! I have so many different spices because I always think that's what makes a meal. I always have to have cumin, coriander seeds, turmeric, ginger, dried chilli peppers, all spice, jerk seasoning, all purpose seasoning, and mustard seeds.
What's your kitchen like at home?
My kitchen at home is an open kitchen which I really like because I can be interactive and part of the room with my son.
Where do you call home now?
It's between West London and Chelsea in New York because I legit spend half and half there.
How does your son cope with you moving around so much?
He's seven now and in school so my mum looks after him when I'm away. I want him to have a good routine and he's really good with it all but it sometimes does get to him because I'll be home for a few days and then I get scared of telling him that I'm going again because he gets really emotional and he's like 'mummy why can't you be like other parents and stay and work in London? Why do you have to go to America?' But, then he gets over it when he realises 'okay mummy, you're making money so I can get loads of toys right?' and I'm like 'yeah exactly!' …then he's over it! He's like, 'so that's why you work so much so I can buy all my toys!' and I was like 'yes..' and then he says, 'okay, I love you mummy.'
What's the best thing about being a mum?
Honestly, it's that unconditional love that you both have with each other. Like, when I come through the door and his face is just pure happiness, it's a love that fills me with so much happiness and joy and that will never ever go! The fact that we have that bond and that connection and that love is just the best thing!'
And what do you think is the hardest thing about being a mum?
Being away from him and just that worry because you want to make sure that he's all good. I want to make sure he's not getting bullied at school and I always need to say to myself, 'I'm not gonna be that mum that's always worrying' but you do when you have a human being that you have to look after... That's your child and you just want to protect them.
What's the funniest thing he's done lately?
I remember he told my mum, 'nanny you need to get your life.' I think he was trying to persuade my mum to come on our family vacation to Barbados, which we eventually did but she doesn't like flying so my son was like 'nanny, you need to get your life! You need to go on a beach , or go to a spa…you know? Get your life!' and my mum was like 'okay, my grandson is telling me I need to 'get my life.' I just thought, 'I don't know where he gets this stuff from!'
We've heard he's a U2 fan. What other music does he listen to at home?
Oh yeah, it was so random! But I loved it…he was really rocking out to U2 and I was like 'oh! Okay..' He's a really big fan of Drake now.
Has he ever met Drake?
No, he actually hasn't!
Has he ever been starstruck by anyone?
No, not really. When he met Taylor Swift and Kendall Jenner and all of that lot, he really wasn't bothered! But then again, I think he was only about five years old! He didn't care but he got excited when we went to see Marvel Live and he saw the characters so, that's who he will get excited about! He knows all of them from Captain America to Spiderman. He's a proper nerd in that sense.
What's your ultimate hangover cure?
It used to be a big greasy fry-up but now I like to have a good smoothie, especially with coconut water because that's really hydrating and blueberries and banana.
What's your bar order?
I do love a glass of champagne and my go-to cocktail is a porn star martini. I love anything with passionfruit on the menu.
How do you cope on no sleep?
I used to rely on Red Bull so much. I used to go through four or five cans but that's only been when I've been like travelling and shooting. Now, I just always think about the end of the day and me being in my bed and that kind of drives me. I don't drink coffee because I can't stand it!
And finally, what are your favourite pieces from your collection?
I would say the snap back. Everyone needs a hat for a bad hair day! I feel like hats are such a good accessory to set off a look.
LON DUNN + MISSGUIDED by Jourdan Dunn available from www.missguided.com and in-store form 11th March
Celebrity news, beauty, fashion advice, and fascinating features, delivered straight to your inbox!