Jennifer Lopez just opened up about her experience of panic attacks
She says she let her "self-care needs go completely."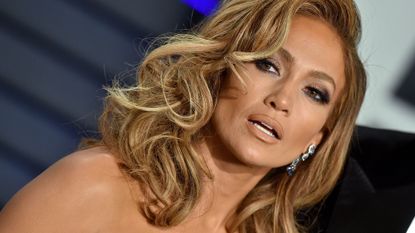 (Image credit: 2019 Axelle/Bauer-Griffin)
She says she let her "self-care needs go completely."
Jennifer Lopez has opened up about experiencing panic attacks in her late 20s. Writing in her On the JLo newsletter, the 52-year-old reflected on that period in her life where sleep deprivation, stress and exhaustion led her to thinking she was losing her mind.
"There was a time in my life where I used to sleep three to five hours a night. I'd be on set all day and in the studio all night and doing junkets and filming videos on the weekends. I was in my late 20s and I thought I was invincible," wrote the US singer and actress.
One day though, when J.Lo was sitting in a trailer, it all caught up with her. The work, the stress, the lack of sleep and ability to recuperate mentally all came together, she says.
The Hustlers star described how suddenly she went from feeling "totally normal" to "frozen" and not being able to move or see clearly. At the time, she says, she thought she was going "crazy."
"Now I know it was a classic panic attack brought on by exhaustion, but I had never even heard the term at the time," she shared.
In that period of her life, the global superstar admits that she was burning the candles at both ends: "I used to sleep three to five hours a night. I'd be on set all day and in the studio all night and doing junkets and filming videos on the weekends."
The doctor she saw following the panic attacks assured her she wasn't "crazy", she says. "He said, 'No, you're not crazy. You need sleep...get seven to nine hours of sleep per night, don't drink caffeine, and make sure you get your workouts in if you're going to do this much work.'"
"I realized how serious the consequences could be of ignoring what my body and mind needed to be healthy—and that's where my journey to wellness began," she wrote. After having let her "self-care needs go completely" in her late-20s, the Golden Globe nominee gushed about how much she now loves sleep.
"I think of sleep like a little time machine. You lay down and you go into a space where you preserve yourself and then you come out a new, younger person than you were before. Sometimes I wake up and say, 'Wow! I just lost 10 years off my face!' That's what a good night's sleep can do for you, and it accumulates over time."
We couldn't agree more J.Lo: sleep is our favourite too.
Celebrity news, beauty, fashion advice, and fascinating features, delivered straight to your inbox!
Amy Sedghi is a freelance journalist, specialising in health and fitness, travel, beauty, sustainability and cycling.
Having started her career in The Guardian newsroom working with an award-winning team, Amy's proud to have reported on a variety of topics, speaking to a range of voices and travelling far and wide to do so. From interviews on ski lifts to writing up breaking stories outside courtrooms, Amy is used to reporting from a range of locations (she's even been known to type up a story in a tent).
She also loves being active, spending time outdoors and travelling - with some of her favourite features she's worked on combining all three. Cycling and eating her way round the Isle of Man, learning to sail on the Côte d'Azur and traversing the Caminito del Rey path in Spain are just some of her highlights.
Covering a diverse range of subjects appeals to Amy. One minute she may be writing about her online styling session with Katie Holmes' stylist and the next she's transporting readers to the basketball courts of Haringey where she joined a group trying to lower knife crime in the capital.
While at university, Amy was awarded The Media Society bursary. Following her stint at the Guardian, Amy worked at Google and as well as writing for Marie Claire, she regularly contributes interviews, features and articles to National Geographic Traveller, The Guardian, The Independent, The Telegraph, Stylist, Refinery29, Glorious Sport, Cycling Weekly and Rouleur.
When she's not writing, Amy can be found trying to get through her towering stack of books-to-read, cycling down at Herne Hill Velodrome or looking for the next place to eat and drink with friends.