Jason Manford quits the One Show after owning up to racy messages
The disgraced comedian admitted sending sexy text to at least 12 girls behind his pregnant wife's back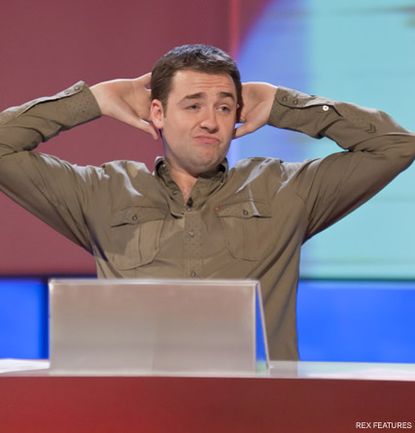 (Image credit: Rex Features)
The disgraced comedian admitted sending sexy text to at least 12 girls behind his pregnant wife's back
Comedian and television presenter Jason Manford has quit the One Show just four months after joining, after admitting sending racy messages to twelve girls, behind his wife's back.
2010'S BIGGEST CELEBRITY SCANDALS
The disgraced star handed in his resignation last night amid a fresh 'sexting' scandal, revealing he wants to 'concentrate on his family.'
Leaving frantic show bosses to hold emergency meetings to find a replacement, he said in a statement: 'I have decided after careful consideration to step down from The One Show to concentrate on my family and tour commitments.'
Just the latest in a line of celebs to own up to sleazy behavior, yesterday, the sorry star admitted to sending racy messages to 'ten or 12' women behind his pregnant wife's back, and blamed it on his 'own stupidity'.
'There were ten or 12 people flirting and then with a few it went over the line,' Jason told the Sun.
'We would start off flirty, then innuendo and then a bit saucy. They were the moments I thought, "I shouldn't be saying that".
'It was just nice to have some interaction I suppose. But the next morning I would wake up and think, 'F***. Oh my God. I don't drink or do drugs, so it's not like I've those to blame - just my own stupidity'
But the funnyman revealed he recently confessed all to his wife, who has agreed to work through the problems.
'I held my hands up. I showed her all the messages. I said, 'This is what's happened' and she was disappointed. But the relationship we have is not about, "Right, get out" or "You're on the couch". 'It made me decide I need to clean the slate and just get on with it. Hopefully me and my wife have another 60 years together. That is the most important thing,' he added.
'If people don't want to come to the shows any more and I end up on the bins, that doesn't matter.
'I am a good dad, a good husband. From now I am going to be one forever. That's it.'
What are your thoughts on the latest shock revelations? Let us know your thoughts in the comments box below.
2010'S BIGGEST CELEBRITY SCANDALS
Celebrity news, beauty, fashion advice, and fascinating features, delivered straight to your inbox!